A Different Sun by Elaine Neil Orr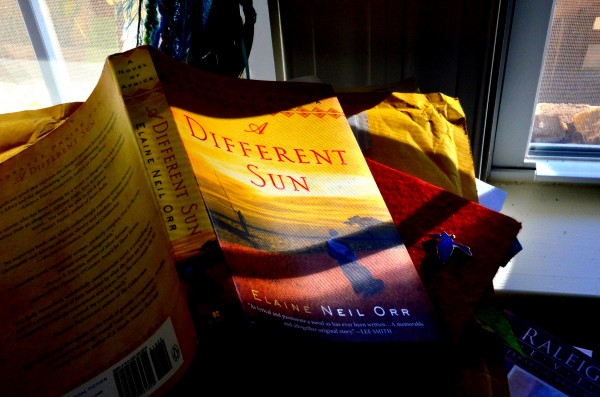 "Overseer say whippin' wasn't enough."
"Enough for what?"
"To make an impression."
The word sounded like something that bears down and changes you forever.
"It's good you cry," Uncle Eli said.
Do you remember  Joseph Conrad's Heart of Darkness?
Author Elaine Neil Orr's A Different Sun is a novel of Africa, too. It could have been titled Heart of Darkness, revealing as it does the complex patchwork of shadows within the light that is our conscience and consciousness. In the novel, even those proud of their humble connection to the Christian savior practice their compassion in patches.
A Different Sun is a sophisticated and masterful novel taking the reader more than 170 years back into parallel worlds on opposite sides of the Atlantic: Georgia in the US South and Yoruba Land in Nigerian Africa.
The novel is set in a  tragic period in human history, when a reasoning, God-fearing people found it justifiable to enslave others and engage in barbaric cruelties. With skill and grace, the author guides us across and between the cultures, revealing contradictions, human inconsistencies, and genuine moments of connection.
Starting out in the American South, 21 years before the US Civil War over slavery, the novel begins . . .
Greensboro, Georgia
1840
In gray morning light, Emma Davis stood before the old slave's garden at the back of his cabin, looking upon the precise rows of cabbage planted for fall.
Straightforward, right?
The novel continues.
The gentleman she called Uncle Eli had taught her to count by fours and she was quick to note he had four rows, sixteen cabbages apiece. "That will be sixty-four," she whispered.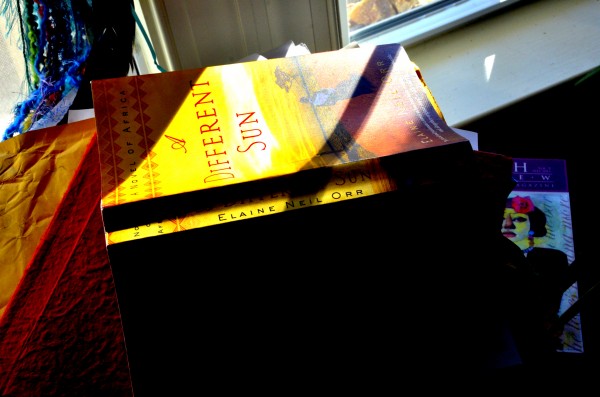 This is only the second sentence of the 379-page novel, and already there's an undertow of pressure tugging on what we know and understand.
The narrator uses the word "gentleman" in reference to a slave. That's unusual. What is the narrator telling us?
And what about this?
"Uncle Eli had taught her to count by fours."
The old slave is teaching the slave owner's daughter to count by fours?
At only seven, Emma not only puts two and two together, she puts 4 x 16 together for 64. Why is an elderly slave teaching  Emma to count?
But we'll see that Uncle Eli teaches her much more than counting cabbages by fours. In the years to come, the old slave's lessons will have gone way beyond counting cabbages, tobacco, children and books; they will have shown her what counts in life.
ʘ
Smart and lively, if not coy or a belle, the daughter of a slave-owning Southern farmer, Emma Davis falls in love with Henry, a passionate and complex Baptist missionary.
In time she accompanies Henry to Africa, with her writing box, a prism, and a gift from Uncle Eli. But not before we find out what she sees and experiences as a girl and young woman in the slave-owning American South. We walk in her shoes and see things the adults around her won't and can't, and we feel in her what we would hope all of us would feel in the face of culturally-sanctioned injustice.
Henry's heart is set on saving Africa (Africans) for Christ. Henry has been to Nigeria's Yoruba Land and has made his life mission the conversion of the intelligent and fierce "Mohametans" who've "overrun" the area north of Yoruba, and whose conversion Henry feels would give momentum to the "saving" of all of Africa.
This historical journey is between parallel worlds—the American South and Yoruba Land in Nigeria. One world where white people own black people in a rigid caste system, forbidding them to learn to read or write, depriving them of family relationships as white owners buy and sell them as livestock.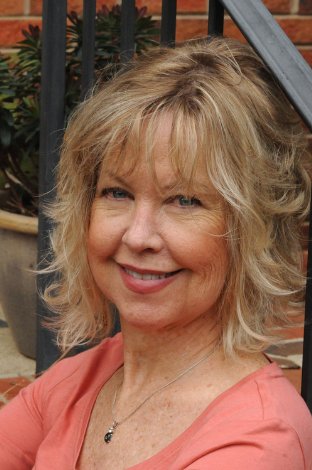 In the other, black people are their own people. They have kings and queens, wealth and property, social structures, community, wisdom and culture. In their own African countries, foreign white people want to save them by teaching them to read English and to memorize the Christian Bible, telling them that what they know isn't real, and only what "Science" and the Bible show can be relied upon.
Deftly focusing her kaleidoscope on these two mirroring worlds, Neil Orr brings us precious and delicately presented moments of intimacy, wrenching moments of loss, exquisite moments of insight and natural beauty, and many a moment that opens our eyes.
This was a different sun. It scattered color and rearranged it. Blue under the curves of coconut palms. White on the ground. Red shadow where the gullies ran. The sky green.
The account of Jacob's capture into slavery was so vivid that it hit home unforgettably.
Was it necessary to go into his capture? Bats came into his head.
Ah. That day from boyhood. At first, he had thought it might be some spirit festival he had fallen into – the way he tripped and was pulled up into the air, as if a great bird had captured him. The world went upside down, all the trees coming out of the sky instead of up from the ground. His head spun and he screamed. Those ugly men shouting in rude tongues. Only when they lowered the net could he perceive how he had been upside down. He saw other young boys. It must be an initiation. He had heard that it could happen this way. Boys set upon by elders who would take them out of the village for a set of trials. But none of the men were familiar. Unless they were wearing masks. if so, they were not like the masks he knew before. These were too real, like men's faces pressed into themselves. The spears they carried spit fire. One first reached for a child when he ran. It pinned him in the air and then he fell into a tiny heap, like old cloth thrown to the rubbish.
On finishing A Different Sun, the words left in this reviewer's mind were unspoken in the book but whispered gently and respectfully on every page. "The irony. The irony."
ʘ
A Different Sun is beautifully written and a gripping story that ripples with insight, complexity, mystery and delight. It holds in its pages an actual historical diary from that time, a diary that has a magical and mysterious coincidence of its own. Knowing that its author grew up among the Yoruba as the daughter of Baptist Medical missionaries, lent an extraordinary authority to the work, valuable even with fiction, and put it on top of my list.
Put A Different Sun on the top of your list.
If you've already read it, why not share what scene most impacted you?
—
Anora McGaha is an internationally raised writer, editor and micro-publisher based in North Carolina.
Category: Contemporary Women Writers, Multinational Women Writers, US American Women Writers