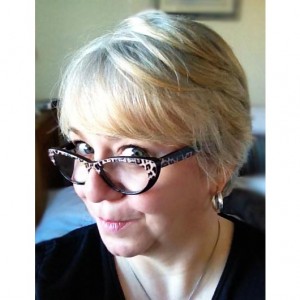 I have a herd of elephants dancing in my tummy; my head aches and I am intermittently overcome by a wave of panic which starts at my toes and oozes from my fingers as I type; I'm not sleeping too well either.
I'm not ill or on drugs – unless you count the medicinal Pinot Grigio I take at weekends. Instead, I have decided to take the plunge and self-publish a collection of my short stories called "And The Angels Cried and other stories" on Amazon Kindle.
Self-publishing requires a vast amount of self-confidence and belief in one's work.
You are saying to the world, "Hey there! Look at what I can do. Not only do I think I write well, I'm expecting you to pay to read it." Terrifying.
Yet each time we commit our thoughts to paper there is an element of arrogance: that what we have to say is worth recording and being read. I freely acknowledge that a big part of me thinks I'm a decent writer and my stories worth reading. But what if I'm wrong? What if I'm not as good as I hope I am?
Some of the stories have been published elsewhere, or been placed in competitions, so these must be quite good, right? But the little devil of self doubt who sits on my shoulder likes to whisper in my ear that, perhaps, the standard in these competitions was spectacularly poor, and mine was the best of a bad lot. And we have all seen things published that, quite frankly, should have been consigned to the wastepaper basket. What if my work falls in to the latter category?
While I'm sure that all writers suffer from pre-publication nerves, the independent author sends her work into the world without the comfort of an endorsement from a publisher or agent.
We put our self-esteem and professional reputation on the line and it's not a comfortable feeling. I debated the wisdom self-publishing with myself for a long time before coming to the conclusion that if I don't have confidence in my work, how can I expect a traditional publisher or agent to?
I've edited my stories time and time again, sent them out to beta readers and edited them once more. I'm as confident as I can be that they are grammatically and logically sound. I wanted to use my own photography on the cover and, after much Photoshop trickery, am happy with the design. I've converted the text to .mobi and gone through every page, making sure that everything looks exactly as one would expect from a professionally published book. The conversion process is fiddly and finicky and I can still see blue formatting marks when I close my eyes. I know I can do no more.
But…
I mentioned to a friend that I was petrified I would awake on the day after publication to thirteen 1* reviews on Amazon. "At least 13 people would have read it," he said. And he is right: that's thirteen more people than would read it had I kept the files archived on my hard drive.
And The Angels Cried and other stories is published on Amazon Kindle on November 9th and I can sleep in a future life.
—
Annette Thomson has contributed multiple times to Women Writers, Women Books.  Follow Annette S. Thomson, "Nettie" on @NettieWriter on Twitter.  Subscribe to her blog, Words and Pictures.
Category: British Women Writers, Independent Publishing, On Publishing