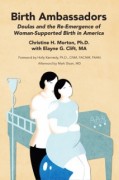 Writers are often faced with new challenges. Sometimes, if we're lucky, those challenges come with happy consequences. Collaborative writing can offer just such a pleasurable experience.
We discovered the joys of collaboration during our long journey to produce the book Birth Ambassadors: Doulas and the Re-emergence of Woman-Supported Birth in America (Praeclarus Press, 2014).Christine lives in California and Elayne lives in Vermont.
We've only met face-to-face once in the two years we've worked together to produce our book, but our friendship will continue long after our work appears on bookshelves and Amazon.com.
Both of us are doulas whose professional lives revolve around women's health.  Christine is a medical sociologist; Elayne is a health communications and gender specialist. We found each other when Elayne was collecting stories for a possible anthology about doula-supported birth, an idea she abandoned when we decided to collaborate, using stories Elayne had collected and edited to illuminate the Ph.D. thesis Christine was turning into a book.  It turned out to be an ideal partnership
What made our collaboration so successful? Here are five tips that can be applied to any writing partnership:
1. A Common Goal.  From the get-go, we had the same goal; i.e., to publish an inviting, intelligent, comprehensive book about doula-supported birth in the United States that would be informative, accessible, and user-friendly in its approach.  We were philosophically and practically on the same page.
For example, as doulas we both embraced the midwifery model of childbirth and we had a shared knowledge of birthing issues. Also, we agreed on the purpose and parameters of the book.  And while we liked the idea of being accepted by an academic publisher, we were both comfortable with having a respected lay press bring out our book. The important thing to both of us was to birth our collaborative baby in a classy, credible and enticing way.
2. A Commitment to Good Communication. We communicated well together. We spoke honestly, easily and regularly, either by email or phone. When we didn't agree on something, we listened actively to each other and then reached a mutual decision about how to proceed.
We had some good laughs and when spirits flagged or individual tasks seemed overwhelming in the face of other personal or professional demands in our lives, we supported each other with good cheer and practical help.  We remained flexible regarding tasks and timelines and we focused on the important issues at hand. We remained committed to the project, and to each other's role in it.
3. Complementary Skills. Each of us had specific skills, experience and knowledge to bring to the collaborative effort.  Christine's research and writing skills coupled with her deep experience in maternal health and birthing issues provided the substance of the book.
Elayne's years as a woman's health educator and advocate, along with a track record as a writer and journalist experienced in editing, book production and promotion, added another necessary dimension to the project.  And we were both experienced doulas!
4. Camaraderie.  From the start, we liked each other. Neither of us was ego-driven and it was clear at the outset that decisions would be made mutually. In addition, we shared a deep respect for each other's work and our individual commitment to this project and its purpose.  We knew we could work well together.
5. A Contract. Even with all of the above components in place, we negotiated a contract that formally laid out our agreement in all its dimensions, from respective responsibilities to royalties.  We have never had to revisit it but it was good to have it.
Sometimes a writer needs to work alone to produce great works, especially fiction.  But when it comes to non-fiction, often two heads really are better than one, a good reason to consider a happy collaboration.
—
@birthambassador FB: birthambassadors Blog: www.birthambassadors.com
Elayne G. Clift, MA is an award-winning writer, adjunct professor, and writing workshop leader.  Her most recent edited collection is Women, Philanthropy and Social Change (UPNE/Tufts U. Press, 2004).  Hester's Daughters, a novel, appeared in 2012.
www.elayneclift.com   Follow her on Twitter  @elayne_clift
Christine H. Morton, PhD is a medical sociologist whose research and publications have focused on women's reproductive experiences, maternal health and quality improvement in maternity care. Since 2008 she has been at the California Maternal Quality Care Collaborative.
www.christinemorton.com  Twitter @christinemorton
Category: Contemporary Women Writers, How To and Tips