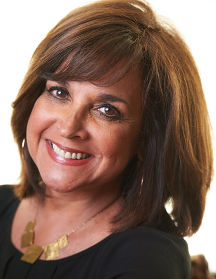 Forty-two year old women don't have adventures.
She'd just be more appealing if she were thinner, taller and younger.
We'll buy it if you made her 25 and sexier.
Female protagonists should NOT be flawed..
Why does she eat so much? And that wine—seriously?
Can't you…
No I can't and no I didn't.
Those were just some of the critiques I got from book editors and agents—many of them women—to whom I'd submitted the manuscript for my first novel, The Sixth Station. Shockingly these old school, sexist and disturbing comments were not made decades ago before people knew better, but in 2011-12.
What these editors and literary agents wanted was a "realistic" female protagonist that fell somewhere between Lara Croft Tomb Raider and Anastasia Steele, victimized pansy.
Funny, in my years as a reporter investigating everything from mobsters to mayhem and natural disasters to political ones, I'd never actually run across a beauty queen/karate expert/masochistic love slave/reporter.
That was what they all wanted—a plasticized woman— which I felt was a prototype that needed to be killed off—in the consciousness of readers.
Male protagonists can and are often very flawed (the more flawed the better) short, drunken slobs who can knock off four burgers and ten whiskeys at sleazy dives with hot girls all around them.
What these editors and agents didn't want was my protagonist,(who has since been called "beloved" by the way), Alessandra Russo, realistic, hard-nosed NYC reporter.
What they got was Russo who is picked out of a crowd of crazed reporters by, yes, the clone of Jesus.
And she wasn't picked out to get that "get" because she looked like Emily Ratajkowski either. She was chosen because of her truth, her brains, and oh yes, her balls.
Yes, I could have written what they wanted in no time. Formula is easy. Original is hard.
But because I'm a columnist and reporter now with the New York Daily News, I did it the hard way. I spent six years researching The Sixth Station, driving usually alone through five countries—except for the road trip I took through Italy with an 84-year old exorcist priest from the Vatican.
I stayed with monks in the mountains of Manopello, Italy, who guard a relic with what I believe has the DNA of Jesus on it, I was escorted through France by a motorcycle gang, I climbed a mountain—twice!—and spent days interviewing an expert on the relic, a cloistered Austrian nun who was given permission to speak to me.
I was certainly well over the age of 42 when I began this adventure, so sorry Charlie, but women of all ages do have adventures!
I was so discouraged however, when the rejections started coming—make that "pouring"—in, rife with comments like those, that I was, well, not ready to throw in the towel, but self-publish it at the least.
What I would not, absolutely would not do was to demean my character, myself and all other real women potential readers by turning Russo into a male fantasy. For that, they can tune into Fox News.
Then when all felt lost, my best friend, Damien Miano, who owns the Miano-Viel Salon in NYC, called me to tell me that one of his clients, Liza Fleissig, a lawyer and agent was interested in meeting me.
We met and immediately fell into literary love. She is tough, she's smart, and she don't take no crap from nobody.
"I will sell this book," she said. "Don't even think about those sexist fools."
But, high hopes aside, more the rejections started rolling in, with much the same complaints: Younger, hipper, thinner, sexier.
I believe we got 14 in all.
Now don't get me wrong. My protagonist Alessandra Russo, was not then and isn't now in my new thriller, Book of Judas some dumpy, unappealing slob. What she is is us—just a normal woman—not some freakishly perfect model that looks like she comes from outer space. She's more down-to-earth than interplanetary.
That being said, Book of Judas does have some very interplanetary discussions. But more about that later.
After a month or so of no's on The Sixth Station, my agent called me to say there were two yeses. One was from legendary editor, Bob Gleason of Tor-Forge Books who was mad for my novel and wanted to meet me. We met at Fresco by Scotto in Manhattan and he immediately pulled out his Tarot cards and started reading for me.
I took his ring and started reading for him.
He loved every flaw Alessandra had and still has. He bought The Sixth Station, which landed on Amazon's best seller list briefly and contracted me to write a second book in the series. I wasn't sure I wanted to do it—didn't have a topic—and then an old book showed up on my bookshelf in a house I'd owned for 12 years—I Judas, by Taylor Caldwell..
A few days later another Judas book popped out at me at a bookstore on a girls' getaway weekend, which detailed the finding of the lost Gospel of Judas. Two Judas messages in a week. More strange still—the manuscript had been found, I read, after traveling the world over, in a bank deposit box in Hicksville Long Island, the town in which I'd grown up. And then, and then…it turned out to have been hidden in the very own Citibank branch where I'd had my first account. How could I refuse that call? I didn't and Book of Judas hits September 19 to some rave advance praise.
Alessandra still loves a good sandwich, is now a mom, and is still getting into mysterious yes, adventures.
And I'm still researching the old school way. For Book of Judas I traveled to Israel and crawled through a 3,000 year old burial tomb unearthed under the house of a very distant relative.
Just got back from Peru and Bolivia where I went to find all the structures that couldn't have been built by humans.
Like Alessandra, I do love a scary adventure, and a good sandwich.
— 
LINDA STASI, the popular and well-read columnist for the New York Daily News, and previously for the New York Post, is also an on-camera TV co-host with Mark Simone on NY 1 -Spectrum "What a Week!"
Brash, funny and opinionated, the acerbic Stasi's first novel, The Sixth Station, published in January of 2013 by Forge Books hit Amazon's top 25, and was hailed as, "A helluva religious thriller," by Nelson DeMille, while Steve Berry said, "You'll be grabbing the pages so tight your knuckles will turn white!" Even President Donald Trump came to her book party and called Stasi, "A great writer."
Stasi's anxiously awaited sequel, Book of Judas, which will be published in fall 2017, has already received advance acclaim from mega bestselling authors such as Sherrilyn Kenyon, who calls it, "An innovative masterpiece!"
Stasi has appeared on TV talk shows and news channels such as The Today Show, Good Morning America, The O'Reilly Factor, Hardball, Good Day New York, and The View, as well as CNN, Fox News, MSNBC news shows, and many others.
She is a regular guest on iHeartRadio's nationally broadcast Mark Simone Show, Boston's "Matty In The Morning," and countless others around the country.
Stasi has also authored five non-fiction books – Looking Good Is the Best Revenge, A Field Guide to Impossible Men, Simply Beautiful, Boomer Babes, and Scotto Sunday Suppers.
Not afraid to say what's on her mind in her popular Wednesdays and full-page Sunday columns in the New York Daily News, her readership has reached more than 600,000 in a single day.
She was named "One of the Fifty Most Powerful Women in NYC" and has won numerous awards including Best Columnist by the Newswomen's Club of NY, Best Humor Columnist, and Woman of the Year by the Boys Town of Italy for her charitable work such as driving a tractor-trailer in an 18-truck convoy from NYC to the gulf states with relief supplies for Hurricane Katrina victims.
Follow her on Twitter https://twitter.com/lindastas
Find out more about her on her Website
—
About THE BOOK OF JUDAS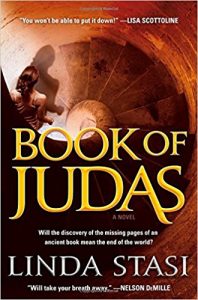 From hard-hitting New York Daily News columnist Linda Stasi comes Book of Judas, a riveting religious thriller featuring beloved protagonist Alessandra Russo.
When her infant son is placed in mortal danger, New York City reporter Alessandra Russo is forced to save him by tracking down the missing pages of the Gospel of Judas, a heretical manuscript that was unearthed in Al-Minya, Egypt, in the 1970s. The manuscript declares that Judas was the beloved, not the betrayer, of Jesus.
The Gospel disappeared for decades before being rediscovered, rotted beyond repair, in a safety deposit box. Rumors insist that the most important pages had been stolen―pages that Alessandra now must find, if they even exist.
Do the lost pages contain a secret that will challenge Christianity's core beliefs about the creation of life, or that might hold the power to unleash Armageddon? What if such explosive documents fell into the hands of modern-day terrorists, dictators, or religious fanatics?
Alessandra plunges into a dark world of murder, conspiracy, and sexual depravity…and most importantly, a race against the clock to save her own child.
In this exciting follow-up to The Sixth Station, award-winning journalist Linda Stasi brings her formidable investigative skills, big city street smarts, and fast-flying pen to a thriller that will leave readers breathless.
Category: On Writing