Qaisra Shahraz' Revolt Giveaway – Completed November 20, 2013.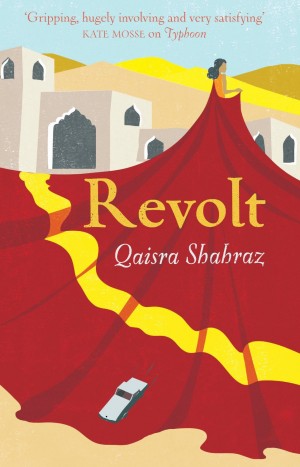 Between November 16 and 19 2013 we invited our friends on Twitter to:
EITHER
1. RT our giveaway tweets with #WWWBGiveaways
   OR
 2. Leave a simple comment below
On November 20 we announced the winners
CONGRATULATIONS to our Five Winners of Qaisra Shahraz' book REVOLT about love and loss and mixed race and class marriages in Pakistan.
In the US, Marlene Debo left a comment.
In the UK Lyn G Farrell, @FarrellWrites RTed.
In France, Hannah Fielding, @fieldinghannah RTed.
In the UK, Daniel Swan, @danielswan38 RTed and left a comment.
In Malaysia, Angelina Bong, @swakgel RTed and left a comment.
About Revolt:
SUMMARY

A multi-layered, multi-faceted story of love and loss, finding and losing, and mixed-race marriage, Revolt is the tale of three wealthy sisters and the problems that no amount of money can solve. There is a daughter, abandoned because of an impulsive marriage, an aunt who pines for lost love, and a bridegroom with the biggest problem of them all.

Set in England and the fictional village of Gulistan in Pakistan, with its fascinating array of quirky, eccentric and unforgettable characters, Revolt centres on the forthcoming marriage of two rich cousins and the often hilarious but always deeply moving pitfalls and perils of living in a place where everyone knows everybody else's business. Underpinning the action is the compulsive and pervading need to resolve the conflict between Pakistani Muslim values and those of the modern West.

A brilliantly incisive portrait of small-town life, exploding into a panoramic portrayal of the nature of change, freedom, pride and prejudice,Revolt also reminds us of a darker, more threatening world. Immensely readable, dramatic and beautifully evocative, this book will enthral, as the action unfolds and the tensions play out to their startling resolution.

REVIEW by Anora McGaha, Editor of Women Writers, Women Books online magazine, USA: 

'Qaisra Shahraz deserves to be a household name in America. Much as Pearl Buck brought to light life in China; and Richard Wright and James Baldwin brought to light the devastating world of America's black inner cities; so Qaisra Shahraz shines light into Pakistani village life, opening the curtains to another culture.

Revolt provides readers with a fascinating ride between English and Pakistani cultures, as only someone as well rooted in both worlds can relay.

We can see through the stereotypes and beyond the walls of class, race and culture, to our common humanity. Highly emotionally intelligent and observant. Tugs on the heartstrings early on, and keeps a close rein until the end. Well written with delightful detail of the physical settings, daily life, and keenly described emotional interactions. Human and wonderful.'
Category: Contemporary Women Writers