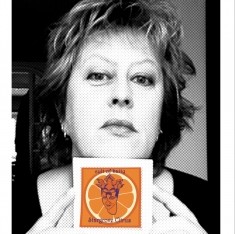 Dorothy Parker's work may be awash with cynicism, but so often she is right on the money.
In her wistful poem "Observation" she considers doing better with her life—getting to bed early, abstaining from riotous overindulgence and undoubtedly completing the work for overdue deadlines. But in the end the famous wit concludes,
But I shall stay the way I am
Because I do not give a damn.
While at first her words may seem defeatist, there's a defiance there that I have always admired.  Parker found it difficult to juggle her creative life with her personal one. At the time she found few role models to offer examples of how to do so, especially for a woman.
We're lucky to have many more role models and things have improved, though we can be forgiven the feeling that nothing's improved whenever the latest scandalous story fills our social media with tales of slut shaming, rape or continued salary inequities (better doesn't mean fixed, Joss). For writers (and all creative types) there are some new challenges to go along with the timeless ones involved with putting your creations out there.
While social media and electronic publishing have opened the floodgates to new creators to get their material out there, it's harder than ever to be found in the tsunami of stuff. Even established writers spend a lot of time trying to be heard and seen in the cacophony of new releases. Yet women still face a disproportionate amount of censure for any kind of self-promotion.
As Sarah Reese Brennan wrote recently on the difficulties of promoting while female, "many people act like women have no right to a space in the world." She details experiences of women smacked down for having the audacity to tell the world they have created something and it might be worth giving it a look.
It is discouraging. But if attention is often poisonous, the reverse is also difficult to cope with for it is awful to be ignored. We work for months or years only to release our project to resounding silence or the lip service of friends. We find it easy to be beaten down by the steady beat of indifference to our work. While we constantly hear about overnight successes with astronomical figures, the truth is most of us will continue to labour on in relative obscurity.
What then is to be done?
Grow a thicker skin and keep at it. I say 'grow a thicker skin' not in a callous way (too often we're told, "Grow up, cry baby!") or to suggest we're not working hard enough and need to "lean in" but in acknowledgement that this is not likely to change any time soon and your work is too important not to continue doing it.
We need a thicker skin to protect us from the acrimony of a world that punishes women for daring to have ambition. We need a thicker skin to defend us from the vitriol of troll culture online. We need a thicker skin to immure us from the suffocation of the silencing weight of indifference. Women are taught to need approval and it's big hurdle to leap to get beyond that desire.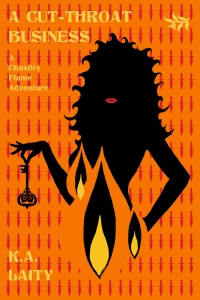 William Blake believed he was given divine vision; even if your beliefs are more secular, you can borrow from his strength by understanding there is no one who can write the stories you can. If you do not write them, the stories will die. You grow a thicker skin by telling yourself this every day.
Surround yourself with positive people who also create. "Positive" means they believe the act of creation is a success in itself. They are part of your skin. When the bad days come—and they will always come, no matter how long you have been working at this—they will help you deflect doubt and discouragement. You will strengthen one another; a few like minds are enough to keep you going.
Write: every word is a victory sometimes. Others may never know how much of a victory, but they don't need to do so. We have to reward ourselves.
—
K. A. Laity is the award-winning author of the Chastity Flame series of thrillers, Owl Stretching, Unquiet Dreams, À la Mort Subite, The Claddagh Icon, Pelzmantel and Other Medieval Tales of Magic and Unikirja, as well as editor of Weird Noir and Noir Carnival. Her essay "Casting the Writer's Spell" also appeared here at WWWB. Her handbook How to Keep Writing with a Full Time Job has come out in time for NaNoWriMo.
Visit Kate's Facebook page or her website  and follow her on Twitter: @katelaity.
Category: Being a Writer, Women Writing Fiction