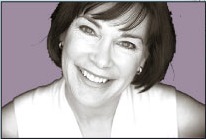 Julie Tetel Andresen teaches linguistics at Duke University. In addition to her academic writing, she is the author of over 20 romance novels.  She offered to share with Women Writers Women Books what she  has learned in over 20 years of living a writing life.
Handy Writing Tips
i. Find a writer whose work you admire and study how that writer structures scenes and plots, makes transitions, handles dialogue and characterization, and anything else you can think of. Do not try to imitate what that writer does. Come to understand it and creatively adapt it to your work and your voice.
ii. Honor your creativity. It is not silly or shameful to want to be a writer. This means being true to yourself. When you have honored your creativity and been true to yourself as a writer, you have probably produced something I would want to read.
iii. Be kind to yourself as a beginner. Maybe you will hit your story/novel out of the park on your first try (and lucky you), but mostly you will write drivel. It's okay. George Gershwin said, "I write 6 songs a day just to get rid of the bad ones." Allow yourself to get rid of the bad pages/stories/novels. My first novel ended in the wastebasket, a homely, unshapely mess. As they say in Russian: "The first pancake is never good." Throw out your bad writing and celebrate the fact that you're getting the first duds over with!
Also be kind to yourself when you are more experienced. The surest way to be kind to yourself is to be true to your vision. You will know when you have brought your true vision to the page. Whether anyone else likes it or not is not your problem.
iv. There is no such thing as writer's block. It took me 10 years of writing before I could formulate the idea that writing is an aerobic activity. There is such a thing as being in writing shape. I remember when I first began writing, I would spend maybe 5 or 6 hours on perhaps 2 paragraphs, and at the end of the day, not only were the paragraphs bad but I was also exhausted by the effort. I clearly wasn't in shape. You don't just tie on a pair of running shoes and go out and run a marathon. You have to be in running shape, just like you have to be in writing shape.
To me writing is like breathing. There is no such thing as a breathing block – except for asthma or having a panic attack, I suppose. For writers, there is only being in writing shape – or not. If a writer is feeling asthmatic – to continue my analogy of the breathing block – then I would suggest the writer read his or her favorite books. Use them as inhalers, opening up the airways. Reading is always a remedy for whatever is ailing a writer. In my case, so is taking a walk.
I live by Fred Astaire's motto: "If I don't dance one day, I notice it. If I don't dance two days in a row, my audience notices it. If I don't dance three days in a row, I should get another job." Fred Astaire was in some pretty good dancing shape.
v. Get used to being in the saddle (at your desk).
vi. Read The Artist's Way by Julia Cameron. Seriously, read it.
vii. Surround yourself with people who support you and your work. This means that you have to be equally supportive of whatever they do, in return.
viii. Say what you write out loud. Hear how it sounds.
ix. Always, always work with an editor and a copyeditor. They have complementary talents to yours, and you need them.
x. Remember that many wonderful writers have day jobs. They may have them for any number of reasons, one of which may be that their day job feeds rather than saps their creativity (as is the case for me). Another reason may be they need the money. It is always helpful to have food on the table and a roof over your head. However, if you find you need more time to write and want to spend less time at a day job, then here is my advice: There are two ways to be rich: have a lot of money or want less. So, want less and write more.
xi. Get a Publicist if you lack the know-how to bring your work to the marketplace and provide the publicist with the vision.
 When I realized I had a body of work, rather than a single title,  I wanted to reach a wider audience. Deciding to get a publicist was the result of a very long process of evaluating my relationship to the marketplace. Since I've always liked listening to the alt radio stations at the low end of the FM dial, I've been happy being a writer who appeals to cult audiences. Now, thinking about my work as a whole, I'm ready to move up the dial to find the mainstream. I'm very glad to have found JKS Communications because they have embraced my vision.
—
Julie Tetel Andresen has always loved history, travel and foreign languages. She has lived for extended periods in Germany, France, Romania and Vietnam. When she is not out of the country, she can be found in Durham, North Carolina where she teaches at Duke University. She also spends time in Orlando, Florida, as well as New York City. She loves learning new languages, and she loves writing both academic books and romance novels.
Find out more about her on her website  julietetelandresen.com
Visit her on Facebook: authorjulietetelandresen follow her on Twitter:  @JTAbooks
Goodreads:  Julie_Tetel_Andresen
Category: Contemporary Women Writers, How To and Tips