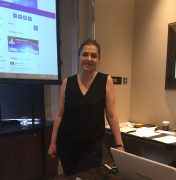 As a social media manager with clients in the book world, and a writer with a blog and online presence since 2011, I've found ways to get the most out of social media. I run social media courses for writers too and my neetsmarketing blog posts are inspired by questions from clients and course attendees.
When writers use social media, it's important to think about brand and discoverability. Who is the online you, and how do you find potential readers? Your brand is what defines you and your books. Aim to focus on these subjects and themes when posting on Twitter and Facebook. Discoverability is about finding the places where people interested in subjects and themes from your books hang out.
Here follow a few tips on how to get the most out of Twitter and Facebook as a writer:
Twitter
Getting Started: (where '@username' means the Twitter handle of who you're mentioning)
Use a handle which matches your author name.
No eggs! Add a profile photo that looks like you (not one from twenty years ago, ideally, although always tempting…), so that you're easily recognisable at events, if you're looking to be recognised, which is advisable.
Add a header photo which fits your brand.
In your bio, include as much about your brand as possible, with handles of your agent and publisher if there's space. Mention writing organisations you're a member of such as the Romantic Novelists' Association, Historical Novel Society etc.
If you start a tweet with @username, only those who follow you and that person will see the tweet. When the tweet is intended for all of your followers, either include a '.' before the @username or reword the tweet so @username doesn't come at the beginning.
Share content by others, and make the most of the Quote Tweet option when retweeting, by adding your comment when you have something to say.
Interact to build relationships.
When mentioning someone, use their Twitter handle, rather than their name, and check it's the right one!
Reply to mentions. A 'like' isn't always enough, and can signal the end to a conversation.
Thank for retweets where possible (unless part of a blog sharing hashtag, where reciprocating is usually appreciated), especially when someone composes their own tweet linking to your blog post/book link.
Try not to use more than two hashtags in a tweet.
Taking Twitter to the Next Level:
Make the most of blog sharing hashtags such as #MondayBlogs and #wwwblogs to promote blog posts (not book promo though)
Find readers through common interests by looking up hashtags for subjects you're interested in, and find hashtags which are related to your book(s). If your book is set in Cornwall, find readers through #Poldark, for example.
Search Twitter accounts for bios which include key words relating to your brand.
Schedule tweets using Tweetdeck or Hootsuite (I'm a Tweetdeck fan), to reduce time spent on Twitter. If you publish a blog post, schedule it for a few days with different hashtags. The same applies for your talks, events, courses etc. You can drop in when you have a spare moment to share content from others, and to tweet live.
Create private lists and set up columns in Tweetdeck or Hootsuite for lists, hashtags, relevant search words including your own name and book titles. Use temporary columns for the titles of your blog posts, and hashtags for events such as the London Book Fair #LBF16, RNA Summer Party #RNASummerParty, and HNS Conference #HNSOxford16.
Facebook
Personal profile and Facebook Groups:
Create a personal profile that matches your author name, using that profile to react to and comment on posts. Find Facebook Groups where you can network with other writers/authors, especially those in your genre; with book bloggers (Book Connectors is a fab group, run by Anne Cater), and with potential readers. Think about your brand, and if your book's set in the world of horses for example, find a Facebook Group for horse fans etc
Facebook Page:
Set up a Facebook Page for your author name so readers can find you, and so you don't have to accept them as friends under your personal profile. Use your author Facebook Page to deliver writing news: cover reveals, new release dates, events, giveaways, blog posts which may appeal to readers etc. Post content relating to your brand: if your books are set in Cornwall, post links to articles about Cornwall-related subjects, and so on. Schedule posts to save time, and try to post regularly to increase reach and engagement.
Have a go at boosting important posts on your Facebook Page, which can be done for as little as £1 per day to expand reach, and select your audience carefully. Stick to boosting the posts which link to your blog/website, and buy links.
Using Twitter and Facebook with Events
Tweet before, during and after an event, where possible using the hashtag if there is one. Live tweet when you go to a book launch or writing-related event, with photos. Afterwards, post a selection of photos on Facebook, blog about the event and promote your post on Twitter using the hashtag if there is one. And if someone gives you their business card at an event, follow them on Twitter afterwards and find them on Facebook. 'Real life' meetings can develop into great online relationships and I've made many friends in the writing world this way.
—

Anita Chapman is a Freelance Social Media Manager with clients in the book world, and she runs Social Media Courses for Writers (next one is planned in London, Oct/Nov). She writes historical fiction set in eighteenth century Italy and spent five years on the Romantic Novelists' Association's new Writers' Scheme, before becoming an Associate Member in 2016 wearing her neetsmarketing hat. Anita is Social Media Manager for the Historical Novel Society, and Publicity Officer for the next HNS Conference in Oxford, 2-4 September 2016 #HNSOxford16.
Anita's website: www.neetsmarketing.com
Blog on social media for writers and book marketing: www.neetsmarketingblog.com
Blog on writing: www.neetswriter.com
Twitter @neetsmarketing and @neetswriter  
Facebook Pages: www.facebook.com/neetsmarketing and www.facebook.com/neetswriter
Category: Contemporary Women Writers, How To and Tips