Writing was never something I considered seriously as a career option.
Writing was a skill that was far easier and more interesting to me than math or science, but it was one where I still struggled. Though I've always loved to read, I struggled to organize my thoughts about themes and motifs into clear statements.
I clearly remember understanding the difficult language of William Shakespeare, Josef Conrad, Voltaire, and others from my AP Literature class, yet I had difficulty when it came to organizing my thoughts. Finally something clicked for me when I came to college, or maybe for the first time I was really paying attention. My grammatical skills improved greatly, and I could write a clear and concise paper. But I drifted even further from writing.
My potential interest in journalism had been beaten to death by my former teachers, and I had my sights set on traveling the world. Until a few months ago my game plan was to graduate college, get a job in the business world, and travel when I saved some money. My plan also included moving overseas as soon as possible.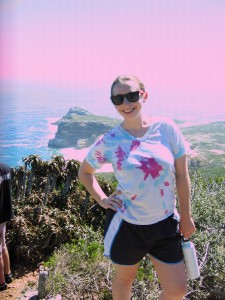 I studied abroad in Cape Town, South Africa for a semester, and I realized I loved being abroad, especially in a developing country. Moving to Cape Town permanently is still a goal of mine.
Everything else has basically changed. I used to attempt to tweak my CV to show off my limited business skills while ignoring my talent and passion for writing. I felt so much pressure to get a job in the finance world, and I didn't think writing would take me there. My interest in social media has grown since starting college a few years ago, which I did emphasize on my résumé, but the entire process of applying for internships was very frustrating.
Finally after countless professional rejections, I received an opportunity to write for a real estate website. I realized week after week of assignments that I was not only a strong writer, but I actually enjoyed my work even though it was unpaid.
I came into this semester with a new outlook on career options. I still want to move abroad, and I am looking for corporate positions, but I am highlighting my abilities as a writer. I'm pushing myself with this internship at Women Writers, Women ['s] Books by publishing my own work, expanding my skills in social media, and networking with other female writers on a regular basis.
My goal for the next decade is to take at least one six month journey and start travel writing full time. I've been inspired by the number of solo female travelers who are blogging their way around the globe. I have an endless list of places I want to see, and I'm determined to let nothing stop me.
Writing is opening up the world for me in ways I never envisioned. My work with Women Writers Women Books allows me to see a future for my writing for the first time. I'm taking control of my life by choosing to write.
—
Chelsea Holland is a senior at Meredith College majoring in International Studies with an interest in travel and travel writing.
Category: US American Women Writers