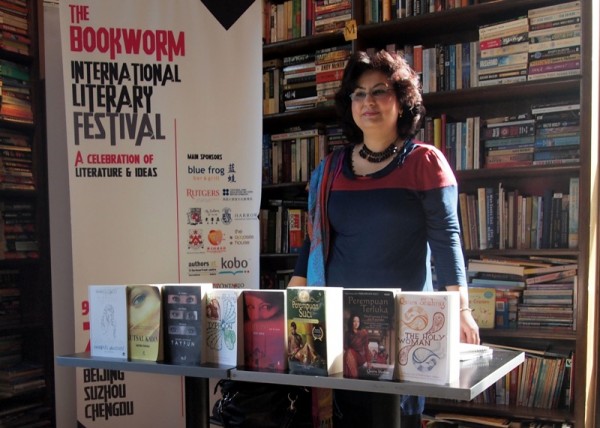 Two countries, two civilizations, and two literary festivals.
As a writer I had the pleasure of participating in this year's Jaipur International Literature Festival in India. Six weeks later, I discarded my summer tops in India for woollen sweaters in snowy China to attend Beijing's Bookworm International Literature Festival. I combined the festivals with a five-city university lecture tour in both countries.
The Jaipur Festival was held in huge marquees on the lawns of the Diggi Palace. Throughout the five days, it attracted thousands of visitors, demonstrating that it is truly the belle of literary festivals – a feast of colour, jostling crowds and night entertainment. The Beijing Bookworm Festival was a cosier affair, taking place in a large bookshop with beautiful red lanterns. Most events, such as panel discussions, songs and poetry readings, and "Meet the Author," were held in the lovely library room.
Both festivals were fabulous in their own ways. I loved the lively atmosphere of Jaipur as well as relishing the quieter, warm surroundings in Beijing. The hosts were terrific and provided superb hospitality. I must congratulate Alex and Kadi in China, and Sanjoy Roy in Jaipur and their respective teams, for doing grand jobs of organizing these festivals.
I had two sessions in Jaipur as a panellist. One included a debate on "Man has replaced God" with people like Richard Dawkins; it was almighty fun with drums beating and some very witty panellists! During my meet-the-author session in Beijing, there was great interaction as we discussed my novels.  In my workshop on writing TV scripts, the participants managed to successfully write one scene each for a drama serial. In my third session at the Minzu University; my message of "Be proud of who you are" struck a chord with students from different ethnic groups.
It was a pity that I did not have a chance to interact with many other authors in Beijing due to my tight schedule. In Jaipur I was delighted to meet Michael Ondaatje, William Dalrymple (one of the festival's directors), as well as Richard Dawkins and Ben Okri. On the last night, I had a chat with Javed Akhtar, who writes lyrics for many Bollywood film songs, whilst sitting in front of a fountain strewn with red rose petals. The star of the Festival, of course, was Ophra Winfrey; she enchanted the audience with her wit, humour, humility and sheer humanity – the Indians simply adored her.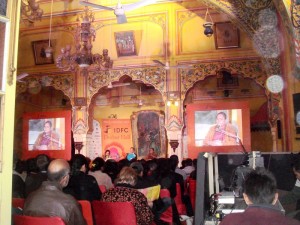 It was also great meeting many local Indian writers, including Namita Gokale ( the festival Director) and three other women writers, Manisha Kulshreshta, Annie Zaidi and Nisha Susan who shared my panel entitled, "The Good Girls Come to Jaipur" about women's lives, social perceptions, and professional writing. In particular there was a lively debate on the issue of the "good girl" versus "bad girl" image in India.
Censorship played a part in both festivals. I was not allowed to tweet from China, as I had promised Anora (editor of Women Writers, Women Books). In Jaipur, the festival was hijacked by the Salman Rushdie affair. He had previously attended the festival with no problem, but this time politics got mixed up with literature.
For a visitor, both countries offered enriching cultural and historical experiences. In China, I was awed by the Forbidden City, the Great Wall, and the emperor's terracotta army in Xian. I climbed hundreds of steps to see the white sleeping Buddha in Mianyang.
In Jaipur, I visited the majestic fort and the pink city palaces. There were special moments to savour. The Jaipur Writers Ball was one such occasion. It was held under the moonlit sky on the rooftop gardened terraces of a fort accented with majestically decorated elephants and graceful Rajastani dancers welcoming you.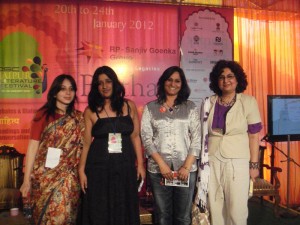 As a writer, certain places fired my imagination. In Cochin, in Kerala, it was the old Jewish synagogue, as I imagined the first Jewish community arriving centuries ago to enter India through this port. In China, whilst peering out of a cavity in one of the towers, I wondered about the life of the men who had built the Great Wall to protect it from invaders.
During my tour in India, I launched two books. The first was a textbook with critical essays on my work called The Holy and the Unholy at Aligarh Muslim University in North India. I headed south for the D.C. 14th International Book Fair to launch my novel Typhoon in the local Malayalam language. It was an honour to inaugurate the book fair by lighting the first "diva" lamp for the ceremony. I was impressed by Kerala's hundred percent adult literacy rate and was glad to learn that literature played a very central part in people's lives.
In Kerala, a lush-green state, I enjoyed a wonderful meal with my translator's family, savouring the novelty of eating from a large banana leaf. In China whilst I forked away at my food  I admired my hosts' deft use of chopsticks at a shared banquet. In Mianyang I was hosted by the people who are currently translating my novel The Holy Woman into Mandarin at the South West University of Science and Technology. I was deeply touched by their wonderful hospitality and sensitivity in providing halal food for all my meals. This way I tried the best of the Chinese cuisines, especially the spicy one of Sichuan. I made many friends who are now like family members. I believe that by friendship with its people,  you get to know a nation.
—
Learn more about writer Quaisra Shahraz at the website for the British Council of Literature, Wikipedia, or the Moving Manchester Writers' Gallery.
Category: Being a Writer, By Current and Past Sponsors, Contemporary Women Writers, Friendships between Women Writers, Multicultural Writers, Women Writers Across Cultures, Women Writing Non-Fiction