Most writers feel that our work is to create the best book we can, and then we're done, well, besides getting an agent or a publisher. But the success of that huge journey to write our best book is tied to your efforts in capturing the words and messages about your book that will create a bond with your future readers, and their proxies, the media.
If you haven't already been preparing the messages about your book, and you haven't been trained in media readiness, Media Ready, Media Savvy is a delightful book that you can write all over as you build your messages, collect information about how other authors perform with the media, and prepare to target media channels. Not only delightful, but essential.
The paperback workbook in a brilliant black cover with neon green text is available from CreateSpace for $4.00 off, to help cover shipping. (Use this discount code: PHE7NLWW in the box on the lower right part of the page when you order the book.)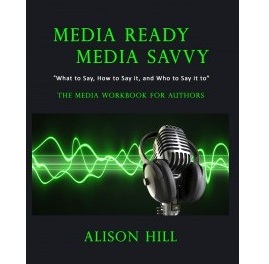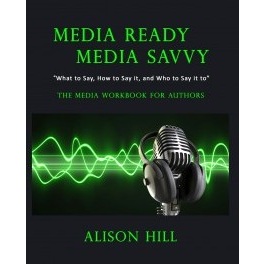 Writer, journalist and producer from Wales, Alison M. Hill, @AlisonMHill on Twitter,  has been a US resident for almost two decades. With humor and savvy, Alison encourages new authors and writers through the multi-step process of developing key messages they will need for marketing and publicizing their books, and then preparing their media marketing plan. She asks pointed questions to keep you focused on your goal – getting the word out clearly, powerfully and effectively to the media and your future readers.
Want to get a feel for Alison's tone and message? Read the Introduction:
Introduction to Media Ready, Media Savvy
Welcome authors and writers. Congratulations, you've written a book and it's getting published. Months, maybe years of hard work and dedication are finally paying off, and you deserve every success. But before you sit back and bask in the glory, remember your job is really just beginning. Now your challenge is to spread the news and help sell as many copies as possible. Of course, this doesn't happen automatically or overnight. It takes forward planning and effort. So put the champagne on ice, roll up your sleeves, and let's get the word out.
Your goal, whether traditionally or self-published, is to secure media attention and attract readers to your book. The more your name and book is mentioned on air (television and radio), in print (newspapers and magazines) and online, the more likely it will sell. Otherwise, how would anyone out there know about you?
The purpose of this workbook is to prepare you, the author, for media interviews and engagements. It also offers guidelines for effective marketing strategies, and tips on how to approach and interact with media professionals. You will learn what to say, how to say it, and who to say it to, quickly building notoriety as an author.
If you're a debut or self-published author, you need all the exposure you can muster. So prepare to build an author platform, make a name for yourself, and create a buzz about your work, so you too can find a secure home on bookshelves and electronic readers.
You might be one of the lucky ones who can sell thousands of books by word of mouth. Maybe your publisher will take care of marketing efforts, or at least the bulk of the work, and secure interviews for you. And you may hire your own freelance publicist if you have the funds.
Self-published authors will usually have to embark on their own marketing campaign if they cannot afford a publicist. These days however, if you're not already an 'A-list' bestselling author, you will have to take on some of the book publicity responsibilities. And whether brand new or seasoned, the key to success is carefully preparing yourself and your message, so that when you are interviewed, you will speak eloquently and succinctly about your novel, memoir, or non-fiction, while also entertaining and charming the viewing,  listening, and reading audience.
So what is the media looking for? How can authors secure airtime and column space?
As a television producer, writer, former newspaper reporter, host and journalist, I can provide some insight and suggestions. Keep in mind, personalities and tastes differ widely among media folk, TV and radio shows, publications and websites. But one consistent fact remains, we all want to write and produce an interesting piece that viewers and readers will enjoy.
In this workbook, I'll give you my take as an industry professional, and offer some insider tips on what qualities producers and reporters look for in potential guests.
Of course, you can't foresee what's going to be hot at any particular time, or when a massive story is about to break and dominate the airwaves. But what you can do is prepare yourself with a well crafted message and pitch, so you can feel comfortable approaching producers and journalists with ideas for a TV show, segment, or magazine feature. Your task is to convince him/her that your knowledge will help people, your story will inspire, or issues covered in your non-fiction (or fiction), will spark interesting debate. So all that's left to do is arrive at the studio (early) and give a good performance, which will lead to more invites at that particular station and hopefully from other media outlets. Every author needs to build a lasting relationship with the media, after all, you're going to write another book, right?
This workbook will guide you through several layers of media readiness and preparedness. It covers everything from the basics – developing a catchy one-sentence book description and pithy bio; to creating a press kit, crafting proposals, pitching media professionals, and the desired result – the interview.
Click the link here to take a look at the Table of Contents for Media Ready, Media Savvy. Below you'll see some screen shots from within the workbook.
For the week of June 4, between Monday June 4 through Friday June 8, 2012, Media Ready, Media Savvy the paperback workbook for new authors and writers to prepare their media messages was offered at a very special discount. But you can still get Media Ready, Media Savvy on CreateSpace for $4.00 off, to help cover shipping, use this discount code: PHE7NLWW in the box on the lower right part of the page when you order the book.
[This workbook is based on workshops developed by Alison M. Hill, with support by Anora McGaha, Director  of ClearSight Creative Resources, and editor of Women Writers, Women Books.]
(Updated June 11, 2012)
Category: British Women Writers, Contemporary Women Writers, Growing Your Platform, Marketing Your Book, US American Women Writers