There are some amazing competitions for women writers! We didn't want you to miss this one!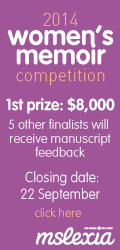 Mslexia Women's Memoir Competition is for full-length memoirs from unpublished memoirists. The only competition of its type in the UK, Mslexia is looking for memoirs of at least 50,000 words of prose that narrate actual events in the writer's own life.
To be in with a chance of winning the top prize of £5,000 ($8,000), submit the first 5,000 words of your completed manuscript. Even if you've never attempted memoir before, life writing is an incredibly creative – and often cathartic – genre to dive into; you have until 22 September to get your memoir submission-ready.
The acclaimed judging panel is comprised of memoirist and novelist Julie Myerson, literary agent Jenny Brown and Guardian Women's Editor Jane Martinson.
Five finalists will receive free professional feedback from The Literary Consultancy, and be invited to meet literary agents and editors at a special networking event.
Contact Mslexia for full entry details:
www.mslexia.co.uk – Memoir Competition
memoir@mslexia.co.uk
+44 (0)191 204 8860
Category: By Current and Past Sponsors, On Writing, Women Writing Memoirs