memoir writing
Listening to Steve Winwood's haunting Can't Find My Way Home for the first time since 1969, I realised that was my dilemma too. At least twenty years ago I started jotting down memories of my childhood in Africa – in case I forgot them.
I'd waited that long because I'd been working out the guilt of a colonial upbringing in 1950s Nyasaland. I'd been burying the sediment of my past deep beneath the topsoil of my London life. I went back only once, in 1985, to find my roots and make peace with my younger self. (The subject of my piece 'Returning Home' in the Summer 2013 issue of When Women Waken.)
In 2011, after the publication of my second book about acting, I decided I needed to write about my past in Malawi (ex-Nyasaland). I persuaded myself to begin by manufacturing a deadline. I told my publisher he couldn't have my next book until I'd written this one. Also – since it seems to take me around seven years to write a book and I want to write at least another three – there was another deadline looming on the horizon…
Thus I began in earnest to write my memoir – or was it a memoir novel – or a fictionalised autobiography – or a plain autobiography? I wrote it in the third person – then moved to the first person – then put it back into the third person with a coda – then the first person again. I wrote it in the past tense – then the present tense – then in both.
Meanwhile my publisher was waiting, fairly patiently, for the next acting book.
It has been a surprisingly painful, surprisingly difficult and surprisingly surprising journey.
The first thing I discovered was how much, how very much, I'd forgotten. And how very much more I'd never known – things that I should have known – or understood. The problem was compounded by waiting to write it until both my parents were dead. There was no one to ask, 'What kind of lavatory did we have in the bush?' 'Did we drink milk from African cows?' 'Did I never play with the local children?' And if not, 'Why not?'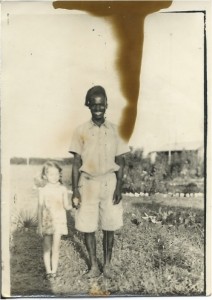 I've had to rely on my scribbled notes, my disjointed 'snapshot' memories, old dog-eared black and white photographs and a great deal of research. Fortunately, I throw little away. With the help of family passports, school magazines, a file of my parents' correspondence and the Internet – above all, the beloved Internet – I eventually managed to construct a rough time-line of my first seventeen years.
I thought we went on leave to England by liner three times during my childhood, but it seems we went only twice. Yet there is an irritating gap in the passports. Could we have travelled on visas? Or is that the trip to South Africa on a steam train that I remember of which there is no record? Or is my memory so bad that we did go back to the UK three times? And so it goes on.
One of most extraordinary things to have come out of this work is the realisation that the ghostly figures from my past really existed. More than that – still exist. Thanks to the Internet, and the drive of expatriates to come to terms with their dislocation from childhood homes, I found a thriving community online from my old (and hated) school.
And what's more – I met some classmates. Yes, real, live people rose from my buried past.
Things I thought I must have dreamed – like standing on the deck of a ship and seeing three volcanoes – Stromboli. Etna and Vesuvius – erupting simultaneously, have been confirmed by my research. I've been telling the truth all along.
And searching for the truth has been the biggest burden of all. What is 'truth'? I don't mean facts – they are easily ascertained – I mean essential truth.
Is it truthful if I make it more readable by conflating characters and changing orders? Is it truth if I flesh out people I barely remember? Is it truth if I embroider ever so slightly? But maybe it isn't embroidering; maybe it was so.
It is true in essence. It is truthful in so far as any history is truthful. It is my subjective truth. It's as truthful as it's ever going to get. It's as true as any story can be, told across more than a half-century gap.
I am weary of being so much in the past and look forward to living again in the present or future tense. The good thing is that some of my past has become my present: old friends made new; ghosts made substance. And I know more now about the background of my childhood home and my life there than I ever knew before.
If you are writing your memoir – here are a few tips:
Ask all those questions before your parents die.
Keep all the notes you can.
Don't throw anything away.
Get it over with quickly!
—
Ann is currently writing about her African childhood. She has lived in London for most of her adult life, but recently escaped to the countryside of Suffolk with her husband and two dogs. She writes, directs and works with actors, and has two books in publication: Acting for Film: Truth 24 Times a Second (Virgin Books) and A Screen Acting Workshop + DVD (Nick Hern Books)
She twitters as @MelChurcher –  her website is www.melchurcher.com
Category: Contemporary Women Writers