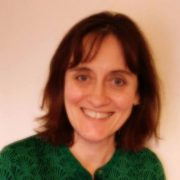 I've always wanted to write, and even as a child I loved making up stories, and telling them to my younger sister. She would often ask if I could tell her one at night, to help her get off to sleep.
Unfortunately, although, according to my English teacher, I had a good imagination, I was a bit of a dreamer at school, and left at sixteen with few qualifications. From there I became a clerk typist, and later started my family.
It was when my youngest son was at infant school that I wrote a non-fiction book about a local school, and had it published. I realised then how much I still loved writing, and the dream to write a novel was planted in my head.
But it wasn't until some years later that I began to attempt my dream.
It was just after I left my job as a school secretary, that I was in a car accident. I broke my pelvis in two places, but I knew I was lucky to have not broken my neck, or worse. This was the catalyst that made me decide that if I wanted to write fiction, I shouldn't leave it any longer. Life is short, and this was my dream. I decided to give it my best shot, as even if it never came to fruition, I could say I tried.
In the following year I studied for a Creative Writing Diploma with the Open University, which I loved. My tutor was brilliant, and I consider I was lucky to have been taught by him. Don't get me wrong, he told it like it is, which at first was a bit of a shock. But I know now that a writer's journey isn't easy, and I was about to find rejection at every turn. He prepared me for that.
After I'd finished my course, I wrote short stories along with attempting my first novel. I found many lovely writing friends, and we all support each other even now.
My first short story sale came in 2008 to 'My Weekly' in the UK. It was a spooky story with a twist. I remember running up the garden to tell my husband. He thought we'd won the lottery, as I was so excited. It felt as though I had. I have since sold 200 stories to magazines globally, but I have had many, many rejections too.
In 2010, I came very close to being signed by Darley Anderson with a paranormal comedy, that I'd written at the time. They asked for the full manuscript, and I was very excited. When they finally declined they gave me some excellent advice, for which I was grateful. This was a good sign, I felt sure. But I've had bad signs too. I've had plenty of form rejections from agents over the years for my various attempts at novels.
Once I'd written my psychological thriller Her Last Lie, I'd only sent it out to two of agents, when I decided, after nine years; it was time to accept it would probably never happen. So instead I blogged my novel to raise funds for Cancer Research, and raised over £400. At the time, my amazingly brave sister was battling terminal cancer.
Then one day I was reading about HQ Digital UK. One of their authors was praising the digital publishing company that is a part of HarperCollins. It was on impulse that I emailed them, attaching my novel, and asking if they would be interested in publishing it.
They got back to me amazingly quickly, saying they were now reading the book. I thought this was probably the norm. What I'd learned from years of writing was not to get my hopes up. But then I got an email asking if they could call me. I still didn't get too hopeful, and was shocked when the friendly editors, there were two on the line, told me they would like to publish my novel. I couldn't believe it. I was living proof that even after ten years, it can happen!
I wanted to continue raising funds for Cancer Research, so decided all my eBook royalties would go to that charity.
During the following months, I worked with my brilliant editor, who helped me to pull the novel into shape with her excellent suggestions. And Her Last Lie was published in January 2018. It's now a Kindle #1 bestseller in the UK, and has been in the top 100 in the US Kindle charts. I've also had some wonderful feedback from readers, which is so lovely to hear. In fact, I can't believe its success so far.
However, it is bittersweet for me, as it would have been wonderful if my sister could have been here to see it published. She was always my biggest champion. It breaks my heart that she passed away in July 2017.
I've absolutely loved working with HQ Digital, and I am now writing my second psychological thriller, which is exciting. It's due to be published in March 2019.
—
About HER LAST LIE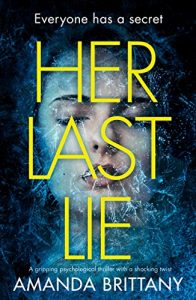 'An exciting new voice – Brittany reels readers in with this twisty, clever thriller that will have you second-guessing everything…' Phoebe Morgan, author of The Doll House
'Brilliant, pacey, and will leave you suspecting everyone is involved!' Darren O'Sullivan, author of Our Little Secret
She thought she was free of the past. She was wrong.
Six years ago Isla was the only victim to walk free from Carl Jeffery's vicious murder spree. Now, Isla vows to live her life to the fullest and from the outside it appears perfect.
Determined to finish her book Isla plans her final trip to Sweden, but after returning from Canada and meeting a man she never thought she would, her life begins to derail.
Suddenly Isla is plagued by memories of the man who tried to murder her, and the threat that he could be back causes her to question everything, and everyone around her.
This debut psychological thriller will have you closing down social media accounts, looking over your shoulder, and hooked until the very last line.
—
Amanda Brittany lives in Hertfordshire with her husband and two dogs. She loves travelling, and visiting Abisko in Sweden inspired her to write 'Her Last Lie'.
She began writing fiction nine years ago, and has since gained a BA in Literature, a Diploma in Creative Writing, and she's had 200 stories and articles published in magazines globally.
When her younger sister became terminally ill, Amanda's hope was to write a novel where her royalties went to Cancer Research. 'Her Last Lie' is that book, and all of Amanda's royalties for downloads will go to that charity. 'Her Last Lie' is her debut novel.
Website: www.amandabrittany.co.uk
Twitter: @amandajbrittany
Facebook: www.facebook.com/amandabrittany2/
UK:  https://www.amazon.co.uk/Her-Last-Lie-psychological-thriller-ebook/dp/B072TWQCCL
USA:  https://www.amazon.com/Her-Last-Lie-gripping-psychological-ebook/dp/B072TWQCCL
Category: Contemporary Women Writers, How To and Tips, On Publishing