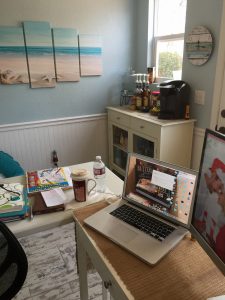 It was cheaper than a divorce.
This past summer I came face to face with a huge dilemma: My writing space had been invaded by an alien—the dreaded non-writer husband.
As writers, we need our own space. It's a right of passage. A given. An essential part of this crazy puzzle we call writing. You know the one—the puzzle that always seems to have a piece missing. Whether it's a corner in a bedroom, the office den, or a special seat at Starbucks, we need a space for our creativity to come alive. One writer I know uses a vacant closet. I can't feature a closet with nothing in it, but whatever works, right?
My DH retired this past May. I was worried about him going bonkers (he's used to thirty fifth-graders vying for his attention). I needn't have worried—he adjusted quite nicely. I didn't. This man doesn't know how to whisper to the dog, the TV, or himself. Perhaps it's from years of teaching, but his "inside" voice is equivalent to a cheerleader with a megaphone.
He's a smart cookie, but somewhere along the line, he forgot the meaning of "Do Not Disturb" even when there's a sign on the door of our home office that says, "Writer at Work—Do Not Enter Unless You're Tall, Dark, and Handsome". What part of this statement does he not understand? One day while in my writing "bubble", he opened the French doors (both tightly closed with said warning attached) tiptoed across the den and stuffed a handful of documents in the shredder.
I was done playing nice.
I'm not opposed to throwing tantrums when it comes to my writing time, and I pitched a doozy. Poor guy gaped at me like I'd lost my mind, which probably wasn't far from the truth. Besides, it worked. He asked me to think about what we could do about it (bless his heart) and he'd try to do it. However, he did say he was against going back to work (darn) or moving out, although the thought had crossed my mind.
After forty-two years together, a little "space" was a viable option. Then it hit me. Space. Not a man-cave, but a she-shed. I had seen them on the internet: backyard sheds turned into a special place for a variety of activities—from a gardener's potting haven, a knitters cozy yarn shop, a crafter's hobby room, to a quiet miniature library to read.
Why not a writing space?
When I approached him with the idea, he nodded enthusiastically and said he liked the idea, and mumbled something about it adding home value and being cheaper than a divorce.
The Tuff-Shed was delivered, erected, and ready to finish the inside. My DH enlisted the help of our neighbor and by my birthday in late October, I had my own writing cave, complete with Wi-Fi, heating & cooling, bookshelves that cover one wall, a coffee, tea & wine bar, a comfy chair, and desk. I chose to decorate my space in a beach theme and nicknamed it "No Boyz Allowed", and gave strict instructions as to what that meant.
Unless blood is gushing from a main artery or the house is being consumed by fire, do not disturb means–No visits. No texts. No email. Zero interruptions. Period. He's a boy. He's not allowed in.
I love my quiet little beach getaway, especially when it's raining or snowing. There's nothing better than the patter of rain on the roof, or the stillness of falling snow. And I truly do love my husband despite the devious thought I'd wished he'd signed just one more teaching contract.
He's very proud of his accomplishment. I am too. He's a teacher, not a carpenter, and for him to go the lengths he did to provide me a special space speaks louder than words ever could. My writing space "puzzle" may be a bit frayed around the edges, but it's not missing any pieces. It's a soothing, comfortable, quiet retreat, and my DH hasn't found my stash of wine. Or chocolate. Double WIN! And to top it off, we celebrated our forty-third anniversary in December, our marriage intact. Mission accomplished.
All is well at the "No Boyz Allowed" beach cottage/writing cave. Now, if it had a bathroom—well, that's fodder for another day.
—
Award winning author, Susan Haught, lives in Arizona's Rim Country with her husband and spoiled Shih Tzu, Mercedes, who believes her princess status earns her the right to sleep on pillows, ride shotgun, and train her peers in the fine art of squeaky toys.
With Mercedes and a stash of Australian black liquorice by her side, Susan writes contemporary Women's Fiction & Romance with the belief that Love is Ageless and has the power to change lives—one step, one touch, one kiss at a time. You can read her award-winning short story on her blog at www.susanhaught.com
Category: On Writing