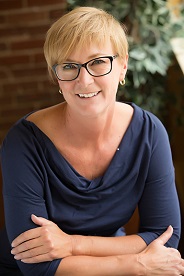 I've got the boxes broken down and stored in my garage. There's a stack of plastic storage bins next to them. I ought to give them away. I'm determined not to need them again and the thought of dragging them out gives me hives, but I can't quite let them go. I spent seven moves in less than ten years gathering them, and if I ever have to move again, there they are. Except I swear I'll douse everything in gasoline and strike a match before I subject myself to that pain. Or at least hire a moving company.
I didn't set out to have such a nomadic adult life. My father worked for a big corporation and we moved every 2-3 years, so my childhood has much in common with Army brats. It never bothered me much. I loved the excitement of a new house, new neighborhood, new friends. Since I'd never known anything else, life was great. When I was fourteen my mother decided she'd had enough, issued Dad an ultimatum, and away we all went back to their hometown in western Nebraska. I was the only one of my siblings to go all four years to the same high school.
I did that typical thing young people do in college, I fell in love and throwing caution to the wind, planted myself smack-dab in the middle of the Nebraska Sandhills. It's this vast rolling prairie of 30,000 square miles with a population density of .95 people per square mile. It took me a fair amount of time to acclimate.
I remember sitting on my waterbed (it's okay to laugh) after about two months of marriage wondering how I'd get out of this disaster. Finally telling myself I couldn't divorce after so short a time or I'd look like a flake, I made a conscious decision to love the Sandhills. And I did.
Over the course of twenty years, I set about raising kids, and developed a real appreciation for this rugged landscape. Maybe there aren't forests, but the fall grasses flame with reds, oranges, and golds. Flashy summer sunflowers explode against deep green pastures in June. White frost lines the trees against a sky so blue it takes your breath away. Killdeer, grouse, curlews, meadowlarks, and a thousand other birds soar in the clear skies. Coyotes and deer were our neighbors.
I committed to the Sandhills, but, it turns out, my husband didn't show the same commitment to me. I may be a tad bit gullible and somewhat over-trusting, but I was the third to the last one to find out about his long-term affair.
I got a chance to start over and I picked someplace easy to love. Boulder, Colorado. I'd lived there for a year when I was twelve, and always consider this my heart home. Every time I set foot there, I feel happy. I didn't get to stay there long, just three years. This time the moved was caused by more fortunate circumstances. A new love, a new opportunity and off the Flagstaff, Arizona.
Mountains, the Grand Canyon, and deserts just an hour drive away. I definitely didn't have to force affection for this place. And then, boom, another opportunity in Boulder. Didn't quite work out. So, wham, off to a small town in southwest Nebraska. And finally, with no more pesky day jobs to worry about, down to Tucson, where the sun shines most of the time and desert sits behind my back fence.
I don't regret any of my moves. (Well, maybe that last one to southwest Nebraska) By moving so much, I've been thrust into new environments often. Getting the lay of the land, figuring out the landscapes, the customs, the expectations of each place, makes me observant and keeps me from complacency.
When we moved to Tucson, I had to learn to watch for rattlers on our morning walks. It only took once to teach me to stay well away from cholla cactus (they jump, kind of). That sweet smell? Mesquite and creosote.
The real kicker for me, though, is my current series, the Kate Fox mysteries. After leaving the Sandhills, I might have been just the slightest bit bitter. It took a while to get my sense of humor back about the place, but when I did, Kate Fox appeared in my head. She's nothing like me. She's fourth generation Sandhiller and is related to everyone in Grand County by one degree of separation, or less.
I always knew I wanted to write about the Sandhills because it's unique. The community is like one big family, with the rivalries, history, conflict, affection, and deep connections. The way of life is a complicated mix of tradition and modern. The characters quirky, the environment unforgiving.  And there's plenty of places to hide the bodies.
I hope you'll like visiting it and have fun hanging out with Kate, her interfering family, and her sometimes adventurous journey. The first in the series is Stripped Bare, and the new release is Dark Signal.
—

Shannon Baker is the author of the Kate Fox mystery series, set in the isolated cattle country of the Nebraska Sandhills. She was voted 
Rocky Mountain Fiction Writers' 2017 Writer of the Year
 and Stripped Bare earned the author a starred review in Library Journal (as their 
Pick of the Month
) and a nomination for the 2016 Reading The West Award from 
Mountains and Plains Independent Booksellers
. She also writes the 
Nora Abbott Mysteries
(
Midnight
 Ink), featuring Hopi Indian mysticism and environmental issues inspired by her time working at the 
Grand Canyon Trust
. Shannon makes her home in Tucson where she enjoys cocktails by the pool, breathtaking sunsets, a crazy Weimaraner, and killing people (in the pages of her books).
About Dark Signal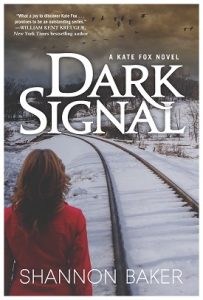 Dark Signal by Shannon Baker is the second installment in the Kate Fox mystery series, called "A must read" by New York Times bestselling author Alex Kava, starring a female Longmire in the atmospheric Nebraska Sandhills.Reeling from her recent divorce, Kate Fox has just been sworn in as Grand County, Nebraska Sheriff when tragedy strikes.
A railroad accident has left engineer Chad Mills dead, his conductor Bobby Jenkins in shock. Kate soon realizes that the accident was likely murder.Who would want to kill Chad Mills? Kate finds that he made a few enemies as president of the railroad workers union. Meanwhile his widow is behaving oddly.
And why was his neighbor Josh Stevens at the Mills house on the night of the accident?While her loud and meddling family conspires to help Kate past her divorce, State Patrol Officer Trey closes in on Josh Stevens as the suspect. Kate doesn't believe it. She may not have the experience, but she's lived in the Sandhills her whole life, and knows the land and the people. Something doesn't add up—and Kate must find the real killer before he can strike again.
Official Website
Facebook
Twitter
Goodreads
Purchase Links for Close Enough

Amazon
Purchase Links for Dark Signal

Category: On Writing