Best selling author Lisa Wingate shares her novel writing tips with us.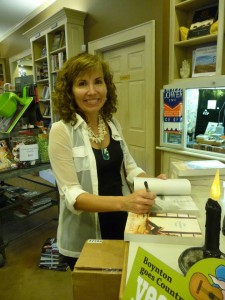 Last year, for the September release of The Prayer Box, I traveled on a six-week book tour. My plan was to have the first draft of my 2014 novel finished and turned in to editorial by mid-August, when the release events for the 2013 book were scheduled to begin. It was a good plan – have everything off my plate, give my editor plenty of time for a first read, enjoy the tour with nothing hanging over my head.
Anyone care to guess on how well that worked out? Between family schedules and the publicity needs of the novel that was releasing, I packed up and left on the book tour with three-quarters of a rough draft, a mental outline for the rest of the book, and the knowledge that, since I would be staying in tall buildings, I could always jump off of one if I had to.
When you get right down to it, writing a book from start to finish is still hard work, even after a couple dozen novels. It's even harder when your time is fragmented between publicity needs, family needs, and the need to actually eat and sleep.  As writers we're in a demanding business, and when schedules are tight, there's no time to invest in a story that ends up getting scrapped, is rejected at the editorial level, or requires a major rewrite.
A problem like that can lead to a deadline disaster. My twenty-third novel, The Story Keeper (the one I finished after the book tour), hits shelves this month. Writing a book or two each year consistently is a challenge, but I've learned a few things that help me keep my manuscripts on track and avoid the dreaded (as my teenagers refer to it) Epic Fail.

Find a structuring and plotting method that works for you. There are many, and even very "organic" writers can benefit from learning techniques that allow for planning the structure and elements of a novel. There's no need to reinvent the wheel. Look at what's out there and find methods that jibe with your style. As an organic type myself, I find that Three Act Structure is a tremendous help. You can find my simple outline for three-act structure here: http://lisawingate.com/threeactstructure.htm. Occasionally, when I have a character I'm really trying to figure out, I'll use Randy Ingersman's Snowflake technique. http://www.advancedfictionwriting.com/articles/snowflake-method/
Identify the hook. The quality and originality of the story hook is paramount. Yes, good writing matters. Yes, interesting characters matter, but the reality is that an especially magnificent or original story hook will float a novel (or nonfiction project) through editorial when the writing still needs work.
Create sympathetic characters. Remember that as the story begins, you're asking readers to attach to people who are plagued with seemingly-insurmountable problems. In real life, we generally avoid getting involved in those kinds of situations. A writer must give the reader compelling reasons to care about the character as the story opens.
Identify the problem. In Three Act Structure, this is often referred to as the Inciting Incident. I like to call it The Explosive Incident. It's the big, big, big problem that blasts the plot into motion. It turns the character's entire world upside down, upsets the apple cart, makes life as it once was virtually impossible. It must happen early and be earth-shattering.
Set the audience expectation. The "problem" created by the Explosive Incident should tie directly to the final resolution of the plot. In essence, the problem subtly sets up a want (a desire)in the reader. The audience sees what the character really needs, yet the character is blind to the need. In fact, the character desires the opposite of what he/she really needs. By the end of the story, the character will have come full-circle, embracing the opposite of his original want. By embracing this opposite, he/she will find fulfillment. Example: In Jerry Mcguire, Tom Cruise speaks his mind, loses his high-profile job and his big-name clients. He believes he'll solve the problem by building his own agency and replicating his former success. What he really needs to do to be happy (and his manifesto early in the movie shows us this) is to become human again, to bond at a heart level with his clients, to value people above money and status, to understand that love and integrity matter more than success – completely the opposite of his original belief.
Add obstacles. How many ways can you separate the character from his goal, putting him at a greater deficit each time? Find them, use them, make them exciting.
Consider the market. Where will it sell? Who will read it? What can you do to make it as marketable as possible? Think about settings, time periods, the character's age, ethnicity, gender, job. What's selling now in the market?
Outline (if you're an outliner).
Find your creative tribe. A good brainstorming group, critique partner, writing group, or team of beta readers can be invaluable. Don't write in a vacuum. We're never objective about our own work. Additionally, new minds can mean new ideas. Sometimes when you're stuck, a brainstorming buddy can help you find solutions you hadn't thought of.
Write… but live, too. Let's be frank about this one. You can't do your best work in any venue, but particularly as a writer, when you're exhausted, overstressed, and scattered. Find a day-plan that works for you, allowing you not only to make your page count, but to make your days count, as well.
Happy writing, my friends! May the words flow and the winds of story be fair and fine as you find your way from Once Upon a Time all the way to The End.
—
Lisa is a journalist, an inspirational speaker, a reviewer for the New York Journal of Books, and the author of over twenty novels and countless magazine pieces.
Her books have held positions on many bestseller lists, both in the U.S. and internationally.
Category: How To and Tips