ONLINE WRITING CLASSES
Take 8 Writing Classes from Bestselling Authors & Experts
She Writes University is back for Spring 2018 with 8 one-hour webinars followed by live Q&A sessions with each instructor.
The semester kicks off on April 5, 2018, with a webinar by Jesmyn Ward, the two-time National Book Award-winning author of Sing, Unburied, Sing. Register for individual classes, or register for the entire semester and save with the 8-class bundle.
Classes include:
"Voice: How to Find Your Characters' and Your Own" by Jesmyn Ward
"Moral Choices: How to Transform a Good Book Into a Great One" by Caroline Leavitt
"There's More (And Less) To Memoir Than What You Remember" by Abigail Thomas
"Where Do I Begin? How to Grip Readers From the First Page" by Margaret Wilkerson Sexton
"Surviving and Thriving as a Working Writer" by Christina Baker Kline
"Did That Really Happen? Writing Real Characters" by Kirstin Chen
"Plot and Story: How to Hook Readers and Keep Them Reading" by Lisa Ko
"The Modern Author: Understanding Sales Data, Rankings and More" by Carly Watters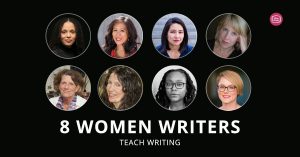 Each class includes a 60-minute live webinar including Q&A and access to the secret Facebook group where each instructor will hold a 60-minute LIVE Facebook chat after class so you can ask additional questions.
Each class is $150, or you can purchase the entire semester for $800.