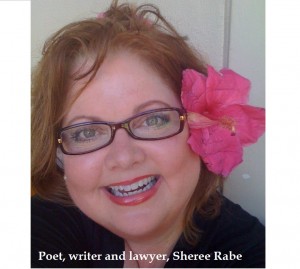 We met Attorney and Poet Sheree Rabe as @writerrabe on Twitter, when she was building her Poet on Poetry blog, just as we were starting out in 2011. A year later she is going strong with yet another new venture, 100 Million Girls, in addition to Poet on Poetry, which we will address in Part 2 of this 2 part interview. This is Part 1.
When did you start to write poetry?
I wrote my first poem as a very young child, 2nd grade I think.  My mother read poetry to me as a toddler and that helped instill a love of poetry. Graduating high school at sixteen and marrying at seventeen, I had little time for writing.  I put myself through school, had a precious baby daughter and eventually became a lawyer.  My hours were crazy as a lawyer, so I only wrote on vacation.  I was in the process of writing a memoir when my husband was killed in an accident in 1997. After he died, I found an online international support group. I wrote and posted poems there every night when I couldn't sleep. They became fans, as did their friends and relatives. I had 200-300 people on a private email list that I sent weekly poems and prose articles. The economy drove me to get a second job and I stopped writing. A year ago, I quit one job and I have been writing nonstop since.
Tell us about starting an online poetry site that has taken off this past year.
I found out you could have a free blog on Blogger.  I wanted to see if I could resurrect what I had with the widows and widowers. I was pleasantly surprised to see the interest that was there, especially in other parts of the world.  I cross promoted it on Twitter and Facebook and it just kept growing. People love Poet on Poetry. We topped 52,000 visits this past year, and now have a larger viewership than a number of prestigious poetry journals and magazines.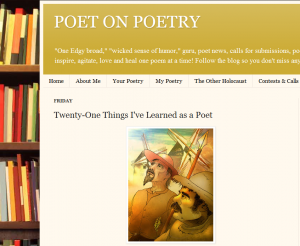 How would you describe the mission and vision of your poetry site?
I first thought the mission was to put a site up and get to know some people so when I wrote a poetry book, I might have a set of fans.  I quickly changed the mission finding out that I really love promoting others even more than myself.  I love finding a new Poet of the Week, or poem to share. I love writing articles about issues that aren't being discussed in the poetry world.  I tend to take on the establishment and there are a lot of poets out there who like that. A lot of poets don't like how closed and controlled the poetry world has become since the profusion of MFA's in poetry.
What positive surprises have you had since launching your poetry site?
I guess the biggest surprise has been the level of interest in almost every country in the world.  I've been told selling a few hundred poetry books is considered good.  On Poet on Poetry, we are not selling anything, but we have more than a thousand visitors every week just to read poetry or an article.  I showcased a poem by a poet in the UK a few weeks ago and in one day over one thousand people dropped by to read her poem, "Rant."
I really shouldn't be surprised since I always said my dream job would to be Julie on The Love Boat.  She planned activities for everyone and watched while they had fun.  I am surprised at how much fun it is to promote the poets on Poet on Poetry. Though, without help, the logistics of doing the Poet of the Week segment take enormous time.  As a writer, it is so hard to keep all of this from encroaching too far into my writing time.  It is a constant battle.
You've shared that you're hosting Afghan women's poetry on one of your sites. How did that come about?
I loved the mission of helping these women who are silenced be heard.  I ordered the book, The Sky is a Nest of Swallows of poetry from the Afghan Woman Writing Project and I could not put it down.  It was the best and most riveting poetry I have ever read.  I contacted the organization to see if I could share it on my blog and they agreed.  I am very proud to help get their voice out into the world.
What are your own goals as a writer?
Currently, I am working on a book about the 100 million "missing" girls around the world.  This path was unexpected, but also one I couldn't avoid.  A graduate of Texas Woman's University and on the legal team in Texas for Hillary Clinton when she ran for president, I have always been an advocate for women and children.  So, you see that my poetry has crossed paths now with both of these issues. The book is a priority.  I also intend to finalize the memoir I started before my husband died about our extraordinary life and love. I have played with the idea of making this memoir into a screenplay instead.  I am not sure which way I will go first.  My current husband is my editor, critic and cheerleader.  He has embraced and encouraged me through all of this. Without him, I would not have done anything with my poetry or my book. Another goal is to continue to grow as a poet and a writer with the goal of writing or editing almost every day.  Sounds easy, doesn't it?
Continue to Part 2 of the Interview with Poet and Writer Sheree Rabe: Poet on Gendercide – 100 Million Girls.
—-
Sheree Rabe: www.shereerabe.com, @writerrabe
Poet on Poetry: www.poetonpoetry.com, @poetonpoetry, www.facebook.com/poetonpoetry
100MillionGirls: www.100million.girls.blogspot.com, @100milliongirls, www.facebook.com/100milliongirls
Category: Contemporary Women Writers, Poetry by Women Poets, US American Women Writers