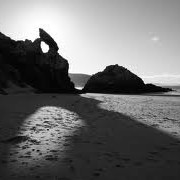 I wrote Saltskin in a seaside hamlet where once there was a massacre. Men, women and children killed by a lone gunman, a member of the community. New to the area, I was mindful of the tragedy.
It was a spooky place to be. To me, the hedges around the dwellings were too high, the dirt roads eerily absent of children, the low sea mist moody and ominous. It didn't help I knew no one, was broke and lovelorn.
Still, the scenery was brutally beautiful and the cottage was cheap. I was there to write or die. No distractions. But I wasn't writing. I was laying on the day-bed lamenting. I was worried about everything and nothing.
I'd force my self out to trudge the winter-stormed beach and craggy cliffs, alongside the surging ocean, face-stung by sand-chucking wind, only to see a stranger in the distance and I'd scurry, heart thudding, back to the shack and draw the curtains against the dreary light.
At night the meaty-hum of a cargo ship's engines, swanning close to shore, sounded to my untrained ears as though a beast of a car with a V8 engine was nosed up my drive. What would I do if someone was out there? There was no phone. No gun. The best I could do in my shaky realm was to imagine myself wrapped in the feathers of an angel's wings.
One afternoon I found in my violin case of research, a brochure for a writer's festival. The back cover of Prussian blue had a quote, stencilled in black, by Janet Frame. I ripped it out and pinned it above my writing table:
A writer must stand on the rock of her self and her judgment or be swept away by the tide or sink in the quaking earth.
It changed everything. Each time my eye snagged it, it charged me not only to write but to persevere through loneliness, hunger and fear. It wasn't just the sentiment that leant courage but that the sentiment was expressed by Janet Frame – similar to the way people believed photographs contained the spirit of the sitter – the quote manifested the marvellous essence of gorky, gutsy, Janet Frame.
A woman defeated by sorrow, deemed insane, incarcerated in Seacliff Lunatic Asylum and scheduled for a lobotomy until someone said, no, look at her stories, her imagination, she has more to give than the ordinary. Her writing saved her mind.
The quote bade me cheer up, buck up and front up. It gave me courage but better yet – enthusiasm!
I wrote.
I wrote deliriously, in joy, putting in ten hour and twelve hour days. It didn't matter I was surviving on porridge and lentils or that the water tank was practically empty and I had to wash infrequently in two inch baths and my hair was dull with soap residue. I was unstoppable. I made friends. They brought me fresh fish and oven-hot biscuits. Spring came. The manuscript was finished. I got an agent and a publisher first pop.
I'd done it.
I believe, as Socrates taught, the inspiration of poets is a form of enthusiasm. In the original sense an enthusiast was a person possessed by a god. The god (entheo) inside (iasm). The power within. Studies on the brain show enthusiasm lights up the emotional centre thereby making one receptive and perceptive. Henry David Thoreau stated:
Enthusiasm is a supernatural serenity.
The process of writing Saltskin taught me the muse sings and dances when I get out of the way, shift my energy, open my heart and let the magic happen. But sometimes it's hard to do. Life can be treacherous and disheartening.
Sometimes the fog is too thick. That's when a visible quote beaming like a lighthouse in the gloom is invaluable. I have words by over achievers, the heroines of life, scattered in notebooks, stuck on the fridge, stuffed in my purse and even scrawled with a felt tip on my arm, belly and thigh – intending their power to enter my blood stream like garlic rubbed on the soles of the feet.
Apparently one's happiness level is genetically preset but 40% may be influenced by action – doing something to change circumstances or accelerate one towards a creative goal. Happiness depends on action and action is easier with enthusiasm.
The practice of writing brings me joy. I want to write from my heart. I want to talk frankly to my muse. I want to see what I can do. A good quote is a call to action, it lends me the enthusiasm, it unleashes the power within me and then I believe again – It can be done. It will be fun. And nothing matters but to try.
The brain is wider than the sky.
Emily Dickenson.
—
Louise Moulin is a lyricist and author of Saltskin, living in the Antipodes. Her stories of fiction and non-fiction have appeared in various newspapers and magazines. She has worked in broadcasting, theatre and film. Louise is currently working on a country noir novella. You can buy Saltskin on amazon here  here and on Kobo here.
Feel free to follow Louise Moulin on Twitter @AuthorMoulin
Category: Contemporary Women Writers, On Writing