By now you must have heard about #Readwomen2014, brainchild of author and illustrator Joanna Walsh. We asked Joanna for an update!
What's happened to #readwomen2014 since it took twitter by storm?  Is it still going strong?
From strength to strength! The Twitter account has over 4000 followers, and I've been impressed by the number of organisations willing to take part – including bookshops and libraries worldwide who have sent me photos of their #readwomen2014 displays. There was a peak of interest around International Women's Day, but I'm glad to say it hasn't faded.
Toronto Library recently had a #readwomen2014 event, and I just chaired a celebration of French writer, Marguerite Duras' centenary, at L'Institut Francais in London, with writers Deborah Levy, Olivia Laing, Zoe Pilger, and Suzanne Joinson. I'm currently editing an all-woman edition of Five Dials, the literary journal of the publisher, Hamish Hamilton.
As #readwomen2014 very much depends on what participants want to put in, I'd welcome suggestions, below or on Twitter @readwomen2014 or facebook  www.facebook.com/readwomen2014of where to go next.
What type of reactions have you had so far?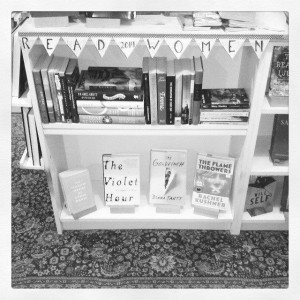 Overwhelmingly positive, which might surprise some given the campaign's base on Twitter – but I've always found Twitter a generally positive place, for all sorts of reasons. I guess it only makes the headlines when something outrageous happens.
Most people who've said they disagree with the campaign are usually mistaken about some aspect of it: there are people who've thought it advocates reading women exclusively (you can if you like, but it's more about making informed decisions about what you read).
At the other extreme, a few people have thought it's 'against' some aspects of the way women's work has been published, including 'pink covers' which exasperates me: there's absolutely nothing wrong with pink covers, only with a wider range of women's writing than seems appropriate being published under them, see Lionel Shriver's complaint
Have you discovered any women writers you didn't know before?
I like the sound of Margarita Karapanou, and Jenny Offill – both strongly recommended to me via the @readwomen2014 Twitter account. I'm very happy that the Twitter feed seems to be working well as a place people can recommend and discuss women's writing.
What are you reading currently?
Everything by Italian writer, Elena Ferrante. I would recommend her to anyone. Her writing is mercilessly precise and spare, and at the same time her novels are page-turners.
What are you working on yourself?
Single stories for a couple of anthologies, a short book for Bloomsbury an essay for Granta, other things… and the Five Dials issue which will be launched in July at the Port Eliot Festival.
Any #readwomen2014 suggestions? leave a comment below or on twitter @readwomen2014 or facebook  www.facebook.com/readwomen2014
—
Joanna Walsh  is a writer and illustrator. Her first book, London Walks!, visual essays about the city, was published by Tate in 2011, sold out in less than nine months and has been reprinted twice. Fractals, her collection of short stories, is published by 3:AM Press.
She has written for Granta, The London Review of Books, The Guardian, The White Review, The European Short Story Network, 3:AM Magazine, Narrative Magazine, Guernica and others.
Read about #readwomen2014 in the following articles:
—
—
Category: Contemporary Women Writers, On Writing