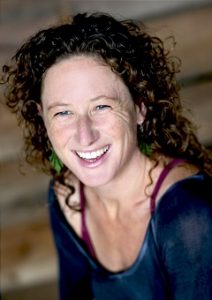 Self-publishing my book felt like giving birth in a bar. The atmosphere was unwelcoming, the people who assisted were incompetent—so much so that I felt I was doing it alone on a cold, cement floor reeking of cigarette smoke and liquor—and the product (had I not designed the cover, hired a professional editor, and done publicity myself) would have been birthed into the world slightly deformed and remained a hermit throughout its short life.
That may sound harsh but after the eight years of blood, sweat, tears, and a nervous breakdown that accompanied the writing and editing of my memoir, I was not about to tolerate an iUniverse employee—one of a dozen that project "managed" my book—getting away with misspelling the title of my book on every other page and another project manager creating typos were there were none and yet another project manager designing galley proof layouts so haphazardly that I began to think it was a conspiracy to test my breaking point.
I was thankful though to one senior project manager who, after hours of phone calls and emailing, finally made it right—meaning presentable and readable to the extent over which I, the author, had control.
On the date of my book's publication, as proud as I was to hold my newly printed, self-published book for the first time ever, the cover (designed with my sister's novice graphic design help because she had Photoshop) was so glossy (they didn't offer a matte option) that it felt like a tween had lacquered it with lip gloss. And the interior font looked so big and dark that it resembled books for people with bad eyesight who need extra large print. That said, my book went on to earn multiple indie awards so it can't be that bad; maybe I'm just a perfectionist snob.
The worst part of all though, was that every single month post-publication, I got a call from my "new" sales manager (there was a new sales manager on every call) in Bloomington, Indiana rattling off an inarticulate pitch that went like this: Mz Raviv, this is Roger, um…I'm your new sales manager at iUniverse…um…I noticed, Mz Raviv, that you haven't sold many books um…Mz Raviv…" The last time my new sales manager called, my tongue sliced his script like a Santoku knife and I told him straight that if he, or anyone else on his team, ever called me again I would report his blunder to his superiors since I had, in fact, sold almost 5000 books—rare in the self-publishing world. That was the last call I ever received from iUniverse. I cancelled my contract with them as soon as I signed on with a legit publishing house.
The whole experience was kind of black market meets corporate world meets used car dealership. The one and only thing I will give kudos to is that after investing no more than $500 to publish with them, they did distribute my book across multiple channels online and it does miraculously land up in the hands of readers. So why did I self-publish in the first place? Because my hopeful queries to hard-assed agents got rejected and I wanted so badly to hold my published product in my own two hands and to know that all my stuff, my story, was out of me and on the page, neatly bound—a book.
Compare that to my experience of republishing my memoir with She Writes Press (SWP), a reputable Bay Area hybrid press, founded by Brooke Warner—a former Seal Press editor with years of publishing experience—whom I met by chance at a local book festival where I had dragged my son (then age three) to a packed panel discussion on how women juggle writing and mothering, and he seated us right next to Brooke. So that's how I found my publisher. Collaborating with SWP, compared to being another number in iUniverse's database, is the difference between generic sponge cake in a box and organic, gluten-free patisserie cake. The patisserie cake you want to savor. The sponge cake just makes you sick.
From the start of republishing with SWP I have had the support of one reliable, competent project manager; regular webinars explaining the production process; weekly office hours with Brooke, the founder, available to me; a timeline of the entire eight-month process—from sign-up to publishing date—clearly laid out in a spreadsheet titled "Editorial Schedule". I was also referred to a professional Public Relations person, Eva Zimmerman, who sent my book out to all of her media connections accompanied by a press kit, verve and belief in my book as though it were her own.
Lastly, as I write this, weeks away from my book's re-launch at a local Oakland bookstore, if anyone asks me why I decided to republish my book, seven years after its first launch, my short answer is to give my book the dignity I feel it deserves as well as the opportunity to have a wider reach in the world and to be taken more 'seriously'—although most readers that buy books on Amazon can't discern between a self-published and traditionally published book. But I can. And that's why I did it. To give my memoir one last chance to get published in a way that reflects the fifteen years of hard work, pain and love that went into it. And because I never really wanted to birth my book in a bar.
---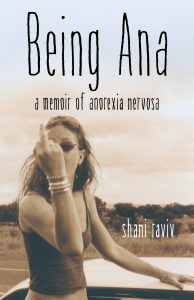 About BEING ANA: A MEMOIR OF ANOREXIA NERVOSA
Shani Raviv is a misfit teen whose peer-pressured diet spirals down into full-blown anorexia nervosa―something no one in her early-nineties, local South African community knows anything about.
Fourteen-year-old Shani spends the next six years being "Ana" (as many anorexics call it), on the run from her feelings. She goes from aerobics addict to Israeli soldier to rave bunny to wannabe reborn, using sex, drugs, exercise and, above all, starvation, to numb out everything along the way. But one night, at age twenty, Shani faces the rude awakening that if she doesn't slow down, break her denial, and seek help, she will starve to death. Three years later, her hardest journey of all begins: the journey to let go of being Ana and learn to love herself.
Being Ana is an exploration into the soul and psyche of a young woman wrestling with anorexia's demons―one that not only exposes the real horrors of a day in the life of an anorexic girl but also reveals the courage it takes to stop fighting and find healing.
—
Shani Raviv is the author of Being Ana: A Memoir of Anorexia Nervosa (She Writes Press | July 2017). She is also a writing coach, copywriter/content producer, and speaker who was born and raised in South Africa. She disputes the belief that an anorexic mindset is a life sentence and considers herself fully recovered. She lives in the Bay Area of California with her son. Visit: http://www.shaniraviv.com
Follow her on Twitter @RavivShani
—————————
Category: Contemporary Women Writers, On Publishing, On Writing