The Gaithersburg Book Festival.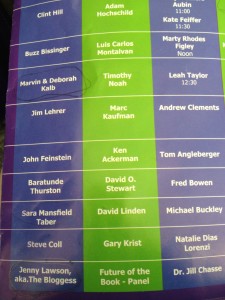 Pretty much my first time.
Free.
Close.
Just up the road from my family's home in Maryland.
Company.
I got to drive with a fellow author, and global nomad (TCK), Sara Taber. We interviewed each other and recorded it on my smart phone. (Some conversations are just too good to forget, and, deserve transcription.)
Women Writers.
Several women writers I'd learned about on Twitter were going to be there.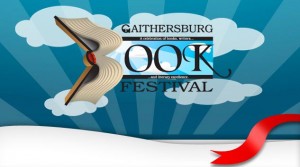 Tips.
Share.

When you ride with a presenter, you may get a parking pass for convenient, and in our case, shaded parking. Offer a presenter a ride.

Dollars.

Bring your wallet, since when you talk with authors for any amount of time, not buying their book is kind of like refusing to eat dinner as a dinner guest. (I'd forgotten mine at home, when I went in to get a water bottle.)

Twitter.

Follow the festival or conference ahead of time on Twitter. Pick up their hashtag to be part of the conversation while there.

More Twitter.

Review the event participants ahead of time and find out who is on Twitter, and follow them, as well as retweeting something they posted, or tweeting to them about their book and / or participation.

Research.

Look up the participants ahead of time to know who you want to see. (You all know that, don't you.) Nine concurrent events means getting familiar with the locations and mapping out who you want to see, where and when.

Business Card.

Bring a business card to share when you connect with someone, making it easier for them to find you again, if they are interested.

Smart Phone.

Better yet, use your smart phone, on the spot, to input a new contact with Twitter handle, maybe website, and definitely, email address. Or take a photo of their business card, so if you misplace the card, it's at least on your phone.

Name Badge.

Consider bringing your own name badge, with letters that people can read and remember from six feet or more away. At least an inch or two high. #makeiteasy, as we often say at @womenwriters.

Pictures.

Take pictures for future blog posts. Take pictures of crowds, booths, and of course, authors. Get a picture of you with an author you love. Tweet your photos. Authors may not have someone taking their picture speaking, so that can be a gift.

Notebook.

If you're a writer, you're probably never even a foot away from pen and paper at any time, day or night, but just in case you were thinking of traveling extra light, still have something to take notes with. You never know what you'll hear.

A Bag.

Just in case the conference doesn't give away bags, bring a bag to carry the books you'll buy. And, also a waterproof bag within for your bottled water, so it doesn't leak on the books.

To Do List.

If you're actually hoping to accomplish something more than just enjoying the readings and soaking it all in, have a list of what you want to accomplish. In my case. Meet Melissa Foster. Take notes on what authors talked about and how they did it to learn from. Find and follow all the women writers on Twitter (done ahead of time.) Take pictures of the women writers I visited to use in a future blog post. Sit in on the writers I'd identified, and if possible get to talk with them. (To do so often meant missing the beginning of the next session, so I had to choose one or the other.)
—
Anora McGaha is on Twitter at @anorawrites, and as @AnoraMcGaha. She is the editor of "Women Writers, Women Books", @WomenWriters on Twitter; the author of Social Media for Business with Martin Brossman; and with ClearSight Creative Resources, is the publisher of Media Ready, Media Savvy by Alison M. Hill, and Grey Fox Wilderness Stories by Andy Smith.
Category: Contemporary Women Writers