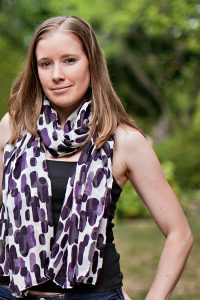 All right, ladies. We all want to write a wonderfully layered and complex book, right? Well, here's a formula I implement into each and every chapter with the intention of creating wonderfully layered and complex drafts. I call it the 3×3 Rule.
Start 1-3 new threads
Continue 1-3 threads
Teach us 1-3 new things about secondary characters
Sounds good in theory, I hope. And to help demonstrate how this works in practice, let's take a look at the first scene of my forthcoming novel. To set the stage, Becoming Bonnie is an origin story of how wholesome Bonnelyn Parker becomes half of the infamous Bonnie and Clyde duo during the 1920s.
***
But I, being poor, have only my dreams.
Hands in my hair, I look over the words I wrote on the Mason jar atop my bureau. I snigger, almost as if I'm antagonizing the sentiment. One day I won't be poor with dreams. I'll have money and dreams.
Continue a thread: Yes, even the first chapter can continue a thread, though it's obviously easier to continue threads in Chapter 2 and beyond. Here, the idea of Bonnie being poor, but wanting more is nothing new for her. It was simply established before the book began.
I drop my hair and swallow a growl, never able to get my stubborn curls quite right.
My little sister carefully sets her pillow down, tugs at the corner to give it shape, the final touch to making her bed. "Stop messing with it."
"Easy for you to say. The humidity ain't playing games with your hair."
And Little Billie's hair is down. Smooth and straight. Mine is pinned back into a low bun. Modest and practical.
Little Billie chuckles. "Well, I'm going before Mama hollers at me. Church starts in twenty minutes and you know she's got to watch everyone come in."
Teach us something about a secondary character: It's always best if what we learn can be applied later, and we'll see Bonnie's mom's eagle-eye later in the story.
I shake my head; that woman always has her nose to the ground. Little Billie scoots out of our bedroom. I get back to taming my flyaways and scan my bureau for my favorite stud earrings, one of our few family heirlooms. Footsteps in the hall quicken my fingers. I slide in another hairpin, jabbing my skull. "I'm coming, Ma!"
A deep cough.
I turn to find my boyfriend taking up much of the doorway. He's got his broad shoulders and tall frame to thank for that.
I smile, saying, "Oh, it's only you."
Roy's own smile doesn't quite form. "Yes, it's only me."
I wave him off, a strand falling out of place. Roy being 'round ain't nothin' new, but on a Sunday morning . . . That gets my heart bumping with intrigue. "What ya doing here so early? The birds are barely chirpin'."
"It ain't so early. Got us less than twenty minutes 'til—"
"I know."
"Thought I could walk you to church," Roy says.
"Is that so?" My curiosity builds, 'specially with how this boy is shifting his weight from side to side. He's up to something. And I ain't one to be kept in the dark. Fingers busy with my hair, I motion with my elbow and arch a brow. "That for me?"
Roy glances down at an envelope in his hand, as if he forgot he was even holding it. He moves it behind his back. "It can wait. There's actually something else—"
I'm across the room in a heartbeat, tugging on his arm. "Oh no it can't."
On the envelope, "Final Notice" stares back at me in bold letters. The sender is our electric company. Any excitement is gone.
"I'm sorry, Bonnelyn," Roy says, "Caught my eye on it in the bushes out front."
My arms fall to my sides and I stare unblinking at the envelope, not sure how something so small, so light, could mean something so big, so heavy, for our family. "I didn't know my ma hadn't been paying this."
Start a thread: Bonnie's family has had a few notices at this point, but this is the first Bonnie learns of it, so instead of continuing a thread, I'll call it the start of this thread, which we'll soon see again.
Roy pushes the envelope, facedown, onto my bureau. "I can help pay—"
"Thanks, but we'll figure it out." I sigh at my hair, at our unpaid bill, at the fact I'm watching my sister after church instead of putting in hours at the diner. Fortunately, my brother's pulling a double at the cement plant. Ma will be at the factory all afternoon. But will it be enough?
I move in front of the wall mirror to distract myself. Seeing my hand-me-down blouse ain't helping. I peek at Roy, hoping I don't find pity on his face. There he goes again, throwing his weight from foot to foot. And, sure, that boy is sweet as pie, but I know he ain't antsy thinkin' my lights are suddenly going to go off.
"Everything okay, Roy?"
"Yeah."
That yeah ain't so convincing.
"You almost done here?" he asks. Roy shifts the old Mason jar to the side, holds up the earring I'd been looking for.
I nod—to the earring, not to being done—and he brings it to me. Despite how this morning is turning out, I smile, liking that Roy knew what I was looking for without me having to tell him.
"Ready now?" he says.
I slide another pin into my hair. "Why's everyone rushing me?"
Roy swallows, and if I had five clams to bet, I'd bet he's nervous 'bout something. He edges closer to my bureau. He shakes the Mason jar, the pieces of paper rustling inside. "When did you write this on the outside?"
Start a new thread: Yep, Roy's nervous about something. And in the coming scenes, we'll see why.
But I, being poor, have only my dreams.
I avert my eyes, being those words weren't meant for Roy's. "Not too long ago."
"Ya know, Bonnelyn, you won't always be poor. I'll make sure of that."
"I know I won't." I add a final pin to my hair. I'll make sure of that.
"So why'd you write it?"
"I didn't. William Butler Yeats did."
Roy shoves his hands in his pockets. "You know what I mean."
I shrug and stare at my reflection. "It inspires me, wanting to be more than that line. And I will. I'll put a white picket fence in front of my house to prove it."
"Your house?"
I turn away from the mirror to face him. His voice sounded off. Too high. But Roy ain't looking at me. He's staring at the wall above my head. "Our house," I correct, a pang of guilt stabbing me in the belly 'cause I didn't say our to begin with. "That jar is full of our dreams, after all."
Really, it's full of doodles, scribbled on whatever paper Roy had on hand. Napkins. Ripped corners of his textbook pages. The top flap of a cereal box. He shoved the first scrap of paper in my hand when we were only knee-high to a grasshopper: quick little drawings of me and him in front of the Eiffel Tower, riding horses with dogs running 'round our feet, holding hands by the Gulf's crashing waves.
Continue a thread: The first scrap of paper was dropped into the mason jar long ago. Also, this is not the last time we'll see those doodles in this story.
Our dreams. Plenty of 'em. Big and small. Whimsical and sweet.
But this here is the twenties. Women can vote; women are equals, wanting to make a name for themselves. I'm no exception. Sure, I'll bring those doodles to life with Roy, but I would've added my own sketches to the jar if I could draw. Standing at the front of my very own classroom. At a bank counter, depositing my payroll checks. Shaking hands with a salesman, purchasing my first car.
Call it selfish, call it whatever ya like, but after struggling for money all my life, my dreams have always come before ours.
Still, I link our hands. "I'm ready to go."
***
3×3 Rule Tally:
Started 2 new threads
Continued 2 threads
Learned something new about 1 secondary character
Not too bad for the first scene, when there's still another scene in Chapter 1 to go. Give it a try in a chapter from your novel. What's your tally?
—
Jenni L. Walsh spent her early years chasing around cats, dogs, and chickens in Philadelphia's countryside, before dividing time between a soccer field and a classroom at Villanova University. She put her marketing degree to good use as an advertising copywriter, zip-code hopping with her husband to DC, NYC, NJ, and not surprisingly, back to Philly. There, Jenni's passion for words continued, adding author to her resume. She now balances her laptop with a kid on each hip, and a four-legged child at her feet. Please learn more about Jenni and her books at jennilwalsh.com.
Twitter: www.twitter.com/jennilwalsh
Facebook: www.facebook.com/jenni.l.walsh
Goodreads: www.goodreads.com/jennilwalsh
—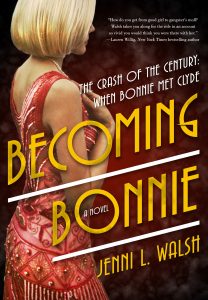 From debut historical novelist Jenni L. Walsh comes the untold story of how wholesome Bonnelyn Parker became half of the infamous Bonnie and Clyde duo.
​
​The summer of 1927 might be the height of the Roaring Twenties, but Bonnelyn Parker is more likely to belt out a church hymn than sling drinks at an illicit juice joint. She's a sharp girl with plans to overcome her family's poverty, provide for herself, and maybe someday marry her boyfriend, Roy Thornton. But when Roy springs a proposal on her and financial woes jeopardize her ambitions, Bonnelyn finds salvation in an unlikely place: Dallas's newest speakeasy, Doc's.
Living the life of a moll at night, Bonnie remains a wholesome girl by day, engaged to Roy, attending school and working toward a steady future. When Roy discovers her secret life, and embraces it—perhaps too much, especially when it comes to booze and gambling—Bonnie tries to make the pieces fit. Maybe she can have it all: the American Dream, the husband, and the intoxicating allure of jazz music. What she doesn't know is that her life—like her country—is headed for a crash.
She's about to meet Clyde Barrow.
Few details are known about Bonnie's life prior to meeting her infamous partner. In Becoming Bonnie, Jenni L. Walsh shows a young woman promised the American dream and given the Great Depression, and offers a compelling account of why she fell so hard for a convicted felon—and turned to crime herself.
​Amazon
Barnes & Noble
BAM!
Category: Contemporary Women Writers, How To and Tips