All writers need inspiration. For me, it's the "what if" scenario: What if your neighbour turns out to be a serial killer? What if the supermarket at the end of your street is a cover for an international drugs cartel? What if the old man who owns the second-hand bookshop is actually a ghost?
It's the third one that leads me into bookshops on a regular basis. I absolutely love second-hand bookshops. There's that smell… that weird mustiness of decades old paper mixed with dust and mothballs; and there's that feeling of adventure – the possibility of unearthing a hidden gem amongst ancient, unwanted texts – a genie in a bottle…
Then there's stuff like this that makes you laugh out loud…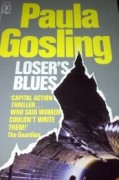 In case you're not sure what I found so funny about this book, read the blurb:
"Capital action thriller… who said women couldn't write them!"
Well… I'm not sure who said that. Someone back in 1980 at The Guardian saw fit to repeat it though. The quote on the back (from The Observer) is even better:
"In the sex-and-action field she may be the deadliest import since they found a black mamba in a crate of oranges in Covent Garden."
To put this in context – Paula Gosling is an American author, living in the UK.  She is a former chairman of the Crime Writers' Association (CWA). Loser's Blues was her third novel; her first A Running Duck won the CWA's John Creasey Dagger and was subsequently made into the film Cobra starring Sly Stallone; and later Fair Game starring Cindy Crawford. She wrote another sixteen novels in the same "action thriller" vein. I'd call that a successful career.
But apparently, women are not supposed to like action thrillers – we're meant to like more cerebral, "psychological" type stories about families and lovers and the trials of being a mother/single/fat* (*delete where applicable). Agatha Christie has never been described as a writer of "action thrillers".  We women need to read about characters who have brains, not just brawn…
Hmm…
I see action thrillers, be it in novel or movie form, as pure escapism. One of my biggest heroines from the 1980s was Sarah Connor from The Terminator – on the run from cyborgs who want to kill her and stop her producing a son who will go on to save the world. Remember Linda Hamilton's incredibly strong (and sexy!) biceps in that film? I wanted to be her. One of the writers of that movie, perhaps surprisingly, was a woman: Gale Anne Hurd. Her filmology lists a seemingly never-ending list of action thrillers, from Aliens to Hulk with Armageddon and the rest of The Terminator franchise in between.
A quick glance at the Amazon bestsellers' list for thrillers throws up a list of household names: Dan Brown, Lee Child, James Patterson, John Grisham, Jo Nesbo… a couple of women, Janet Evanovich and Karin Slaughter, sit uncomfortably in a pool of testosterone. So where are all the others? A scan of the left-hand categories shows that the women are on their own… "Female Sleuths" and "Women's Fiction" is where they hang out. I read a comments thread recently where a male reader vented his disappointment at the revelation that "Robert Galbraith" was actually a woman and he therefore would NOT be reading A Cuckoo's Calling as he "didn't read books by written by women." One of the laughable quotes around the whole J.K. Rowling circus was that the book must have been written by a woman as the descriptions of women's clothing couldn't have been written by a man… I wonder how Steve 'S.J.' Watson feels about this…
I have to admit to being baffled by this sort of attitude. The quotes from the 80s and the comments from recent weeks seem to imply that attitudes have not changed. I've never considered myself a feminist. I've never been subjected to a level of sexism that has hindered anything I've done. I have a good career. I can handle myself. I have always felt very much equal to my male counterparts.
So do we really need separate book categories for women by women? What about contemporary thriller writers such as Zoe Sharp, whose protagonist Charlie Fox is an ex-Special Forces trainee turned bodyguard. Or Mo Hayder's Flea Marley – a police diver with more than a few skeletons in her closet. Do men not want to read about these women? Are female writers intimidated at the thought of writing about espionage and deadly shoot-outs with Russian gangsters?
Prolific author of fast-paced arkane thrillers, Joanna Penn, writes this on her blog:
"I like action movies. I like Lee Child's Jack Reacher. I love James Bond. In fact, one day, I'd like to be the first female writer to pen a Bond novel – move over Jeffrey Deaver! But apparently it's worthy of comment when a woman writes this type of thing."
What do you think? Are we not supposed to like James Bond for more than just his swimming trunks? Personally, I like a burst of brainless adrenalin as much as the next (wo)man. As long as there's a ball-breaking female in there to keep the boys in check.
***
Susi 'S.J.I' Holliday is a writer of crime, thrillers and mystery. Her first novel Black Wood is currently out on submission and she is working on her second. You can find out more at her website and on twitter and facebook, where she spends far too much of her time.
Category: Being a Writer, British Women Writers, Contemporary Women Writers, On Writing, Women's Books and Writings