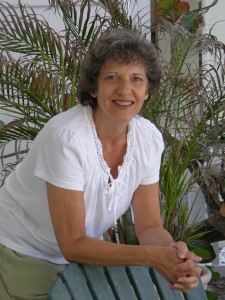 Years ago, there was a poster on the conference room wall at work that jokingly referred to birthing an elephant. It's been over 20 years, so I am paraphrasing, but it went something like, "Working here is like birthing an elephant. Everything takes too many months, is accompanied by a chorus of screeching and protesting, and often creates a huge mess."
More than once, I have wondered if the author of that quote was a novelist—or more specifically, a novelist trying to get the fruits of her elephantine labor published.
I started writing my first novel more than 15 years ago. At the time, I had no creative writing experience, had never attempted to compose even a short story, and hadn't taken a single creative writing class. I had no idea how amazing, and challenging—and at times excruciating—the journey to write a novel would be.
I didn't know what I didn't know about writing a novel—or that what I didn't know could fill a bookcase. What I did know is that there was a book inside me that longed to be written, a not-yet-imagined story burning to get out.
By the time I finally joined a writing critique group, I had fantasied about writing a book for 20-something years. Empty-handed at my first meeting, the other writers urged me to draft something to read at the next meeting. Two weeks later, I timidly read the three handwritten pages it had taken me hours to write. Herb, our kind meeting host, asked me, "Where do you want to go with that?" Eight simple words that somewhere from the depths of my uncertainty empowered me to blurt out, "I want to write a book!"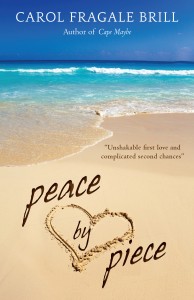 Now mind you, I had just read three dreadfully over-written, scribbly pages—if they had been typed, they would barely have filled one double-spaced page. Yet Herb didn't laugh, or say you must be kidding, or—and this would have been warranted—your writing stinks. He smiled reassuringly and said, "Good, you've got a start. Now, one page at a time, write your book."
Spurred on by his words, my novel writing journey began. To say there have been ups and downs along the way is an understatement.
On the up side—there was the thrill of reaching "The End" of PEACE BY PIECE the first time, over 10 years ago, and—on the down side—naively thinking it was done.
Another up side was the first time an agent offered me representation—followed by her retirement from agenting a few months later with my manuscript still in her unsold pile—a decidedly, gut wrenching down!
Over the years, there have been times that both my writing and ego were shredded by other writers offering "supportive" critique. Like the time a trusted mentor told me I was trying too hard to sound literary, should scrap the 100+ plus pages I had written except for a few sentences, and start my novel again. "OUCH." After reflection, the biggest downside was that he was right. I cut and pasted that one salvageable paragraph and started over from scratch.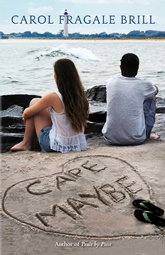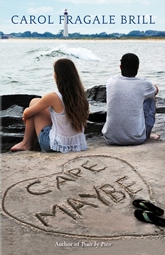 There were also remarkable highs—the first time a piece I wrote placed at the Philadelphia Writer's Conference, the time readers selected my short story as a favorite for The Philadelphia Stories Anthology, when "Homerun Clara," a tribute essay written about my mom in the months right after her death, was accepted on the first submission, being named first runner-up in a Poets and Writers contest—clearly my most prestigious recognition/ rejection to date.
I don't share this with you just to whine, or brag, or discourage writers and others from following their passion. What I have learned on this journey is priceless, and goes far beyond learning writing craft. I have learned about my resilience, perseverance, and what I am willing to endure and risk following my dream.
And I share it to remind myself and others that like I suspect every mother elephant has learned, the mess, and screeching, and woe melt away the first time you see your name on your novel's cover and cradle your book proof in your hands.
What about you? What ups and down are you willing to weather to see your dream come true?
—
Carol Fragale Brill is the author of two novels, PEACE BY PIECE and CAPE MAYBE. She earned an MFA in Creative Writing from Fairleigh Dickinson University. Her fiction received recognition from Poets and Writers and was a reader's favorite for The Best of Philadelphia Stories. Her works have also appeared in Wide Array, New York Journal of Books, the Press of Atlantic City, and various online e-zines and business journals. In her "day job" as a Leadership Coach and educator she frequently uses stories in training.
Visit her website , follow her on facebook Carol-Fragale-Bril or Twitter – @carol_brill  She can also be found on goodreads: Carol_Fragale_Brill
Category: Contemporary Women Writers, How To and Tips