Shanan Haislip is a full-time business writer, essayist and webmaster. She makes some interesting points about the overlap between music and writing in this article.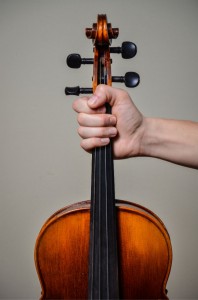 In the fourth grade, every kid, including me, wanted to play the saxophone. The day musical instruments were handed out, in the orchestra room at East Dover Elementary, all six saxophones were claimed in the stampede, along with the drum sets, the trumpets, and the triangle. When the dust cleared, two instruments were left: an ugly brown thing that resembled an oversized violin, or a dented silver tuba with a bell bigger than my head. I pointed.
"I want that."
That turned out to be a viola, covered in flecks of kid-grime, the unprepossessing color of a Tootsie roll. I laid it across my lap, feeling smugly charitable, like I'd just adopted a toothless old cat.
In the months that followed, I found the viola's ability to make noise, any kind of noise, intoxicating.  For hours every night, plastic bow tight in my fist, I'd saw away on the tired old strings. My mother would never complain, but she would quietly pull the bedroom door shut behind me.
When I write, there are times when I drift back to those early viola days, back to the sheer delight and transporting power of sound. This feeling comes when I'm simply working with words, and is one of the many mysteries of writing for which I'm grateful: That we can take joy in sound. Writers, too, can make music.
The music of words also has a purpose beyond mere aesthetics. We "see" with our ears, interpreting the physical properties described by words through the sounds of the words themselves. This is more than onomatopoeia—the existence of this literary sixth sense was empirically demonstrated in the "Bouba/Kiki" experiment, first performed in 1929 and repeated several times in 2001 and later.
In the study, people of all ages, native languages and cultures were shown two shapes: one bubbly, round shape and one jagged, starlike shape. All they had to do was choose which shape best fit the names "Kiki" and "Bouba." The results were astounding in their consistency—96% of respondents named the pointy shape "Kiki" and the bubbly shape "Bouba."
Writers love words for that kind of impressionistic power. Sure, a word has a definition but it also has a sound, an extra dimension we feel, even when we're not paying attention. A good writer's words have sound that can set your own mind ringing with music when you read.
Sometimes we writers get the music right by accident, but most often, it's re-reading, revision, and risk. Getting a sentence to sound the way you want isn't like playing a piano, where the keys are all in tune and you simply lay your fingers on the notes you want; rather, it's more like playing the viola. You lay your fingers on a spot you've got in your mind, where you hope the correct pitch resides, and you play. Sometimes you're right on pitch, and your words sound great.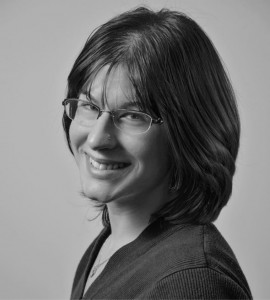 And sometimes, you wander off pitch. Writing's funny that way; if you're not paying attention, your words can go from lyrical to lumbering in a keystroke. This is also true in music. In my first year of viola lessons, my teacher used thin strips of white tape to teach me where my fingers were to land on the strings. She'd lay tape on the neck of the viola, and I was to watch my fingers and follow along. Index finger down on the A string gave me a B, index and middle fingers down, a C.
When my fingers didn't hit the right spot and I was out of tune, it seemed as if the very air around my bow would go sour. No resonance, no vibration, no beauty. My sound would go splat, like my instrument was blowing me a giant raspberry.
On a stringed instrument, you know when you've hit a certain pitch just so, because you get rewarded with harmonics. Hitting certain harmonic frequencies makes the maple body of the instrument, and maybe even a few other strings, respond with a ring, humming with a power that deepened the note you played, made it stronger, more musical.
For the viola, the most powerful harmonic—C, or 256Hz—corresponds with the lowest, most powerful string, the C string. Playing a high C would cause that low C string to resonate, and the wood to hum. My neck and arms would vibrate with it. Hitting a harmonic put me on the same frequency as the instrument.
Making the right sound made me part of the music.
In the same way, writing by ear shows you how to waken harmonics in a reader's mind, play on the strings of the brain and make their imagination resonate with yours. Like learning any instrument, playing with words is hard, and finding just the right sounds can frustrate even the most experienced writer. But it's worth doing.
I do it because writing by ear reminds me of what it was like to be that little girl with a new viola, sitting on her bed with music in her hands. It brings some of that transporting energy of sound, the lunatic joy of making noise, out of the past and onto my keyboard.
Through sound, I can make words say things that their meaning only implies. Through words, a writer like me can make a bit of music. Through writing, we can play.
—
Shanan Haislip is a full-time business writer, essayist and webmaster at The Procrastiwriter, a blog about being a writer around a full-time life (without going insane). She still plays her viola every now and then. Follow The Procrastiwriter on Facebook or on Twitter at @Write_Tomorrow.
Category: Contemporary Women Writers, How To and Tips