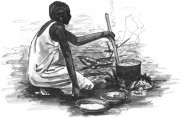 According to a recent poll, 57% of families don't eat together, and they eat in up to four different rooms. This has not been my family's experience.
The Mystic Cookfire: the sacred art of creating food to nurture friends and family (written by Veronika Sophia Robinson, and illustrated by Sara Simon) is a collection of more than 280 plant-based recipes. The idea of a recipe book was inspired after several family camps I hosted (when I was editor of The Mother magazine, a publication based on holistic parenting).
For five days, I would cater for up to fifty families with no electricity: just me, several gas rings, huge catering pans, and thousands of pounds worth of wholefoods, including fruits and vegetables. I had plenty of willing helpers to chop vegetables, and follow recipes. We created wonderful food inside that Mongolian yurt.
My goal was simple: provide healthy, nourishing food. I was asked many times to provide a booklet with the recipes from camp. Once I started writing, the book took on a life of its own and went way beyond a booklet and grew to more than 430 pages. It was like gestating several babies at once!
The first quarter of the book is a treatise on slow food, free-range cooking, sharing recipes, and honouring the dining table as a sacred space. The way we prepare food is a mirror of the way we live our lives.
For many people, cooking is a chore. For me, it is the essence of creativity: the enticing combination of scent, colour, texture, and sounds when chopping, dicing, grating, peeling. I dreamed up an entire novel in the space of half and hour while cooking a meal. (Bluey's Café) Writing and cooking, to me, are very similar experiences.
I have dozens of recipe books, and my favourites are those where the writer tells a story about certain ingredients or how they came upon a recipe. I've done this throughout The Mystic Cookfire. For example, with the mushroom soup, I wrote about my childhood in drought-stricken Australia, and how when the rain came to our horse stud, thousands of mushrooms rose up from the damp earth.
My siblings and I would race outside with our buckets and pick, pick, pick.  The earthy fragrance of these fungi always makes me think of home, and the best mushroom soup I've ever tasted.
The Croatian Cabbage Salad is also straight from my childhood, as I ate it regularly with my Croatian neighbours. It's a simple recipe, but so delicious.
Some of my recipes came about from visiting cafés, and thinking 'that was nice, but I could make it better', such as the Roast Mushrooms and Tomatoes, Layered with Flaked Almonds. The original version seemed too bland, so I played with the idea by adding garlic. From time to time, I swap mushrooms for cauliflower so the resident mushroom-hater can enjoy it too. Recipes are templates, not rules.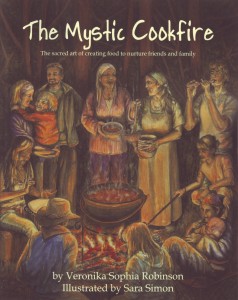 One of my favourite stories is the ratatouille recipe. The night after giving birth to my first daughter in a birth pool by candle light in my bedroom, a friend arrived with ratatouille she'd just made. There was no way we were waiting till evening to eat it. Birth is hungry work! We enjoyed it for breakfast.
I have recipes which tell the story of a love affair in Belgium, or the memory of a French friend, and then there's the story of playing hide and seek in fields of sweetcorn. My pumpkin, fresh dill and tomato recipe that my mother used to make, made my sister step back thirty years in time when she received a copy of the book. I love how food can do that.
My love for cardamom, mango, ginger and the colours of fruits and vegetables is documented throughout the book. I haven't stuck to just the familiar vegetarian recipes, such as Lentil Shepherd's Pie, but have explored more unusual choices, such as Dandelion Tart and Dandelion and Cinnamon Fritters.
The Blueberry Cheesecake (dairy free) has been one of the most popular recipes.
I've included many recipes that my teenage daughters love to make, just to demonstrate that you don't need to be a chef to make tasty, enjoyable food.
Eliza made Chocolate and Cayenne Cookies for the launch of our family book: Life Without School. They went down a treat!
The title The Mystic Cookfire came from words in the wonderful book Women Who Run With Wolves by Clarissa Pinkola Estes. She writes: "The longing comes when one realises one has given scant time to the mystic cookfire or to the dreamtime, too little to one's creative life, one's life work or one's true loves."
It is in the hearth of the home that we discover how to nurture ourselves and others. Cooking is a science, but primarily it is an art. It's an act of creativity which allows us to discover our 'wild woman'.
Given that the number-one selling over-the-counter medication in the USA is Digestive Aids, it is worth reminding ourselves of just what we're doing when we eat. I hope The Mystic Cookfire really instils that sense of being generous and spacious with your time, and to those with whom you eat. Nourishment happens on so many levels: not just what you eat, but how, when and with whom you share your meals.
I dedicated it to my daughters: may The Mystic Cookfire be your family heirloom; a nostalgic embrace of our meals by candlelight, soft music gently playing in the background, and food marinated in Mother Love. Whether we eat under the shade of the plum trees or cosied up by the fireside, I shall always treasure our lives together.
For every copy of The Mystic Cookfire sold, money is donated to feed a South African child for a week. www.BananaAppeal.org
—
Veronika Sophia Robinson is an author, novelist and journalist living in rural Cumbria with her husband, Paul, and their two teenage daughters. She recently sold her magazine of twelve years to become a full-time romance novelist.
Find out more about her on her website: www.veronikarobinson.com and her blog http://veronikarobinson.com/blog/
Follow her on Facebook  Veronika Sophia Robinson, author
and Twitter: @veronikasophia
Recipe from her book:
Cauliflower Biryani
Spiced vegetables, pilau rice…oh how I love my life. You could pay a small fortune to eat this type of meal in an Indian restaurant, but I'll bet it won't taste as good as your own home-made-with-LOVE version.
Vegetables:
Sunflower, olive or coconut oil
3 large onions, finely sliced
Large cauliflower, broken into florets
2 red peppers, sliced
5 cloves garlic, finely chopped
½ teaspoon ground cardamom seeds
½ teaspoon garam masala
3 tablespoons curry powder
2 teaspoons Himalayan pink salt or Celtic sea salt
1 fresh red chilli, deseeded, and very finely chopped (wash your hands afterwards)
2 teaspoons lemon juice
3 cm chunk fresh ginger, finely grated
Pilau rice:
1 large onion, finely sliced
3 cloves garlic, finely chopped
½ teaspoon fresh ginger, finely grated
450 g basmati rice
100 g flaked almonds
Olive or coconut oil
Pinch saffron
1 litre vegetable bouillon
½ teaspoon garam masala
10 cardamom pods, deshelled and ground well
Juice of one lemon
50 g sultanas
200 g frozen peas
100 g sweetcorn kernels, frozen, tinned or fresh
10 mint leaves, chopped & a bunch of fresh coriander leaves
400 ml water
Biryani:
Heat a little oil in a pan and sauté the onions, garlic and ginger for a few minutes. Add the cauliflower florets and peppers, and mix into the onions. Cook for a few more minutes, then add the curry powder. Stir, then add the lemon juice and salt. Add the remaining ingredients from the vegetable section. Cover, and simmer on low to medium heat for half an hour. When serving, garnish with fresh coriander leaves.
Pilau:
Wash and rinse the rice. Heat the oil in a deep pan, and add the onions. Fry for a few minutes, then add the ginger, garlic, rice and saffron. Cook for a few minutes, then add the vegetable bouillon, spices and sultanas. Mix well. Cook, covered, for twenty minutes. Don't stir. Add the peas and sweetcorn, mix in and let the heat of the rice cook them. This will take about five minutes. Meanwhile, lightly toast the flaked almonds in a dry skillet pan. Add to the pilau.
Serving suggestion: Banana raita
250 ml soya yoghurt
1 ripe (brown spots on skin) banana
1 tablespoon fresh coriander leaves, finely chopped
30 g desiccated coconut
Finely slice the banana, and combine with the remaining ingredients. Chill while you're cooking the main meal.
Variations: replace the banana with mango, peach or cucumber.
Category: Being a Writer, Contemporary Women Writers, On Writing, Women Writers