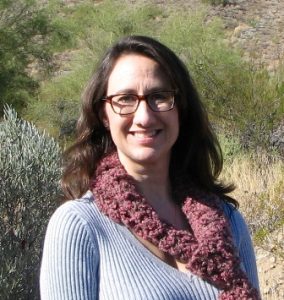 There are few things worse than being lectured by a novelist when you want to be entertained. That's not to say entertaining fiction can only be happy and inconsequential. Both of my historical novels address weighty events in U.S. history – slavery and environmental ruin, discrimination and economic disaster. When weaving a tale with subject matter like that, an author walks a fine line between shedding light on something heavy and beating her readers over the head with it. As a former journalist, I suppose I will always strive to enlighten readers with my research and writing. But I never, ever want to lecture them.
All that being said, it is infinitely more practical and less grueling to write a lecture.
How do you write with enlightenment and empathy about someone whose beliefs you despise? How do you present two sides of a story that, in hindsight, seems painfully one-sided? And how do you include key historical facts in your prose without it reading like a textbook?
The secret to mastering such feats can be summed up in two pieces of oft-repeated (and pretty annoying) writing advice; one, "show, don't tell," and two, "write about people, not characters." It's not as simple as it sounds (which is what makes it so annoying). But a writer who practices and refines those techniques can reveal even the darkest elements of the human psyche and still leave her readers feeling uplifted and hopeful when they turn the last page.
Examples of this mastery can be found between the covers of the following novels (aka, writing manuals): The Light Between Oceans by M.L. Stedman, Pictures of You by Caroline Leavitt, The Railway Man's Wife by Ashley Hay, The Women in the Castle by Jessica Shattuck and The Orchardist by Amanda Coplin. If you want to understand how to write in multiple perspectives about gut-wrenching, heart-breaking events with beauty and hope, study these books.
In the meantime, here's an example from my latest novel, Peculiar Savage Beauty, that illustrates these writing techniques (though I'll make no claims as to whether I've yet succeeded in mastering my own advice).
Peculiar Savage Beauty is the story of a headstrong young woman who charges into the heart of the wind- and drought-ravaged Great Plains in the 1930s, intent on battling the dust and healing the land. As a college-educated geologist working for the U.S. government, Rosa Jean "RJ" Evans must find her place in a small farming town that welcomes neither a woman in authority nor changes to their way of life. Inspired by actual events during the Great Depression and Dust Bowl environmental disaster, Peculiar Savage Beauty is a parable about man's quest to dominate the land and nature's refusal to be conquered. Beating back the dust is a daily battle for the people living in the devastated Great Plains. It's a clash that creates unlikely alliances. As RJ learns she must rely on her adversaries if she is to survive the dangers of the Dust Bowl, she also grows to realize that she – like the land itself – is in desperate need of healing.
While RJ is the main character of the novel, the story has several other key protagonists and multiple antagonists. Sometimes the reader may have a hard time distinguishing which is which. That would make me do a jazz-hands happy-dance, because I didn't want to write a story populated with clear-cut good guys and bad guys. I wanted to take readers inside the heads of average people – people like you and like me – and have them become friends. I wanted readers to alternately cheer at their new friends' triumphs and virtues, and shake fists at their blunders and shortcomings.
During a scene with RJ and Harvey, a young unmarried farmer, I weave in a little farming history and also reveal some of the characters' personality traits.
RJ is frustrated and angry that the locals wouldn't give her a chance to explain new conservation techniques at the farmers' union meeting. Over late-night pie and coffee in a small diner, she laments this to Harvey, saying the men don't respect her or her expertise. Harvey allows her to complain, then points out that she didn't give the farmers a chance to express their ideas either and that she assumed she knows more than they do. His approach is gentle, yet firm, almost paternal, which gives the reader insight to how Harvey views the world and RJ in particular. RJ realizes Harvey is correct, and she suddenly feels embarrassed and ashamed of her actions. But I didn't write, "She was ashamed and embarrassed." Instead, I showed that emotion to the reader through RJ's physical response. She casts her eyes down to her plate. She opens her mouth as if to speak, then stops. She pushes her food around the plate with a fork, as the light bulb buzzes above their heads and the quietness of the moment becomes uncomfortable. (For more of my thoughts on writing realistic dialogue, watch this short video. https://youtu.be/d5qCNiXuwmg)
Through casual conversation over pie and coffee, several important objectives are met – the novel's plot is advanced, the relationship between RJ and Harvey progresses to a new level, and some historical context on how the Dust Bowl disaster evolved is presented. Most importantly, the reader enjoys the exchange between the RJ and Harvey, wonders what will happen next, and turns the page.
—
Jessica McCann worked for more than 25 years as a professional freelance journalist and corporate writer. Her articles have appeared in Business Week, The Writer, Raising Arizona Kids, Phoenix and dozens of other magazines. Jessica's debut novel, All Different Kinds of Free, won the Freedom in Fiction Prize. Her second novel, Peculiar Savage Beauty, released in hardcopy and e-book today. She lives with her family in Phoenix, Arizona. Learn more at Jessica's author website www.JessicaMcCann.com, and say hello to her on Twitter and Facebook.
About PECULIAR SAVAGE BEAUTY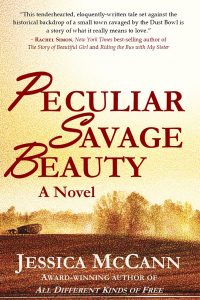 The black blizzard is a formidable enemy. The furious storm blots out the sun, chokes the life from both man and beast. When RJ Evans finds herself engulfed in inky blackness and holed up beneath her Model AA Ford on an isolated plains road – dirt caked beneath her fingernails, skin flecked with blood drawn by the biting dust – she has no idea this trial won't be her toughest.
What awaits her in the small farming town of Vanham, when she begins her job as a geologist for the U.S. Soil Conservation Service, is even more daunting. Drought and over-plowing by men determined to conquer the land have turned the once-lush plains into a brutal twin of the Sahara. Headstrong and intent on healing the earth through conservation farming, RJ must somehow find her place in a tight-knit community that welcomes neither women in authority nor changes to their way of life.
She befriends Woody, an autistic savant born in an era long before any medical diagnosis would explain his peculiar ways and unique talents. The locals label the young man an idiot and RJ an armchair farmer. Yet, in each other, they see so much more.
Beating back the dust is a daily battle in a war for the land. It is a clash that creates unlikely alliances. As RJ learns she must rely on her adversaries if she is to survive the dangers of the Dust Bowl, she also grows to realize that she – like the land itself – is in desperate need of love and healing.
Category: Contemporary Women Writers, How To and Tips