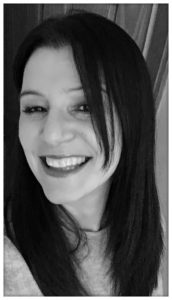 The most frequent question that people ask me when I tell them I'm a writer is, 'Where do you get your inspiration from?' It's a valid query, given that writing a novel requires discipline and imagination. To be honest, inspiration can come from anywhere and at any time, and, being a writer, nothing is wasted. I'm always open and receptive, welcoming new ideas, making a mental note of anything interesting that I hear, see, even smell! Inspiration comes in many forms and guises but, for me, one source is music.
I've always loved music and listen to it almost every day. Although I'm not from a musical background, per se, I grew up in a household where music was a central focus – my mum is a gifted singer, so she'd either be belting out tunes around the house or singing along to music from the radio. I suppose this is what motivated me to write poems when I first started writing.
Just to be clear, I don't listen to music while I'm writing. It is a lovely thought and I know many authors who do this, but I just find it incredibly distracting and end up either singing along or dancing in my chair instead of working! In fact, I'm utterly envious of authors who can write to background music, especially those who wear headsets as they tap away at their keyboards because I can only work in total silence. Well, apart from the hissing traffic (I live on a main road) but I'm used to that now and somehow manage to block it out, except when a siren goes off and I leap out of my seat. They always seem to blare when I'm in the middle of a dramatic scene right outside my office window – perfect timing!
For inspiration, I listen to music when I'm away from my computer. I could be out walking, or pounding the streets of north London (I'm a runner, another source of inspiration), busy doing loathsome housework, or huffing and puffing on a treadmill at the gym (as close to the air vent as possible). Whatever activity I'm doing, I'm usually listening to music, while stories, scenes and characters whirl around in my head. If I'm listening to a relatable song, it can help me create a vivid picture in my mind about the characters, their lives, their highs and lows, the cliff-hangers. I can almost see the scenes being played out right in front of me.
The melody of a song often inspires me with dialogue and action, but sometimes the lyrics can spark something, too. For example, during the edits of No Way Back, I'd often listen to I Will Always Love You by Whitney Houston, because I found it very relatable to the romance between Audrey Fox, the protagonist, and her love interest, especially during a scene in Highgate Woods. I think the song really fits that particular chapter well, and, if it were a film, I could imagine it being played in the background.
Similarly, in my new novel, Her Secret, I'd listen to tracks such as Rockstar by Post Malone and Breathe by Jax Jones (ft. Ina Wroldsen), while editing several chapters where Audrey and her friends are at a party. The music helped me get into that zone, giving me a real feel of the party atmosphere, and this made it a lot easier to imagine and consequently write. I also find it useful to have a theme tune in mind for my books, because I think it can set the tone of the story. For Her Secret, I've chosen Never Be The Same by Camila Cabello. I find it captures the essence of the story in many ways, not so much the lyrics of the song but the actual sound – the emotion, the mystery, the pace.  
So, with all this in mind, I decided to create soundtracks on Spotify to support my novels No Way Back (2017) and Her Secret (2018). This isn't anything new, lots of authors have playlists to support their books. I think that a soundtrack gives the reader an insight into the book and an idea of what inspired the author while writing it. Several of the tracks on the playlists are songs that I listened to while I was working on the novels; some relate to different chapters and scenes, while others are simply mentioned in the book. For example, if a particular song is blaring out of a car, or pounding from a wireless soundbox at a party, or chiming from a mobile phone (Audrey Fox is a big Abba fan and has Dancing Queen as her ringtone in No Way Back and Super Trouper in Her Secret), I'll list it.
I feel that music brings my stories to life and embodies them in a way that takes the characters and their lives beyond the pages of the book. I will continue to listen to music for inspiration whilst I pen my next novel, and I hope that anyone who chooses to listen to my literature inspired playlists enjoys them as much as I do. 
—
Kelly Florentia was born and bred in north London, where she continues to live with her husband Joe. HER SECRET (2018) is her third novel and is the sequel to NO WAY BACK (2017). As well as writing, Kelly enjoys reading, running, drinking coffee, scoffing cakes, watching TV dramas, and spending way too much time on social media.
Twitter: @kellyflorentia
Facebook: https://www.facebook.com/KellyFlorentiaAuthor
Website: https://www.kellyflorentia.com
Book links:
Her Secret (17th May 2018) http://amzn.to/2FMq4fR
No Way Back (21st September 2017) http://amzn.to/2G6C3nU
Spotify playlist HER SECRET
Spotify playlist NO WAY BACK
When one door closes, another opens, or so the saying goes.
After being in a long-term relationship for eight years, Audrey Fox never thought she'd tie the knot. But at the age of forty-two, fate throws her a lifeline and she finally has it all – a loving husband, successful career, beautiful family and loyal friends. Life couldn't be better for Audrey … until a family member entrusts her with a secret that threatens trouble in paradise.
Lying to her new husband definitely wasn't on the cards when Audrey took her vows, but now she feels there's no other choice. She either keeps the secret or risks hurting the people that she loves. And then just when the dust seems to settle, an old flame turns up and creates a storm that could bring her world crashing down …
Unable to discuss her dilemma with her significant friends Louise and Tina, or sister-in-law Vicky, the cracks begin to show. Torn between her husband and the people she's known and loved for years, Audrey's perfect life begins to spiral out of control. Where do her loyalties lie and whom can she trust? Because there's no smoke without fire and everyone has secrets … don't they?
Category: Contemporary Women Writers, How To and Tips