RECOMMENDED READS
FOREVER IS THE WORST LONG TIME, CAMILLE PAGAN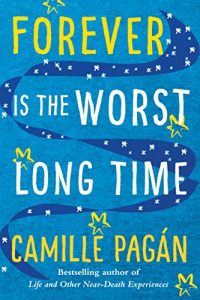 From acclaimed author Camille Pagán comes a wry, heartfelt exploration of love and loss.
When struggling novelist James Hernandez meets poet Louisa "Lou" Bell, he's sure he's just found the love of his life. There's just one problem: she's engaged to his oldest friend, Rob. So James toasts their union and swallows his desire.
As the years pass, James's dreams always seem just out of reach—he can't finish that novel, can't mend his relationship with his father, can't fully commit to a romantic relationship. He just can't move on. But after betrayal fractures Lou's once-solid marriage, she turns to James for comfort.
When Lou and James act on their long-standing mutual attraction, the consequences are more heartbreaking—and miraculous—than either of them could have ever anticipated. Then life throws James one more curveball, and he, Rob, and Lou are forced to come to terms with the unexpected ways in which love and loss are intertwined.
A tale of love and loss, with some unexpected twists along the way…satisfying…heart-wrenching." —Kirkus Reviews
"Pagán has created a story of two modern-day star-crossed lovers and the unconventional family they weave." —Booklist
"Pagán's bittersweet novel…deserves a wide readership among women's lit readers." —Library Journal
"A beautifully poetic reminder that life and love are often nothing like we expect but also exactly what we need.…The characters are complex and dynamic, yet flawed and relatable, and demonstrate the depths of our hearts and just how far we are willing to bend so we can make room for the love we know belongs in our lives." —RT Book Reviews, Top Pick
"Camille Pagan's writing is magic. From the first page, her characters have so much warmth and depth that they feel to me like old friends. I laugh with them, I cry with them, I root wholeheartedly for their happiness. And when my time with them is over, I'm just so glad to have had them in my life." —Cristina Alger Wang, author of This Was Not the Plan
"This is one of those books that sticks with you long after you've read the last page. Tender, funny, lovely, sad. It's all of those things and plenty more." —Matthew Norman, author of We're All Damaged and Domestic Violets
BUY FOREVER IS THE WORST LONG TIME HERE
THE RUNAWAY MIDWIFE, PATRICIA HARMAN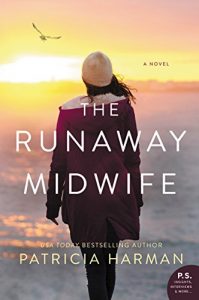 From the USA Today bestselling author of the Hope River series comes a new contemporary midwife novel.
Say "goodbye" to your old life, and "hello" to the life you've been waiting for…
Midwife Clara Perry is accustomed to comforting her pregnant patients…calming fathers-to-be as they anxiously await the birth of their children…ensuring the babies she delivers come safely into the world.
But when Clara's life takes a nosedive, she realizes she hasn't been tending to her own needs and does something drastic: she runs away and starts over again in a place where no one knows her or the mess she's left behind in West Virginia. Heading to Sea Gull Island—a tiny, remote Canadian island—Clara is ready for anything. Well, almost. She left her passport back home, and the only way she can enter Canada is by hitching a ride on a snowmobile and illegally crossing the border.
Deciding to reinvent herself, Clara takes a new identity—Sara Livingston, a writer seeking solitude. But there's no avoiding the outside world. The residents are friendly, and draw "Sara" into their lives and confidences. She volunteers at the local medical clinic, using her midwifery skills, and forms a tentative relationship with a local police officer.
But what will happen if she lets down her guard and reveals the real reason why she left her old life? One lesson soon becomes clear: no matter how far you run, you can never really hide from your past.
BUY THE RUNAWAY MIDWIFE HERE
BY THE WAYSIDE, ANNE LEIGH PARRISH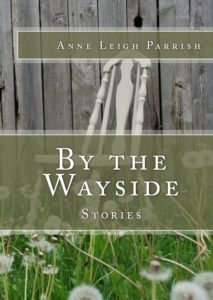 Marvelous. Honest. Generous. From the first story to the last, "By the Wayside" catches your attention and demands that you give into its every whirl. Each character unfolds with a precision that will have you wondering how Parrish managed to create such real-to-the-bones people within a world that captivates you with ease.
Anne Leigh Parrish is one of the best of a new wave of American short story writers reinvigorating the form. Many of these writers specialize at flash fiction– a genre at which Parrish is a master. She also, however, excels at stories of more traditional length. Her tales, long or short, are highly readable but also convey intelligence and meaning. Few writers today create as much compassion for their characters, or draw as much emotion from their situations, as does Anne Leigh Parrish.
BUY BY THE WAYSIDE HERE
SMALL ADMISSIONS, AMY POEPPEL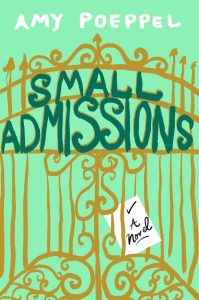 "Trenchant, funny, and observant…as a prose artist Ms. Poeppel leaves nothing to be desired, except this desire: that she write more and more, and as well as she does in this, her assured debut." (Hilton Als, staff writer for The New Yorker and author of WHITE GIRLS and THE WOMEN)
"A dishy, LOL delight." (Cosmopolitan)
"Both witty and wise, Small Admissions is a big-hearted, charming novel." (The Washington Post)
"Poeppel gives an in-depth look at the admissions process, with a side of secrets, bombshells, heartbreak, and hope . . . perfect for fans of Curtis Sittenfeld's Prep." (Booklist)
"A smart take on private-school 'Admissions' . . . Amy Poeppel's debut novel is a book about rejection, acceptance and our ability to maneuver between the two." (USA Today)
"A witty and captivating page-turner punctuated with quirky characters and laugh-out-loud moments that are sure to appeal." (Library Journal)
"Fans of Primates of Park Avenue and Curtis Sittenfeld's Prep will get a kick out of this novel, which is also a story about how women help one another get back on their feet." (Refinery 29, Top Reads Out in December)
People's Book of the Week
"The Devil Wears Prada meets Primates of Park Avenue." —The New York Times
"Perfect for fans of Curtis Sittenfeld's Prep."—Booklist
Top 6 Books You Need to Read—BuzzFeed
Best Books to Give Every Book Lover on Your List—Town and Country
One admission can change your life…forever.
When ambitious grad student Kate Pearson's handsome French "almost fiancé" ditches her, she definitely does not roll with the punches, despite the best efforts of family and friends. It seems that nothing will get Kate out of pajamas and back into the world.
Miraculously, one cringe-worthy job interview leads to a position in the admissions department at the revered Hudson Day School. Kate's instantly thrown into a highly competitive and occasionally absurd culture, where she interviews all types of children: suitable, wildly unsuitable, charming, loathsome, ingratiating, or spoiled beyond all measure. And then there are the Park Avenue parents who refuse to take no for an answer.
As Kate begins to learn there's no room for self-pity or nonsense during the height of admissions season or life itself, her sister and friends find themselves keeping secrets, dropping bombshells, and arguing with each other about how to keep Kate on her feet. Meanwhile, Kate seems to be doing very nicely, thank you, and is even beginning to find out that her broken heart is very much on the mend. Welcome to the world of Small Admissions.
BUY SMALL ADMISSIONS HERE
HEROINES OF MERCY STREET, THE REAL NURSES OF THE CIVIL WAR, PAMELA TOLER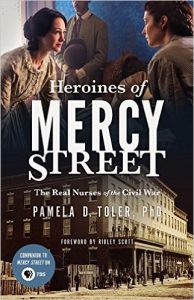 The nurses of the Civil War ushered in a new era for medicine in the midst of tremendous hardship. While the country was at war, these women not only learned to advocate and care for patients in hostile settings, saved countless lives, and changed the profession forever, they regularly fell ill with no one to nurse them in return, seethed in anger at the indifference and inefficiency that left wounded men on the battlefield without care, and all too often mourned for those they could not rescue.
Heroines of Mercy Street tells the true stories of the nurses at Mansion House, the Alexandria, Virginia, hotel turned wartime hospital and setting for the PBS show Mercy Street. Women like Dorothea Dix, Mary Phinney, Anne Reading, and more rushed to be of service to their country during the war, meeting challenges that would discourage less determined souls every step of the way.
They saw casualties on a scale Americans had never seen before; diseases like typhoid and dysentery were rampant; and working conditions-both physically and emotionally–were abysmal.
Drawing on the diaries, letters, and books written by these nursing pioneers, Pamela D. Toler, PhD, has written a fascinating portrait of true heroines, shining a light on their personal contributions during one of our country's most turbulent periods.
"Accessible and well researched… Successfully illustrates the beginnings of nursing as a designated field of medical practice."―Rebecca Hill, Library Journal
About the Author
Pamela D. Toler is a writer with a Ph.D. in history from the University of Chicago and a fascination with historical figures who step outside the constraints of their time. She is the author of Mankind: The Story of All of Us and The Everything Guide to Socialism. She lives in Chicago.
BUY MERCY STREET HERE
CUBICLE TO CUBA, HEIDI SIEFKAS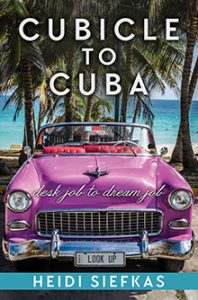 In this introspective travelogue, author, speaker and adventurer Heidi Siefkas shares her transition out of the corporate world's Cubicle Land to life on the road in Cuba and beyond. Heidi highlights another side of Cuba as well as perspective gained from years of travel to the once-forbidden island.
Along the way, she seizes opportunities for adventure in Kauai, Italy, Peru, New Zealand, Australia, and other far-flung places, but always returning to Cuba for more.
Not unlike her previous books When All Balls Drop and With New Eyes, Heidi tells this story with a good dose of sass and humor in her signature down-to-earth vignettes. Cubicle to Cuba will teach you about Cuba, but it will also inspire you to think outside the cubicle, travel more, and embark on your own Life 2.0 full of adventure.
BUY CUBICLE TO CUBA HERE
MARTHA LEMASTERS, THE STEP
Fasten your seat belts and get ready for the ride of your life! Martha Lemasters, a divorced mother of three, takes you behind the scenes to witness the Apollo program first hand. At Cape Kennedy, where men outnumbered women 200 to 1, she rose in the ranks from typist to PR writer. From tennis matches with unbelievable stakes, to rampant affairs, to history-making launches and parties to boot, you won't want to miss one word of this compelling and inspiring memoir.
The names of the astronauts will forever be inscribed in our history books, but the names of the entire Apollo launch support team at the Kennedy Space Center and the thousands who supported Apollo elsewhere will only be known to a few.
It is the technical team, the engineers, analysts, programmers, and yes, even the secretaries and typists who kept the administrative side moving, who are portrayed in this book. This combined team, after achieving an unbelievable goal of putting men on the moon within the 10-year limit set by Kennedy, performed in an exemplary manner. Some believe they were the greatest technological team ever assembled, achieving the most difficult challenge of all mankind to date.
The Apollo team faced challenges and temptations like anyone else in the 60's: divorce, affairs, deaths, three shifts of work schedules, as well as women's issues, but they also knew how to have fun along the way. Choruses were formed, humorous skits brought laughs to facility dinners, and tennis bets of a lifetime played out on an Apollo stage with human lives on the line, etched with historic backdrops.
What was it like to be a part of this history-making event of launching our astronauts to the moon? Journey back to the 60's for a front-row seat by someone who experienced it all.
BUY THE STEP HERE
THE FUHRER MUST DIE, VICTORIA ANDRE KING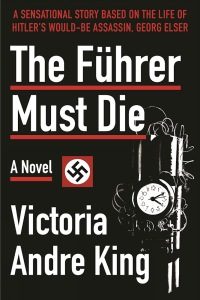 Experience the exciting and suspenseful tale of the man who almost blew up one of the greatest villains in history—and lived to never tell the tale.
On November 8, 1939, a nondescript German clockmaker named Georg Elser placed a bomb in a Munich beer hall where Hitler was scheduled to give a speech. His simple intent: to stop the impending onset of World War II.
The bomb's explosion missed the Führer by only minutes, still killing more than 150 members of the Nazi Old Guard. After the attack, Elser was caught by happenstance at the porous Swiss border. When his family was threatened, he immediately confessed. There was only one problem: the Gestapo couldn't accept his confession as a lone assassin.
Elser fit none of the assassin profiles drawn up by the police. To them, it was inconceivable that a lone attempt could have been perpetrated by one of Hitler's faithful and adoring citizens. A British conspiracy? Sure. But one of the Fatherland's faithful? Impossible.
The Führer Must Die is as much the policemen's story as it is Elser's, narrating the account of the detectives he destroyed and the Gestapo men he drove crazy—followed by chaos and a body count.
"Detail-laden, fascinating, and sometimes oddly funny . . . This is a weirdly compelling book." —Historical Novel Society
"Opens a forgotten chapter in 20th century history. Through dramatic re-imagining readers will quickly be drawn into a seemingly mad enterprise. A vivid and compulsively readable novel." —Dr. John R. Hale, PhD, author of Lords of the Sea
BUY THE FUHRER MUST DIE HERE
MAGIC FLUTE, PATRICIA MINGER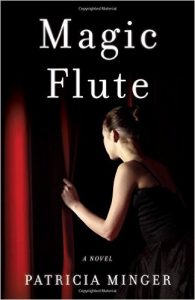 Liz Morgan is a talented, ambitious flutist headed for a brilliant career. But before she can achieve the world-class recognition she craves, an accident puts an end to her dreams.
Desperate to fulfill her mother's musical legacy, she fights to reinvent her path, and settles on a new passion: singing. She even leaves San Francisco and returns to the town in Wales where she spent her early childhood to do it.
But as Liz works to perfect her voice and launch a new career, she is confronted with her mother's other legacy: the choice between the seduction of fame and the constancy of an ordinary life.
Magic Flute is an intimate exploration of the world of grand opera. Amid the backstage detail is a story of passions and choices that explores the humanity behind the most dramatic of art forms.
"Music lovers in need of winter reading material: You just found your literary soulmate… Crafted to perfection with enchanting harmonious prose, Magic Flute is music to our book-loving ears." Brit+Co
"If you have a soft spot for the musical world, this book will steal your soul at the first page… A story which celebrates passions, choices and the unstoppable role of fate, Magic Flute is prose at its finest." — Working Mother
"A smart and uplifting tale of personal and musical renewal; an impressive debut." — KIRKUS REVIEWS
BUY MAGIC FLUTE HERE