RECOMMENDED READS
THE DAUGHTERS OF THE NIGHT SKY, AIMIE RUNYAN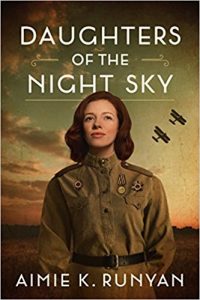 A novel—inspired by the most celebrated regiment in the Red Army—about a woman's sacrifice, courage, and love in a time of war.
Russia, 1941. Katya Ivanova is a young pilot in a far-flung military academy in the Ural Mountains. From childhood, she's dreamed of taking to the skies to escape her bleak mountain life. With the Nazis on the march across Europe, she is called on to use her wings to serve her country in its darkest hour. Not even the entreaties of her new husband—a sensitive artist who fears for her safety—can dissuade her from doing her part as a proud daughter of Russia.
After years of arduous training, Katya is assigned to the 588th Night Bomber Regiment—one of the only Soviet air units composed entirely of women. The Germans quickly learn to fear nocturnal raids by the daring fliers they call "Night Witches." But the brutal campaign will exact a bitter toll on Katya and her sisters-in-arms. When the smoke of war clears, nothing will ever be the same—and one of Russia's most decorated military heroines will face the most agonizing choice of all.
BUY THE BOOK HERE
THE NIGHT CHILD, ANNA QUINN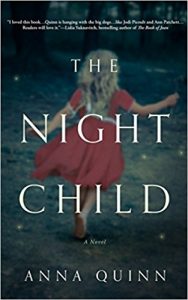 Nora Brown teaches high school English and lives a quiet life in Seattle with her husband and six-year-old daughter. But one November day, moments after dismissing her class, a girl's face appears above the students' desks — "a wild numinous face with startling blue eyes, a face floating on top of shapeless drapes of purples and blues where arms and legs should have been. Terror rushes through Nora's body — the kind of raw terror you feel when there's no way out, when every cell in your body, your entire body, is on fire — when you think you might die."
Twenty-four hours later, while on Thanksgiving vacation, the face appears again. Shaken and unsteady, Nora meets with neurologists and eventually, a psychiatrist. As the story progresses, a terrible secret is discovered — a secret that pushes Nora toward an even deeper psychological breakdown.
This breathtaking debut novel examines the impact of traumatic childhood experiences and the fragile line between past and present. Exquisitely nuanced and profoundly intimate, The Night Child is a story of resilience, hope, and the capacity of the mind, body, and spirit to save itself despite all odds.
BUY THE BOOK HERE
WISH ME HOME, KAY BRATT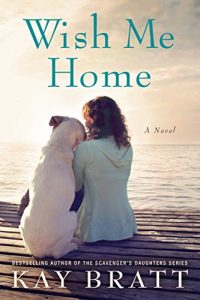 In her first work of contemporary women's fiction, bestselling author Kay Bratt draws on her own life experiences to create a raw, yet inescapably warm, novel about friendship and a wary heart's unexpected capacity to love.
A hungry, stray dog is the last thing Cara Butter needs. Stranded in Georgia with only her backpack and a few dwindling dollars, she already has too much baggage. Like her twin sister, Hana, who has broken Cara's heart one too many times. After a lifetime of family troubles, and bouncing from one foster home to another, Cara decides to leave it all behind and strike out alone—on foot.
Cara sets off to Florida to see the home of her literary hero, Ernest Hemingway, accompanied only by Hemi, the stray dog who proves to be the perfect travel companion. But the harrowing trip takes unexpected turns as strangers become friends who make her question everything, and Cara finds that as the journey unfolds, so does her life—in ways she could never imagine.
BUY THE BOOK HERE
THE TRUTH WE BURY. BARBARA SISSEL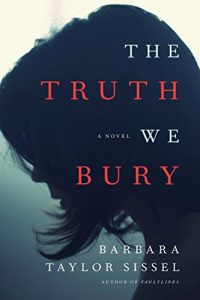 In this intense, multilayered domestic drama, two families become entangled in a web of lies, secrets, and betrayal that results in an act of violence so shocking their love may not survive.
On the outside, Lily Isley's life seems perfect: a wealthy husband, a ritzy gated community in Dallas, and a handsome son, AJ—a decorated marine about to be married to his love, Shea. But when a bridesmaid is murdered in AJ's apartment and he can't be found, Lily's world collapses and a long-held family secret is at risk of exposure.
Dru Gallagher's life took a different course. After her ex-husband, suffering from post-traumatic stress, threatened her and her daughter, Shea, with a shotgun, Dru was forced to leave her marriage and forge ahead as a working-class single mom. Now, the anger she sees in war veteran AJ's eyes is heartbreakingly familiar—and makes Dru deeply afraid for her daughter's safety…especially after Shea's best friend and maid of honor is found dead.
With a killer on the loose and time running out, Lily and Dru, two very different women, unite in a single goal: to save their precious children from scandal, even from death. But will the mothers' protection be enough, or will the fateful secret they expose—and the truth it reveals—destroy every hope of love?
BUY THE BOOK HERE
ABBY'S JOURNEY, STEENA HOLMES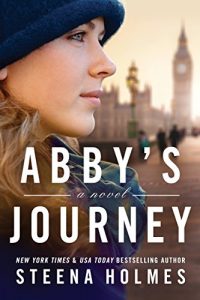 Twenty-year-old Abigail Turner has only known her mother, Claire—who died shortly after she was born—through letters, videos, postcards, and journals. Abby's father, Josh, has raised his precious daughter himself, but his overprotectiveness has become stifling. Abby longs to forge out on her own and see the world after a childhood trapped indoors: she suffers from bronchopulmonary dysplasia, which means a case of the sniffles can rapidly escalate into life-threatening pneumonia.
But when Abby's doctor declares her healthy—for now—her grandmother Millie whisks her away to Europe to visit the Christmas markets that her mother cherished and chronicled in her travel journals. Despite her father's objections, Abby and Millie embark on a journey of discovery in which Abby will learn secrets that force her to reevaluate her image of her mother and come to a more mature understanding of a parent-child bond that transcends death.
New York Times and USA Today bestselling author Steena Holmes offers a tender and heartfelt exploration of parental love and a daughter's longing for connection in the poignant next chapter following Saving Abby.
BUY THE BOOK HERE
THE WELCOME HOME DINNER, PEGGY LAMPMAN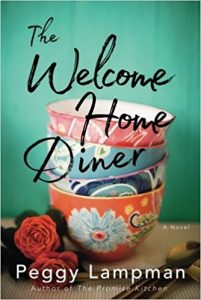 Betting on the city of Detroit's eventual comeback, cousins Addie and Samantha decide to risk it all on an affordable new house and a culinary career that starts with renovating a vintage diner in a depressed area of town. There's just one little snag in their vision.
Angus, a weary, beloved local, is strongly opposed to his neighborhood's gentrification—and his concerns reflect the suspicion of the community. Shocked by their reception, Addie and Samantha begin to have second thoughts.
As the long hours, problematic love interests, and underhanded pressures mount, the two women find themselves increasingly at odds, and soon their problems threaten everything they've worked for. If they are going to realize their dreams, Addie and Samantha must focus on rebuilding their relationship. But will the neighborhood open their hearts to welcome them home?
BUY THE BOOK HERE
THE PROMISE BETWEEN US, BARBARA CLAYPOLE WHITE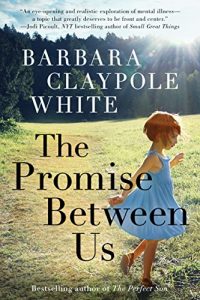 "This is an eye-opening and realistic exploration of mental illness—a topic that greatly deserves to be front and center." —Jodi Picoult, New York Times bestselling author of Small Great Things
Metal artist Katie Mack is living a lie. Nine years ago she ran away from her family in Raleigh, North Carolina, consumed by the irrational fear that she would harm Maisie, her newborn daughter. Over time she's come to grips with the mental illness that nearly destroyed her, and now funnels her pain into her art. Despite longing for Maisie, Katie honors an agreement with the husband she left behind—to change her name and never return.
But when she and Maisie accidentally reunite, Katie can't ignore the familiarity of her child's compulsive behavior. Worse, Maisie worries obsessively about bad things happening to her pregnant stepmom. Katie has the power to help, but can she reconnect with the family she abandoned?
To protect Maisie, Katie must face the fears that drove her from home, accept the possibility of love, and risk exposing her heart-wrenching secret.
BUY THE BOOK HERE
STONE CIRCLE, KATE MURDOCH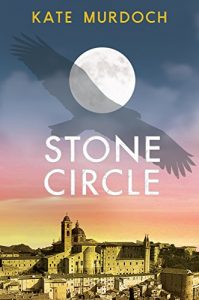 Is the Ability to Read Minds a Blessing or a Curse?
When Antonius's father dies, he must work to support his family. He finds employment as a servant in the Palazzo Ducal, home of Conte Valperga. Sixteenth-century Pesaro is a society governed by status and Antonius has limited opportunities.
When a competition is announced, Antonius seizes his chance. The winner will be apprenticed to the town seer. Antonius shares first place with his employer's son.
The two men compete for their mentor's approval. As their knowledge of magic and alchemy grows, so does the rivalry and animosity between them. When the love of a beautiful woman is at stake, Antonius must find a way to follow his heart and navigate his future.
BUY THE BOOK HERE
DEGREES OF LOVE, LISA SLABACH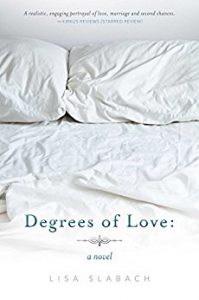 In this powerful debut, a successful businesswoman embarks on a journey of self-discovery that will shake her to the core.
Like the shiny new BMW parked in the driveway of the Silicon Valley home she shares with her husband, Matt, and their two boys, Susan Sinclair exudes confidence and style. Newly promoted to a prestigious Senior Vice President position at her firm, Susan is the picture of personal and professional success.
Yet appearances are deceiving. With each advance in Susan's career, Matt has grown more distant. But he refuses to admit there is a problem, and Susan, determined to give her boys the close-knit family life she never had, forces herself to play along.
Then she meets her new boss, Reese Kirkpatrick. She and Reese become a crackerjack team, but little by little, pleasure mixes with business. For the first time in a long time, Susan feels seen and appreciated for who she is.
In a moment of weakness, friendship becomes something more. Now, unable to stomach the façade her marriage has become yet unwilling to decimate her family by moving forward with Reese, Susan faces a choice that could cost her everything–including her children . . . but possibly bring her more than she can dream.
BUY THE BOOK HERE
THE UNREMEMBERED GIRL. ELIZA MAXWELL
An Amazon Charts bestseller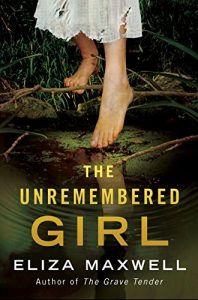 In the deep woods of East Texas, Henry supports his family by selling bootleg liquor. It's all he can do to keep his compassionate but ailing mother and his stepfather—a fanatical grassroots minister with a bruising rhetoric—from ruin. But they have no idea they've become the obsession of the girl in the woods.
Abandoned and nearly feral, Eve has been watching them, seduced by the notion of family—something she's known only in the most brutal sense. Soon she can't resist the temptation to get close. Where Henry's mother sees a poor girl in need, his father sees only wickedness. When Henry forges an unexpected bond with Eve, he believes he might be able to save her. He doesn't know how wrong he is.
Eve is about to take charge of her own destiny—and that of Henry's family. As both their worlds spin violently out of control, Henry must make an impossible choice: protect the broken woman who's claimed a piece of his soul, or put everyone he loves at risk in order to do the right thing.
BUY THE BOOK HERE
A CRAZY KIND OF LOVE, MARY ANN MARLOWE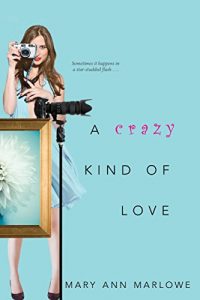 In this irresistible new novel by Mary Ann Marlowe, one woman's up-close and sexy encounter with a tabloid sensation reveals the dizzying–and delicious–dilemma of dating in the spotlight . . .
Celebrities hold zero interest for photographer Jo Wilder. That's a problem, since snapping pics of the stars is how the pretty paparazza pays the rent. So when Jo attempts to catch a money shot atop the broad shoulders of a helpful bystander, the only thing she notices about the stranger she straddles is that he's seriously hot. Only later does Jo learn that he's also Micah Sinclair–one of rock's notorious bad boys…
Soon Jo is on the verge of getting fired for missing a Micah Sinclair exclusive. Until she's suddenly being pursued by the heartthrob himself.  But how can she be sure the musician's mind-blowing kisses are the real deal? Her colleagues claim he's a media whore, gambling on some free PR. But something has Jo hoping Micah's feeling the same powerful pull that she does. A pull so strong, she can't resist becoming his latest love, even if it means she might become the media's latest victim . . .
"Heartfelt, flirty and full of sizzle, this romance between a charming rock star and a half-hearted paparazza is the perfect romantic comedy." 
—RT Book Reviews
"Another sizzling, glitterati-filled story."
–Booklist
"If you like wonderfully written, light, fast paced, swoon worthy moments, and chemistry so strong it jumps off the page, then this is the book for you."
–Wit & Wonder Books
Praise for Mary Ann Marlowe's Some Kind of Magic
"Marlowe makes a name for herself in this hilarious and sexy debut." 
—Booklist
"Frisky, Flirty Fun!"
-Stephanie Evanovich, New York Times bestselling author of The Total Package
BUY THE BOOK HERE
MISSING PERSONS. GAYLE GREENE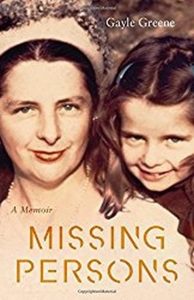 Missing Persons is a memoir about dealing with death in a culture that gives no help. As the last of her family, Greene's losses are stark, first her aunt, then her mother, in quick succession. She is as ill-equipped for the challenges of caring for a dying person at home as she is for the other losses, long repressed, that rise to confront her at this time: the suicide of her younger brother, the death of her father. As the professional identity on which she's based her selfhood comes to feel brittle and trivial, she is catapulted into questions of "who am I?" and "what have I done with my life?"
The memoir is structured as an account of her mother's and aunt's final days and the year that follows, a year in which she reconstructs her life. This is a powerful story about family, what it means to have one, to lose one, never to have made one, and what, if anything, might take its place. It's the story of a vexed mother-daughter relationship that mellows with age. It is also a search for home, as the very landscape shifts around her and the vast orchards are dug up and paved over for tract housing, strip malls, freeways, and the Santa Clara Valley, once known as the Valley of Heart's Delight, is transformed to "Silicon."
BUY THE BOOK HERE
TWISTED THREADS,  KAYLIN MCFARREN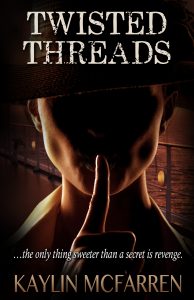 Akira Hamada is driven by past failure. Two years earlier, she had a chance to kill her greatest enemy—Kaito Mitsui. Instead, the Yakuza boss forced her to become an assassin in his employ. Now Akira carries out the bloody business of the notorious crime syndicate and hates herself more each day.
When Mitsui hears that his sister's murderer will be on the cruise ship Starfish, he immediately tasks Akira with eliminating the man once and for all. This is what Akira has trained for, but a series of strange events on the ship tests her resolve and shows her a way to redemption.
Devon Lyons, on the other hand, has nothing to do with assassins. He's merely accompanying his aunt and uncle, Sara and Paul Lyons, on a free cruise.
Little does he know that the two are the true targets of the charming Japanese tourist he has just met! Akira knows that either Sara or Paul is the killer but doesn't know which one. She hopes seducing the handsome Devon will lead to better intel, but she is surprised to find herself trusting him. And soon, the pair finds themselves fighting for their lives on the high seas.
BUY THE BOOK HERE
JOURNALING POWER, MARI L MCCARTHY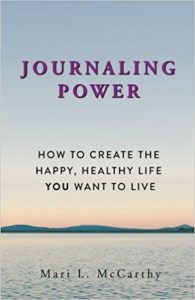 Journaling Power
 teaches you how to put the ultimate self-healing tool right at your fingertips–journaling. You'll discover how daily pen-to-paper journal writing leads to self-growth and life-changing transformation. You'll also learn that numerous medical studies prove journaling literally unleashes a healing agent that empowers your life in ways you've never imagined.
Mari L. McCarthy shares her own personal story of health and healing and provides step-by-step guidance on how to use your own Journaling Power Practice to: Reduce physical pain and overcome illness, Heal emotional wounds from past traumas, Resolve inner conflicts and create self-compassion, Conquer limiting beliefs and fears, Reconnect with your inner healer, and Create the happiest, healthiest life for your Self.
"Mari used journaling herself to relieve her symptoms of MS. In this book, she reveals the full power of journaling, not only for people who have an illness, but for anyone, actually, who simply wants to unlock their personal creativity or find some more meaning and purpose in their life." ~David Hamilton, PhD, Author, How Your Mind Can Heal Your Body
BUY THE BOOK HERE
THE FATHER-DAUGHTER CLUB, ALISON RAGSDALE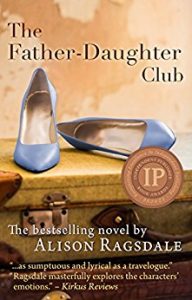 David and Elizabeth Fredericks are spending a month away from their home in Eastern Scotland. Traveling through Greece and Italy, they plan to indulge David's love of classical architecture, celebrate his retirement, and heal the wounds his recent affair caused to their marriage.
When their daughter Kate, an engineering professor and the apple of David's eye, turns up in Athens unannounced to tell them that she is in love with Charlotte Macfie, a talented patisserie chef, things quickly go awry.
Unable to cope with Kate's revelation, David withdraws, and Elizabeth is forced to take on the uncharted role of mediator, between the formerly inseparable father and daughter. When tragedy strikes, the Fredericks' must find a way to put their differences aside and build a newly structured family.
BUY THE BOOK HERE