RECOMMENDED READS
BEST DAY EVER, KAIRA ROUDA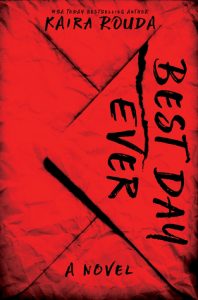 In the bestselling, page-turning vein of The Couple Next Door and The Dinner, Kaira Rouda weaves a gripping, tautly suspenseful tale of deception and betrayal dark enough to destroy a marriage…or a life.
"I glance at my wife as she climbs into the passenger seat, and I am bursting with confidence. Today will be everything I've promised her…and more…"
Paul Strom has the perfect life: a glittering career as an advertising executive, a beautiful wife, two healthy boys and a big house in a wealthy suburb. And he's the perfect husband: breadwinner, protector, provider. That's why he's planned a romantic weekend for his wife, Mia, at their lake house, just the two of them. And he's promised today will be the best day ever.
But as Paul and Mia drive out of the city and toward the countryside, a spike of tension begins to wedge itself between them and doubts start to arise. How much do they trust each other? And how perfect is their marriage, or any marriage, really?
Forcing us to ask ourselves just how well we know those who are closest to us, Best Day Ever crackles with dark energy, spinning ever tighter toward its shocking conclusion.
Praise for Best Day Ever
"An unreliable and chillingly unrepentant narrator." — Kimberly McCreight, New York Times bestselling author of Reconstructing Amelia and The Outliers
"Highly entertaining and truly surprising!" — Kate Moretti, New York Times bestselling author of The Vanishing Year
BUY THE BOOK HERE
FORKS, KNIVES, AND SPOONS, LEAH  DECESARE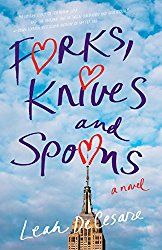 There are three kinds of guys: forks, knives, and spoons. That is the final lesson that Amy York's father sends her off to college with, never suspecting just how far his daughter will take it. Clinging to the Utensil Classification System as her guide, Amy tries to convince her skeptical roommate, Veronica Warren, of its usefulness as they navigate the heartbreaks and soul mates of college and beyond.
Beginning in 1988, their freshman year at Syracuse University, Amy and Veronica meet an assortment of guys—from slotted spoons and shrimp forks to butter knives and sporks—all while trying to learn if the UCS holds true. On the quest to find their perfect steak knives, they learn to believe in themselves—and not to settle in love or life.
dependent Press Awards Distinguished Favorites: New Fiction (First Time Published)
2017 National Indie Excellence Book Awards Winner: Contemporary Fiction
2017 National Indie Excellence Book Awards Finalist: Women's Fiction
"The novel's construct of categorizing men's qualities according to a Utensil Classification System when looking for a romantic partner is memorable, wittily practical, and has the power to influence readers' real-life choices. For that, Forks, Knives, and Spoons breaks new ground." —The BookLife Prize
"Reading Forks, Knives, and Spoons is like having your best girlfriend take you by the hand and tell you a story. A story you want to sit and listen to until the very end." —Ann Hood, New York Times bestselling author of The Book That Matters Most
"Leah DeCesare has a writer's voice that is remarkable for a debut novel. The characters in Forks, Knives, and Spoons are so relatable, and the story makes you long for your own youth. A wonderful book about love and growth, discovering who you are, and what makes you happy." —Anita Hughes, author of Christmas in Paris
BUY THE BOOK HERE
WOMEN WITHIN, ANNE LEIGH PARRISH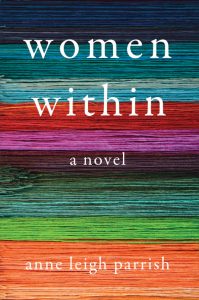 This multi-generational novel presents three women whose paths cross at the Lindell Retirement Home. Constance Maynard, fierce, intependent and proud, reflects on her long life promoting women's rights through her career as a professor of history. Eunice Fitch, the perfect caregiver, is often unlucky in love, yet even in middle age refuses to give up searching for the perfect man. Sam Clark is a young aide with a passion for poetry and , small beautiful things, but at war with her own large, ungainly physique. All together they weave a tapestry as rich and complex as the female experience itself.
Stand up women everywhere! Fantastic and inspirational! – 2017 Maxy Awards, Best Fiction Winner
"Women Within is an intricate and engaging examination of three women connecting in an unlikely situation with flowing prose, stellar characterization, and vivid scene setting in a small package that's sure to stick with you long after the last page." – Manhattan Book Review, 4.5 stars
"Parrish's Women Within is well-wrought, containing dazzling, lyrical prose that will draw you into living memory, into the heartbeat of generations of women. This is a story, a vibrant tapestry of stories, with many lessons to offer. Perfect for those interested in women-centric stories and stories empowering to women." – San Francisco Book Review, 5 stars
"Women Within" is a finely crafted tale of three outcast women. It is relevant and expertly arranged, and composed of stirring and sympathetic trials and tribulations." – Foreword Reviews, 5 stars.
BUY THE BOOK HERE
RAINCHECK, MARLO LANZ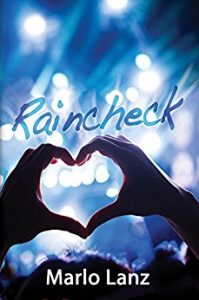 Ty Benson is tall, dark, delicious – and done with women. As the singer for the iconic rock band Raincheck, Ty is sick of women chasing after him. He's sworn off relationships, enjoying the simplicity that celibacy brings. Until he meets Liv Madison. She's completely – and maddeningly – uninterested in him. And it's seriously turning him on. Stuck together on Raincheck's Summer Tour, Ty is trying to stay away from her. But it's getting harder every day.
Liv Madison just wants to work on her Master's thesis and have some fun this summer. Which is the exact reason she's tagging along as her best friend Gabe performs on Raincheck's tour. Ty Benson, however, seems to have other plans for her. As annoying as he is gorgeous, Ty just won't leave her alone. And it's affecting her relationship with Gabe – in a completely unexpected way.
Can Ty convince Liv to give him a chance? Or will her friendship with Gabe turn into so much more?
Five Star Review for Readers' Favorite 
"Nothing spices up a romance read like a love triangle, even when said triangle is not exactly what it is portrayed to be. Raincheck by Marlo Lanz has all the ingredients for a thrilling romance read; secrets, passion, steamy scenes, drama and lots of tension, all set on the road in the middle of a band tour."
BUY THE BOOK HERE
SWEET REALITY, LAURA HEFFERNAN
SUGAR, SEA SALT, AND SHOW BIZ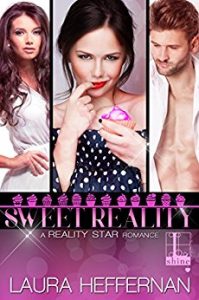 Jen Reid's life after walking off a reality show has been great–she's gone from being a broke twenty-four-year-old Seattleite with no love life and no job to the twenty-five-year-old who got the guy, moved to Miami, and is starting a bakery with her best friend. She thinks her showmance love might be about to propose. And with mouthwatering goodies based on everyone's favorite shows, her business, Sweet Reality, is destined for success.
That is, until a killer competitor opens right across the street. If she's going to save Sweet Reality, Jen has to come up with a secret ingredient–like the recipe that won Totally 80s Bake-Off. Jen can get it–if she steps back into the spotlight. Soon she and her boyfriend are out to sea on a cruise ship full of reality stars, including her nemesis, Ariana; her lying, cheating ex; and some wicked producers looking to bring the drama. Separate cabins, "surprises" from her past, and scenarios tailor-made to spark fights are just the beginning. But with her self-respect, her business, and her future on the line, the fallout from this made-for-TV plotline will be all too real . . .
Praise for America's Next Reality Star"Smart, witty, and really freaking good, America's Next Reality Star is a fun read that has you cheering from the first paragraph through the last page. Laura Heffernan spins an entertaining tale, expertly mixing the main character's real life events with the reality show's challenges. With enough drama to not only satisfy fans of reality TV shows, but readers who thrive on a good story with humor and romance, this book is a perfect read." –Kerry Lonsdale, Wall Street Journalbestselling author
"Reality TV fans, this is your book! Laura Heffernan captures all the drama and over-the-top craziness in this fun and flirty romance." –Amy E. Reichert, author of Love, Luck, and Lemon Pie
"America's Next Reality Star is one sweet, sexy brain-candy read! You won't be sorry you indulged." –Leah Marie Brown
BUY THE BOOK HERE
SLIGHTLY SOUTH OF SIMPLE, KRISTY WOODSON HARVEY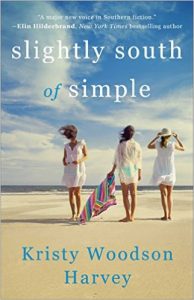 From the next "major voice in Southern fiction" (New York Times bestselling author Elin Hilderbrand) comes the first in an all-new series chronicling the journeys of three sisters and their mother—and a secret from their past that has the potential to tear them apart and reshape their very definition of what it means to be a family.
Caroline Murphy swore she'd never set foot back in the small Southern town of Peachtree Bluff; she was a New York girl born and bred and the worst day of her life was when, in the wake of her father's death, her mother selfishly forced her to move—during her senior year of high school, no less—back to that hick-infested rat trap where she'd spent her childhood summers. But now that her marriage to a New York high society heir has fallen apart in a very public, very embarrassing fashion, a pregnant Caroline decides to escape the gossipmongers with her nine-year-old daughter and head home to her mother, Ansley.
Ansley has always put her three daughters first, especially when she found out that her late husband, despite what he had always promised, left her with next to nothing. Now the proud owner of a charming waterfront design business and finally standing on her own two feet, Ansley welcomes Caroline and her brood back with open arms. But when her second daughter Sloane, whose military husband is overseas, and youngest daughter and successful actress Emerson join the fray, Ansley begins to feel like the piece of herself she had finally found might be slipping from her grasp. Even more discomfiting, when someone from her past reappears in Ansley's life, the secret she's harbored from her daughters their entire lives might finally be forced into the open.
Exploring the powerful bonds between sisters and mothers and daughters, this engaging novel is filled with Southern charm, emotional drama, and plenty of heart.
BUY THE BOOK HERE
EMBRACING THE STORM, RACHEL MCGRATH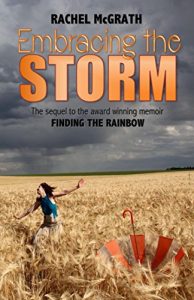 Embracing the Storm is the sequel to the award winning and best selling memoir, Finding the Rainbow, by Rachel McGrath,
Picking up from the multiple miscarriages and a question mark over her future as a mother, Embacing the Storm continues Rachel's story. Nonetheless, in this heartfelt memoir, McGrath faces her infertility head on, despite being faced with both physical and emotional obstacles along the way.
In this true story of courage, strength and hope, the reader is brought openly, and with so much heartfelt intensity, into Rachel McGrath's world as she continues to fight for the one thing she aspires for most – her rainbow baby! It is a journey that you will not want to miss.
BUY THE BOOK HERE
WHERE THE SWEET BIRD SINGS, ELLA JOY OLSEN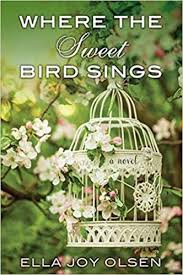 In this provocative new novel, the author of Root, Petal, Thorn offers a powerful story of resilience, hope, and the secrets that, no matter how deeply hidden, can shape and ultimately unite a family. What connects us to one another? Is it shared history? Is it ancestry? Is it blood? Or is it love?
People respond to tragedy in different ways. Some try to move on. Some don't move at all. A year after her young son's death due to a rare genetic disease, Emma Hazelton is still frozen by grief, unable and unwilling to consider her husband Noah's suggestion that they try to have another child.
As the future Emma once imagined crumbles, her family's past comes into sharp relief. Searching for the roots of her son's disease, Emma tries to fit together the pieces in her genealogical puzzle. Hidden within an old wedding photograph of her great-grandparents is an unusual truth Emma never guessed at–a window into all the ways that love can be surprising, generous, and fiercely brave . . . and a discovery that may help her find her own way forward at last.
"With clearly drawn, authentic, and endearing characters, and a well-crafted plot filled with subtle tension, Olsen's latest is a wonderfully tender story. Readers will not be able to put this one down."– RT Book Reviews
BUY THE BOOK HERE
A COLD CASE IN AMSTERDAM, ANJA DE JAGER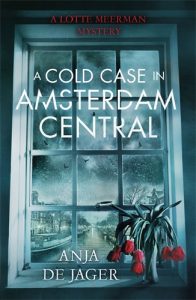 Detective Lotte Meerman is convinced the death of Frank Stapel, a painter and decorator, isn't an accident after she and his widow Tessa find a skeleton in a sports bag in his left luggage locker at Amsterdam Central train station.
The remains date from the Second World War and Lotte's colleagues consider it of minor importance . . . until forensic tests show that amongst the bones is the arm bone of a crime boss who recently went missing.
PRAISE FOR ANJA DE JAGER
… a novel brilliantly evoking the isolation of a woman with an unbearable weight on her conscience Sunday Times
BUY THE BOOK HERE
OINK: A FOOD FOR THOUGHT NOVEL, J.L. NEWTON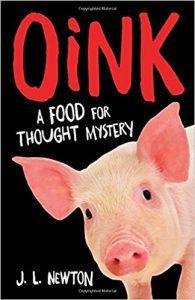 Pigs, poisoned cornbread, a feminist network, and a university tainted by corporate values. First in the Emily Addams Food for Thought Series.
One of the 18 funniest books to come out this spring. MediaBookBub.Com
Emily Addams, foodie professor of women's studies at Arbor State–a land grant university in Northern California–finds herself an unlikely suspect in the poisoning of a man she barely knows: Professor Peter Elliott of Plant Biology, the hotshot developer of a new genetically modified corn.
How did her cornbread end up in his hand as he lay in the smelly muck of a pig's pen?
As Emily and her colleagues try to identify who and what has poisoned Peter, they also struggle to keep a new and corporate-minded administration from defunding the women's and ethnic studies programs.
In the process of solving the mystery, Emily and her network deepen their ties to each other–and uncover some of the dark secrets of a university whose traditionally communal values are being polluted by a wave of profit-fueled ideals.
Oink comes with recipes.
-It has been said that the comic campus novel is no more (things in higher education are verging on the tragic), but Oink proves otherwise.-
–Maggie Berg and Barbara K. Seeber, authors of The Slow Professor: Challenging the Culture of Speed in the Academy
BUY THE BOOK HERE
WORKING FIRE, A NOVEL, EMILY BLEEKER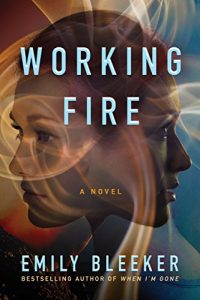 From the Wall Street Journal bestselling author of When I'm Gone comes a compelling novel of a bond between sisters, tested by tragedy…
Ellie Brown thought she'd finally escaped her stifling hometown of Broadlands, Illinois; med school was supposed to be her ticket out. But when her father has a stroke, she must return home to share his care with her older sister, Amelia, who's busy with her own family. Working as a paramedic, Ellie's days are monotonous, driving an ambulance through streets she'd hoped never to see again.
Until a 911 dispatch changes everything. The address: her sister's house. Rushing to the scene, Ellie discovers that Amelia and her husband, Steve, have been shot in a home invasion. After Amelia is rushed to the hospital, Ellie tries to make sense of the tragedy. But what really happened inside her sister's house becomes less and less clear. As Amelia hangs on in critical condition, Ellie uncovers dark revelations about her family's past that challenge her beliefs about those closest to her…and force her to question where her devotions truly lie.
BUY THE BOOK HERE
AMONG THE SURVIVORS, ANN Z. LEVENTHAL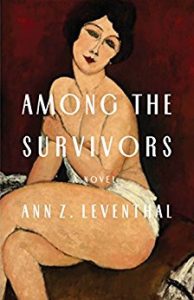 Though twenty-one-year-old Karla Most manages to bag Saxton Perry, a virtual prince thirty years her senior, she has no idea how to live happily ever after, with or without him.
Karla cannot get past her anger at having been deceived by her single, now-dead mother, Mutti, who—supposedly a "Holocaust victim," complete with tattooed numbers—was in fact a German Christian who got into the United States by falsifying her background. So what does that make her daughter? Before she can answer that question, Karla must track down the actual story of her own existence.
"Ann Z. Leventhal's Among the Survivors is a rarity: a novel that fuses a modern Cinderella tale to an intriguing Holocaust mystery. The result is a unique hybrid, the likes of which I've never read before."
—Wally Lamb, author of She's Come Undone and I'll Take You There
"When the ineluctable past catches up to the present, the stakes are raised, and Among the Survivors, mordantly witty from the first pages, becomes a disturbing and consequential story. Ann Z. Leventhal is an astute and surprising writer who has really hit her stride with this long-awaited second novel."
—Katharine Weber, author of True Confections and Triangle
BUY THE BOOK HERE
SONGBREAKER, ANNETTE LYON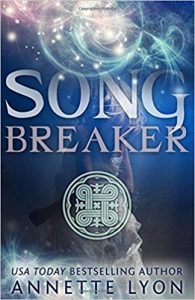 Based on a Nordic myth in the Finnish KALEVALA, which inspired Tolkien's LORD OF THE RINGS and Gandalf himself, comes SONG BREAKER from a USA TODAY bestselling author. To Aino, the idea of spending her life warming the bed of a wrinkled old man—especially when it means life without her secretly betrothed love—is horrifying. But that is the future awaiting her because of her brother. Jouko foolishly dueled Vane, the greatest wizard ever known, only to find himself on the verge of death.
He saved himself only by promising his sister as the old man's trophy. Aino refuses to be forced into marrying anyone, but with only two days until the wizard comes for her, she must find a way to break the curse, or she'll end up his prisoner. She uncovers a possible solution, but while it may technically free her from the old man, her escape could mean exchanging one kind of prison for another.
BUY THE BOOK HERE