RECOMMENDED READS
THE HIDEAWAY, LAUREN K. DENTON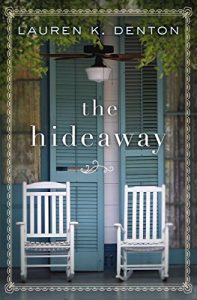 "Inspiring in tone, with well-drawn, appealing characters, Denton's delicious debut is a treat for the senses and the heart. Her exquisitely lyrical writing and character-driven story is a must-read…" Library Journal
"Denton's first novel charms readers with her idyllic settings and wonderful cast of characters, making Sweet Bay and The Hideaway places readers will dream about. The Hideaway is a deeply satisfying exploration of family, friendship, and the meaning of home." Booklist
When her grandmother's will wrenches Sara back home from New Orleans, she learns more about Margaret Van Buren in the wake of her death than she ever did in life.
After her last remaining family member dies, Sara Jenkins goes home to The Hideaway, her grandmother Mags's ramshackle B&B in Sweet Bay, Alabama. She intends to quickly tie up loose ends then return to her busy life and thriving antique shop in New Orleans. Instead, she learns Mags has willed her The Hideaway and charged her with renovating it—no small task considering Mags's best friends, a motley crew of senior citizens, still live there.
Rather than hurrying back to New Orleans, Sara stays in Sweet Bay and begins the biggest house-rehabbing project of her career. Amid Sheetrock dust, old memories, and a charming contractor, she discovers that slipping back into life at The Hideaway is easier than she expected.
Then she discovers a box Mags left in the attic with clues to a life Sara never imagined for her grandmother. With help from Mags's friends, Sara begins to piece together the mysterious life of bravery, passion, and choices that changed Mags's destiny in both marvelous and devastating ways.
When an opportunistic land developer threatens to seize The Hideaway, Sara is forced to make a choice—stay in Sweet Bay and fight for the house and the people she's grown to love or leave again and return to her successful but solitary life in New Orleans.
BUY THE HIDEAWAY HERE
FIND OUT MORE ABOUT LAUREN ON HER WEBSITE http://laurenkdenton.com/
THE PROMISE OF PIERSON ORCHARD, KATE BRANDES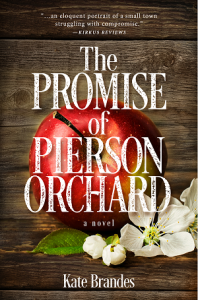 Long before fracking ever came to Minden, Pennsylvania, the fissures in the Pierson family were developing into major fault lines.
Green Energy arrives, offering the rural community of Minden the dream of making more money from their land by leasing natural gas rights for drilling. But orchardist, Jack Pierson, fears his brother, Wade, who now works for Green Energy, has returned to town after a twenty-year absence so desperate to be the hero that he'll blind their hometown to the potential dangers.
Jack also worries his brother will try to rekindle his relationship with LeeAnn, Jack's wife, who's recently left him. To protect his hometown and to fulfill a promise to himself, Jack seeks out his mother and environmental lawyer, Stella Brantley, who abandoned Minden—and Jack and Wade—many, many years ago.
"An expertly paced, moving exploration of grief and responsibility and an eloquent portrait of a small town struggling with compromise." — Kirkus Review
BUY THE PROMISE OF PIERSON ORCHARD HERE
FIND OUT MORE ABOUT KATE ON HER WEBSITE http://katebrandes.com/
THE FINISHING SCHOOL, JOANNA GOODMAN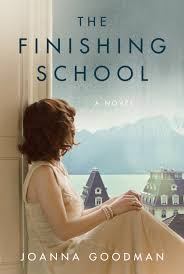 In this suspenseful, provocative novel of friendship, secrets, and deceit, a successful writer returns to her elite Swiss boarding school to get to the bottom of a tragic accident that took place while she was a student twenty years earlier.
How far would you go to uncover the truth?
One spring night in 1998 the beautiful Cressida Strauss plunges from a fourth-floor balcony at the Lycee Internationale Suisse with catastrophic consequences. Loath to draw negative publicity to the school, a bastion of European wealth and glamour, officials quickly dismiss the incident as an accident, but questions remain: Was it a suicide attempt? Or was Cressida pushed? It was no secret that she had a selfish streak and had earned as many enemies as allies in her tenure at the school. For her best friend, scholarship student Kersti Kuusk, the lingering questions surrounding Cressida's fall continue to nag long after she leaves the Lycee.
Kersti marries and becomes a bestselling writer, but never stops wondering about Cressida's obsession with the Helvetian Society–a secret club banned years before their arrival at the school–and a pair of its members who were expelled. When Kersti is invited as a guest to the Lycee's 100th Anniversary, she begins probing the cover-up, unearthing a frightening underbelly of lies and abuse at the prestigious establishment. And in one portentous moment, Kersti makes a decision that will connect her to Cressida forever and raise the stakes dangerously high in her own desire to solve the mystery and redeem her past.
An unputdownable read as clever as it is compelling, The Finishing School offers a riveting glimpse into a privileged, rarefied world in which nothing is as it appears.
BUY THE FINISHING  SCHOOL HERE
FIND OUT MORE ABOUT JOANNA ON HER WEBSITE http://joannagoodmanauthor.com/
BITTER HARVEST, WENDY TYSON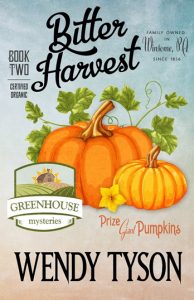 "Tyson's first-rate second Greenhouse mystery stars big-city lawyer turned small-town organic farmer Megan Sawyer, a kind, intelligent, and spirited woman with great integrity. In short, she's the sort of person cozy readers warm to and root for." – Publishers Weekly (starred review)
Megan Sawyer should be shouting from the barn roof. Washington Acres survived its first year, the café has become a hotspot for locals, and Winsome's sexy Scottish veterinarian is making house calls—only not for the animals. But as summer slips into fall and Winsome prepares for its grand Oktoberfest celebration, beer isn't the only thing brewing.
When the town's pub owner is killed in a freak accident, Megan suspects something sinister is afoot in Winsome—but no one is listening. As nights grow longer and temperatures chill, Megan must plow through Winsome's fixation with autumn festivities to harvest the truth—before another dead body marks the season.
"Bitter Harvest is a delightful read. It has everything you could want in a mystery—a spunky heroine with a charming love interest, quirky characters, a setting you desperately want to visit, and a plot that keeps you guessing!" – Amanda Lee, Author of Better Off Thread
"An exceptional cozy, Bitter Harvest offers up a veritable feast for mystery fans: a beautifully drawn setting, engaging characters, and plenty of twists and turns that will keep readers guessing. The suspense deepens with every scene…Tyson has crafted a fresh, intelligent, compelling story that's sure to satisfy." – Cynthia Kuhn, Author of The Art of Vanishing
"A perfectly-crafted smorgasbord of suspense, family drama and small-town intrigue." – Liz Mugavero, Agatha-Nominated Author of Custom Baked Murder
BUY BITTER HARVEST HERE
FIND OUT MORE ABOUT WENDY ON HER WEBSITE http://www.watyson.com/
LE CHATEAU, SARAH RIDOUT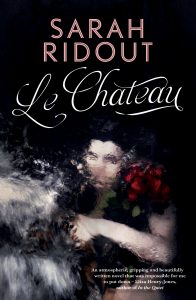 When Charlotte regains consciousness after an accident, she finds herself living a stranger's life. The previous five years are a blank, and her husband, Henri, and daughter, Ada, are strangers. Arriving at their family chateau in southern France, she hopes to regain her memories. Instead she feels isolated and unsettled. Strange events hint at underlying darkness and menace. Charlotte doesn't know who to trust.
Did she really have an affair with their charming Irish neighbour, as her enigmatic mother-in-law suggests? And what of Henri? He seems loving and kind, a good parent, but Charlotte is wary. Then there is Ada, a little girl who just wants her mother back.
With the help of her friend and fellow Australian Susannah, Charlotte starts to piece together events, but her newfound confidence is shaken with news that puts a deadline on her quest…
Le Chateau is a suspenseful gothic tale that will appeal to readers of Daphne du Maurier and Kate Morton.
'The formality of French life, the weirdness of incidental events, the bewilderment of amnesia and the great beauty of the countryside are all vividly realised in this well-crafted contemporary gothic fiction.' — The Age/Sydney Morning Herald
'An atmospheric, gripping and beautifully written novel that was impossible for me to put down.'
— Eliza Henry-Jones, author of In the Quiet
'Le Chateau is a sumptuous achievement. Ridout's lush descriptions enfold the reader in the rustic glamour of a traditional French wine- making dynasty. The gothic interiors of the chateau, and of the heroine Charlotte, who determines to shake o her amnesia, envelop the reader in prose that's seductively attentive to detail. Sexy and life- affirming, Le Chateau is a very ne debut novel indeed, one to delight the palettes of all readers.'
— Melissa Ashley, author of The Birdman's Wife
'Eerie, sexy and haunting, Le Chateau combines a rich setting with an exquisite, simmering tension.'
— Kim Lock, author of Like I Can Love
'Le Chateau marks an interesting new voice in Australian fiction, with its hints of domestic noir and gothic horror.'
— Better Reading
'Sarah Ridout's debut novel, Le Chateau, is an elegant and engrossing read that will certainly stand the test of time with readers. Ridout bravely portrays the character's frustrations, confusion, and uncertainty. The southern France setting is delivered with a vividly poetic style and provides an additional layer of nuanced beauty to the storyline.'
– J'aimee Brooker, AusRom Today
'Le Chateau is a beautifully written book.'
— The Camden Advertiser & The Campbelltown/MacArthur Advertiser
FIND OUT MORE ABOUT SARAH ON HER WEBSITE http://www.sarahridout.com.au/
FOLLOW HER ON FACEBOOK https://www.facebook.com/sarahridoutauthor/
and TWITTER @SACRidout
BUY LE CHATEAU
NZ and AUS http://www.booktopia.com.au/le-chateau-sarah-ridout/prod9781760404413.html
USA and UK https://www.bookdepository.com/Le-Chateau-Sarah-Ridout/9781760404413
IT HAPPENS ALL THE TIME, AMY HATVANY
"Spellbinding, timely, and unflinchingly honest. This novel will consume you." – Heather Gudenkauf, New York Times bestselling author of The Weight of Silence and Missing Pieces
"Bravely told and intoxicatingly honest, It Happens All The Time is a compulsory read for men and women—it bravely and urgently explores the meaning of consent everyone desperately needs to understand." -Redbook
"Hatvany tackles an important, and timely, subject…this title will be appreciated by fans of Jodi Picoult or Diane Chamberlain." – Library Journal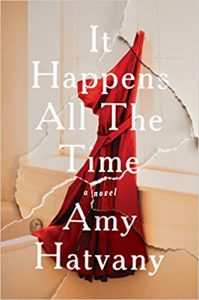 From master storyteller Amy Hatvany—whose writing has been hailed as "gripping and emotionally honest" (Stephanie Evanovich, New York Times betselling author)—comes a provocative and compelling novel about two friends whose lives are changed by a drunken kiss.
I want to rewind the clock, take back the night when the world shattered. I want to erase everything that went wrong.
Amber Bryant and Tyler Hicks have been best friends since they were teenagers—trusting and depending on each other through some of the darkest periods of their young lives. And while Amber has always felt that their relationship is strictly platonic, Tyler has long harbored the secret desire that they might one day become more than friends.
Returning home for the summer after her college graduation, Amber begins spending more time with Tyler than she has in years. Despite the fact that Amber is engaged to her college sweetheart, a flirtation begins to grow between them. One night, fueled by alcohol and concerns about whether she's getting married too young, Amber kisses Tyler.
What happens next will change them forever.
In alternating points of view, It Happens All the Time examines the complexity of sexual dynamics between men and women and offers an incisive exploration of gender roles, expectations, and the ever-timely issue of consent.
BUY THE BOOK HERE
FIND OUT MORE ABOUT AMY ON HER WEBSITE http://www.amyhatvany.com/
HOW DO YOU KNOW? MEREDITH SCHORR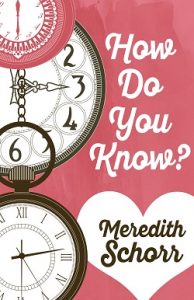 "Maggie Piper navigates a version of Manhattan that's as fun and original as Woody Allen's or Sex and the City's. You won't forget this delightful cast of characters or Schorr's sharp, candid insights about the plight of the modern woman." – Diana Spechler, Author of Who by Fire and Skinny
Life doesn't happen on a schedule, there are no deadlines in love, and age is just a number.
On the eve of her thirty-ninth birthday, Maggie Piper doesn't look, act, or feel much different than she did at twenty-eight, but with her fortieth birthday speeding toward her like a freight train, she wonders if she should. The fear of a slowing metabolism, wrinkling of her skin, and the ticking of her biological clock leaves Maggie torn between a desire to settle down like most of her similarly-aged peers and concern that all is not perfect in her existing relationship. When a spontaneous request for a temporary break from her live-in boyfriend results in a breakup, Maggie finds herself single once again and only twelve months from the big 4.0.
As Maggie reenters the New York City dating jungle, suitors present themselves quickly, but who is "The One?" Is he a sexy coworker, one of many bachelors at a speed-dating event, or is he the man she already set free? How do you know? Her fun-loving friends and supportive family, including meddlesome "no-filter" Aunt Helen, eagerly share their (often unsolicited) opinions, but Maggie is determined to find her own way, even if she falls on her face—repeatedly.
"Meredith Schorr is an author to watch." – Tracy Kaler, Founder and Editor of Tracy's New York Life
"Chick lit with depth. Fun story with a lovable main character. I was really rooting for Maggie to get her head together and enjoyed taking the journey along with her. I love all of Meredith Schorr's books, and this one didn't disappoint. I liked that it tackled deeper issues of aging and how it affects society's outlook on women (read: differently than it affects society's outlook on men), as well as men's and women's outlooks on love. I recommend!" – Stacey Wiedower, USA Today Bestselling Author of 30 First Dates
"I loved this book! Simply loved it." – Readers' Favorite
"I think every woman will relate to Maggie and her friends, no matter her age or relationship status." – Chick Lit Club
"I loved every minute of this well-written, funny, insightful novel." – The Book Bag
"Real characters, real emotions, real dilemmas. Schorr continues to deliver authenticity while at the same time telling an entertaining story." – The Book Fetish Blog
FIND OUT MORE ABOUT MEREDITH ON HER WEBSITE https://meredithschorr.com/
BUY HOW DO YOU KNOW? HERE
THE LOVER'S PORTRAIT: AN ART MYSTERY, JENNIFER S. ALDERSON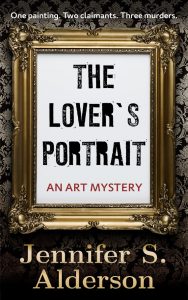 When a homosexual Dutch art dealer hides the stock from his gallery – rather than turn it over to his Nazi blackmailer – he pays with his life, leaving a treasure trove of modern masterpieces buried somewhere in Amsterdam, presumably lost forever. That is, until American art history student Zelda Richardson sticks her nose in.
After studying for a year in the Netherlands, Zelda scores an internship at the prestigious Amsterdam Museum, where she works on an exhibition of paintings and sculptures once stolen by the Nazis, lying unclaimed in Dutch museum depots almost seventy years later. When two women claim the same portrait of a young girl entitled Irises, Zelda is tasked with investigating the painting's history and soon finds evidence that one of the two women must be lying about her past. Before she can figure out which one it is and why, Zelda learns about the Dutch art dealer's concealed collection. And that Irises is the key to finding it all.
Her discoveries make her a target of someone willing to steal – and even kill – to find the missing paintings. As the list of suspects grows, Zelda realizes she has to track down the lost collection and unmask a killer if she wants to survive.
"If you love history, a detailed mystery, and a lovely, yet not run of the mill heroine, then you will love The Lover's Portrait." – Author and blogger Vicki Turner Goodwin
"I highly recommend The Lover's Portrait for artists, art lovers, history buffs, historical novel fans, and anyone else looking for a well-written, enjoyable read." – Author Pamela Allegretto
This amateur sleuth mystery describes the plight of homosexuals and Jewish artists in Europe during World War II, as well as the complexities inherent to the restitution of artwork stolen by the Nazis in the 1930s and 1940s.
The Lover's Portrait: An Art Mystery draws on the author's experiences gained while studying art history in the Netherlands and working for several Dutch museums.
FIND OUT MORE ABOUT JENNIFER ON HER WEBSITE http://jennifersalderson.com/
BUY THE LOVER'S PORTRAIT HERE
A BRIDGE ACROSS THE OCEAN, SUSAN MEISSNER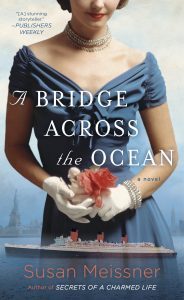 Sure to resonate with fans of Orphan Train, Sarah's Key, and The Nightingale, Meissner's newest novel shines light on a remarkable, forgotten chapter in history.
In the aftermath of WWII, two women who lost much during the long years of conflict, join hundreds of other European war brides bound for America aboard the RMS Queen Mary. Annaliese is a German ballet dancer desperate to escape her abusive Nazi husband and Simone is the only surviving child of a French Resistance spy. Both long to leave the bitter echoes of the war behind but as the ship nears New York Harbor after five days at sea, both will learn how difficult that can be.
Meanwhile in the present day, 34-year-old Brette is facing a crossroads in her own life and coming to terms with a gifting that shows up randomly in the women in her family – the ability to see ghosts. She visits the rumored-to-be-haunted Queen Mary, and what she finds will lead her on a search to solve a decades-old mystery connected to Annaliese and Simone's fateful crossing.
Sometimes life will take us to a bridge where what awaits us on the other side is hidden, and it often takes courage to take that first step. This is a book about the past, but also the here and now. It's part mystery, part love story, part ghost story, part war story, but always a story of the resiliency of the human spirit.
"I was utterly spellbound, beguiled, swept up in this ghostly mystery."—Jamie Ford, New York Times bestselling author of Hotel on the Corner of Bitter and Sweet
"A beguiling tapestry of storytelling and a unique look at one of history's most enigmatic ships."—Sarah McCoy, New York Times bestselling author of The Mapmaker's Children
"Meissner's fans will not be disappointed…" Romantic Times, 4 stars
BUY THE BOOK HERE
THE TEMPTING TASTE OF DANGER, CEECEE JAMES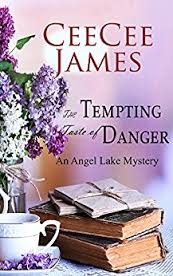 The only thing worse than a noisy bookstore is patrons literally dying to get out.
Elise Pepper has landed her dream job at the Capture The Magic book store. Peace and quiet and thousands of books to herself – including a $2m first edition of Alice in Wonderland. What more could she ask for?
It can't last of course. Her blissful solitude is rudely interrupted when someone turns the second floor of the building into a Down the Rabbit Hole-themed escape room.
But the noise is the least of her worries – what's worse is the dead bank executive upstairs and the missing first edition. Now Elise is suspected of both theft and murder, even as the killer taunts her with Alice in Wonderland clues. Can she find out who did it before she takes the fall for the crime?
BUY THE TEMPTING TASTE OF DANGER HERE
FOLLOW HER ON TWITTER @SunshineonMe3