RECOMMENDED READS
IN THE SHADOW OF 10,000 HILLS, Jennifer Haupt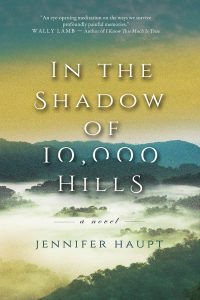 "Journalist Haupt spent time in Rwanda researching the nature of grief and forgiveness. In this intensely beautiful debut, she shows that it's indeed women who hold up half the sky." – Library Journal
IN THE SHADOW OF 10,000 HILLS is a sweeping family saga that spans from the turmoil of Atlanta during the Civil Rights Movement, through the struggle for reconciliation and forgiveness in post-genocide Rwanda. At the heart of this literary novel that crosses racial and cultural boundaries is the search for family on a personal and global level. 

In 1968, a disillusioned and heartbroken Lillian Carlson left Atlanta after the assassination of Martin Luther King. She found meaning in the hearts of orphaned African children and cobbled together her own small orphanage in the Rift Valley alongside the lush forests of Rwanda. Three decades later, in New York City, Rachel Shepherd, lost and heartbroken herself, embarks on a journey to find the father who abandoned her as a young child, determined to solve the enigma of Henry Shepherd, a now-famous photographer. 

When an online search turns up a clue to his whereabouts, Rachel travels to Rwanda to connect with an unsuspecting and uncooperative Lillian. While Rachel tries to unravel the mystery of her father's disappearance, she finds unexpected allies in an ex-pat doctor running from his past and a young Tutsi woman who lived through a profound experience alongside her father. Set amongst the gaping wounds of a healing country, follow the intertwining stories of three women who discover something unexpected: grace when there can be no forgiveness.
BUY THE BOOK HERE
NEVER TOO LATE: FROM WANNABE TO WIFE AT 62, B. Lynn Goodwin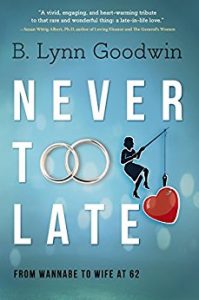 How does a 62-year-old woman who's never been married find happiness with a two-time widower seeking his third wife on . . . Craigslist!? Does she throw caution to the wind and relinquish her freedom, or should she take a crash course in compromises? Author B. Lynn Goodwin tells all and more in Never Too Late.
How she was attracted to Richard's clear expectations, his honesty, and his incredible openness. She'd never met anyone like him. Would she recognize love if it knocked on her heart? And could an educated woman be happy moving into a blue-collar world? Whether you've been single forever, are trapped in an unhappy marriage, or you're simply curious, you'll find secrets to a happy marriage in Never Too Late.
" One by one, she confronts her doubts with openness and honesty in this memoir, relating it all with convincing clarity and a refreshing lack of sentimentality. This isn't a conventional love story; rather, it's a mature assessment of the pros and cons of having a relationship." –Kirkus Reviews
BUY THE BOOK HERE
DRAWING LESSONS, Patricia Sands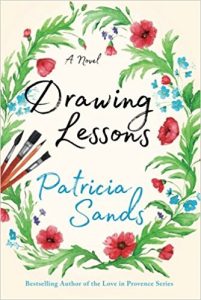 The author of the Love in Provence series returns to the South of France with a poignant portrait of a woman who must learn how to create a new life for herself…
Sixty-two-year-old Arianna arrives in the South of France for a two-week artists' workshop full of anticipation but burdened by guilt. Back home in Toronto, she has been living with the devastating diagnosis of her husband's dementia and the heartbreak of watching the man she has loved for decades slip away before her eyes. What does her future hold without Ben? Before her is a blank canvas.
Encouraged by her family to take some time for herself, she has traveled to Arles to set up her easel in the same fields of poppies and sunflowers that inspired Van Gogh. Gradually, she rediscovers the inner artist she abandoned long ago. Drawing strength from the warm companionship and gentle wisdom of her fellow artists at the retreat—as well as the vitality of guest lecturer Jacques de Villeneuve, an artist and a cowboy—Arianna searches her heart for permission to embrace the life in front of her and, like the sunflowers, once again face the light.
"Set in the magical French countryside, Drawing Lessons tells a remarkable tale of separation and loss. Patricia Sands unfolds a passionate story of self-discovery and learning to love again that will stay with the reader long after the last page is turned." —Christine Nolfi, bestselling author of Sweet Lake and The Comfort of Secrets
"I feel as though I've been to the South of France after reading Patricia Sands's richly crafted novel of one woman's journey of rediscovery. Colorful and beautifully written, the landscape captured my heart. I loved this story!" —Heather Burch, bestselling author of One Lavender Ribbon and Something Like Family
BUY THE BOOK HERE
THE FORGOTTEN ONES, Steena Holmes
In this novel from a New York Times bestselling author, the search for truth is defined by secrets and lies.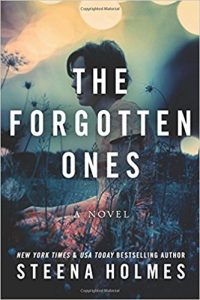 Elle is a survivor. She's managed to piece together a solid life from a childhood of broken memories and fairy tales her mom told her to explain away bad dreams. But weekly visits to her mother still fill Elle with a paralyzing fear she can't explain. It's just another of so many unanswered questions she grew up with in a family estranged by silence and secrets.
Elle's world turns upside down when she receives a deathbed request from her grandfather, a man she was told had died years ago. Racked by grief, regrets, and a haunted conscience, he has a tale of his own to tell Elle: about her mother, an imaginary friend, and two strangers who came to the house one night and never left.
As Elle's past unfolds, so does the truth—if she can believe it. She must face the reasons for her inexplicable dread. As dark as they are, Elle must listen…before her grandfather's death buries the family's secrets forever.
BUY THE BOOK HERE
WRITING FOR BLISS A Seven-Step Plan for Telling Your Story and Transforming Your Life, Diana Raab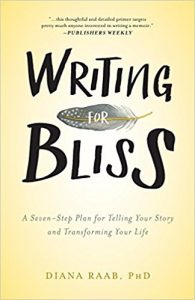 Writing for Bliss is most fundamentally about reflection, truth, and freedom. With techniques and prompts for both the seasoned and novice writer, it will lead you to tap into your creativity through storytelling and poetry, examine how life-changing experiences can inspire writing, pursue self-examination and self-discovery through the written word, and, understand how published writers have been transformed by writing.
******
"Writing for Bliss is about the profound ways in which we may be transformed in and through the act of writing. I am grateful to Diana Raab for sharing it, and I trust that you will feel the same as you read on. May you savor the journey."
–from the foreword by MARK FREEMAN, PhD
DIANA RAAB, MFA, PhD, is an award-winning poet, memoirist, speaker, educator, and survivor. She's the author of nine books and more than one thousand articles and poems. She lives in Southern California. Learn more at DianaRaab.com
BUY THE BOOK HERE
LOUISIANA CATCH, Sweta Vikram
A grieving daughter and abuse survivor must summon the courage to run a feminist conference, trust a man she meets over the Internet, and escape a catfishing stalker to find her power.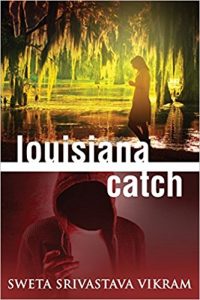 Ahana, a wealthy thirty-three-year-old New Delhi woman, flees the pain of her mother's death, and her dark past, by accepting a huge project in New Orleans, where she'll coordinate an annual conference to raise awareness of violence against women. Her half-Indian, half-Irish colleague and public relations guru, Rohan Brady, who helps Ahana develop her online presence, offends her prim sensibilities with his raunchy humor. She is convinced that he's a womanizer.
Meanwhile, she seeks relief from her pain in an online support group, where she makes a good friend: the mercurial Jay Dubois, who is also grieving the loss of his mother. Louisiana Catch is an emotionally immersive novel about identity, shame, and who we project ourselves to be in the world. It's a book about Ahana's unreliable instincts and her ongoing battle to deter¬mine whom to place her trust in as she, Rohan, and Jay shed layers of their identities.
"Louisiana Catch is a triumph. In Ahana, Sweta Vikram has created an unforgettable character, strong, wise, and deeply human, who'll inspire a new generation struggling to come to terms with their identity in a world of blurring identities."
–KARAN BAJAJ, New York Times bestselling author, The Yoga of Max's Discontent
"In Louisiana Catch, Sweta Vikram brings life to the complex human rights issue of violence against women. Through one woman's journey to make sense of her past and ultimately heal, Vikram shows us that yoga can reconnect us to ourselves, and that by empowering others, we transform our own lives."
–ZOË LEPAGE, Founder, Exhale to Inhale
"Louisiana Catch perfectly captures what it means to be human in a digital world, where support groups meet online, love interests flirt on Twitter, and people get confused with personas. Equal parts tender and playful, moving and hopeful, Vikram's prose connects us with timeless truths about grief and redemption in a satisfyingly modern way."
–STEPHANIE PATERIK, Managing Editor, Adweek
BUY THE BOOK HERE
THE ART OF MISDIAGNOSIS: SURVIVING MY MOTHER'S SUICIDE, Gayle Brandeis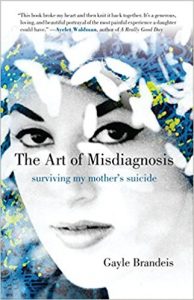 Award-winning novelist and poet Gayle Brandeis's wrenching memoir of her complicated family history and her mother's suicide
Gayle Brandeis's mother disappeared just after Gayle gave birth to her youngest child. Several days later, her body was found: she had hanged herself in the utility closet of a Pasadena parking garage. In this searing, formally inventive memoir, Gayle describes the dissonance between being a new mother, a sweet-smelling infant at her chest, and a grieving daughter trying to piece together what happened, who her mother was, and all she had and hadn't understood about her.
Around the time of her suicide, Gayle's mother had been working on a documentary about the rare illnesses she thought ravaged her family: porphyria and Ehlers-Danlos syndrome. In The Art of Misdiagnosis, taking its title from her mother's documentary, Gayle braids together her own narration of the charged weeks surrounding her mother's suicide, transcripts of her mother's documentary, research into delusional and factitious disorders, and Gayle's own experience with misdiagnosis and illness (both fabricated and real). Slowly and expertly, The Art of Misdiagnosis peels back the complicated layers of deception and complicity, of physical and mental illness in Gayle's family, to show how she and her mother had misdiagnosed one another.
Gayle's memoir is both a compelling search into the mystery of one's own family and a life-affirming story of the relief discovered through breaking familial and personal silences. Written by a gifted stylist, The Art of Misdiagnosis delves into the tangled mysteries of disease, mental illness, and suicide and comes out the other side with grace.
BUY THE BOOK HERE
HURRICANE SEASON, Lauren K. Denton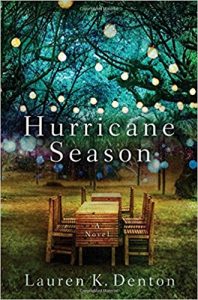 From the author of the USA TODAY bestseller The Hideaway comes a new story about families and mending the past.
Betsy and Ty Franklin, owners of Franklin Dairy Farm in southern Alabama, have long since buried their desire for children of their own. While Ty manages their herd of dairy cows, Betsy busies herself with the farm's day-to-day operations and tries to forget her dream of motherhood. But when her free-spirited sister, Jenna, drops off her two young daughters for "just two weeks," Betsy's carefully constructed wall of self-protection begins to crumble.
As the two weeks stretch deeper into the Alabama summer, Betsy and Ty learn to navigate the new additions in their world—and revel in the laughter that now fills their home. Meanwhile, record temperatures promise to usher in the most active hurricane season in decades.
Attending an art retreat four hundred miles away, Jenna is fighting her own battles. She finally has time and energy to focus on her photography, a lifelong ambition. But she wonders how her rediscovered passion can fit in with the life she's made back home as a single mom.
When Hurricane Ingrid aims a steady eye at the Alabama coast, Jenna must make a decision that will change her family's future, even as Betsy and Ty try to protect their beloved farm and their hearts. Hurricane Season is the story of one family's unconventional journey to healing—and the relationships that must be mended along the way.
"Refined language and dialogue along with beautifully descriptive scenes will draw readers right into Denton's latest novel. Well-developed, genuine characters and a well-crafted plot that embodies the tenuous ties between family are the highlights of this story… A truly remarkable read."
BUY THE BOOK HERE
HUSBANDS AND OTHER SHARP OBJECTS, Marilyn Simon Rothstein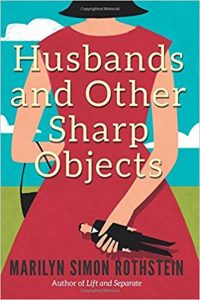 A heartwarming, hilarious novel for anyone who has ever had a family, from the author of Lift and Separate.
After a lifetime of marriage, Marcy Hammer is ready to get herself unhitched—just as everyone else in her life is looking for a commitment. Her new boyfriend, Jon, wants to get serious, and her soon-to-be ex-husband, Harvey, is desperate to get back together. When her headstrong daughter announces a secret engagement to Harvey's attorney, Marcy finds herself planning her daughter's wedding as she plans her own divorce.
Now with two huge events on the horizon, the indomitable Marcy soon realizes that there's nothing like a wedding to bring out the worst in everybody. From petty skirmishes over an ever-growing guest list to awkward confrontations with her sticky-fingered new in-laws, pulling off the wedding is going to be a challenge; seeing her divorce through is going to be a trial. And trying to make everyone happy might prove to be impossible—because in the end, Marcy alone must make a choice between something old and something new.
"From the very first page, I knew I was in expert hands; by the time I reached the last, I was already missing the hilarious and all-too-real characters in Marilyn Simon Rothstein's Husbands and Other Sharp Objects. Rothstein has a true gift for humor and a knack for hitting the nail on the head—and her latest is no exception. Prepare to laugh a lot, cry a little, and come away from this novel feeling full of hope and joy." —Camille Pagán, bestselling author of Life and Other Near-Death Experiences
"Hilarious and heartfelt, Rothstein's latest overflows with authenticity as we follow Marcy navigating life after her marriage has gone to seed. The novel thrums with honesty, balanced with the perfect mix of tension, laughter, and self-discovery. Allow yourself to laugh out loud!" —Eliza Gordon, author of Dear Dwayne, With Love
BUY THE BOOK HERE
SOMEBODY'S DAUGHTER, Rochelle B. Weinstein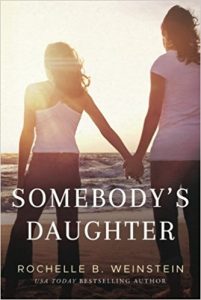 From USA Today bestselling author Rochelle B. Weinstein comes an emotional novel for mothers, daughters, and anyone who has ever felt imperfect.
Emma and Bobby Ross enjoy a charmed life on the shores of Miami Beach. They are a model family with a successful business, an uncomplicated marriage, and two blessedly typical twin daughters, Zoe and Lily. They are established members of a tight-knit community.
Then, on the night of the girls' fifteenth birthday party, they learn of Zoe's heartbreaking mistake—a private and humiliating indiscretion that goes viral and thrusts her and her family into the center of a shocking public scandal.
As the family's core is shattered by disgrace, judgment, and retribution, the fallout takes its toll. But for Emma, the shame runs deeper. Her daughter's reckless behavior has stirred memories of her own secrets that could break a marriage and family forever.
"Touching and challenging, Somebody's Daughter is a close-up look at a family that is magazine-cover-perfect on the outside but struggling with the fallout of one mistake that threatens to dismantle everything they've worked to build. With trust, love, and support hanging in the balance, they must each make a difficult choice. And the consequences will either break them apart or make them stronger than ever. An excellent storyteller, Rochelle Weinstein is quickly becoming one of my favorite authors." —Camille Di Maio, bestselling author of The Memory of Us
"A poignant story of how one heedless mistake can land a family at the epicenter of a public scandal. Relationships are threatened and judgments are made. I read it in one sitting." —Emily Liebert, author of Some Women
BUY THE BOOK HERE
WHEN IT'S OVER, Barbara Ridley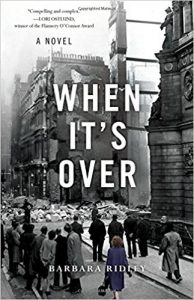 Coming of age in Prague in the 1930s, Lena Kulkova is inspired by the left-wing activists who resist the rise of fascism. She meets Otto, a refugee from Hitler's Germany, and follows him to Paris to work for the Republican side in the Spanish Civil War. As the war in Spain ends and a far greater war engulfs the continent, Lena gets stuck in Paris with no news from her Jewish family, including her beloved baby sister, left behind in Nazi-occupied Czechoslovakia. Otto, meanwhile, has fled to a village in England, and urges Lena to join him, but she can't obtain a visa.
When Lena and Otto are finally reunited, the safe haven Lena has hoped for doesn't last long. Their relationship becomes strained, and Lena is torn between her loyalty to Otto and her growing attraction to Milton, the son of the eccentric Lady of the Manor. As the war continues, she yearns to be reunited with her sister, while Milton is preoccupied with the political turmoil that leads to the landslide defeat of Churchill in the 1945 election.
Based on a true story, When It's Over is a moving, resonant, and timely read about the lives of war refugees, dramatic political changes, and the importance of family, love, and hope.
BUY THE BOOK HERE
BENEATH THE LION'S WINGS, Marie Ohanesian Nardin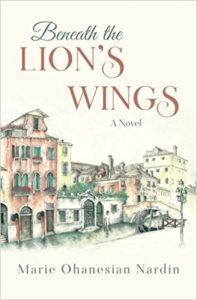 "Good escape reading in this tale of love and tough decisions in Venice." – Kirkus Reviews
"The next best thing to sipping a Bellini on a sunny balcony overlooking the Grand Canal. Pure delight." – Dianne Hales, author of La Bella Lingua
Victoria Greco has given up on finding love. A thirtysomething single woman who works as an executive assistant for a prominent Hollywood talent agent, she's fully focused on building her career. But then, while she's vacationing in Venice, a handsome fourth-generation gondolier rows alongside her water taxi.
When Alvise invites her to dinner, Victoria is hesitant. But their chemistry is too strong to ignore, and it would be a shame to pass up a date while in one of the most romantic cities in the world. Hoping she's not making a big mistake, Victoria goes out with Alvise and then happily spends the night in his arms.
When Victoria returns home to Southern California, she's surprised to discover she can't get the charming Italian boatman out of her mind. She's thrilled when he e-mails her, confessing he can't stop thinking about her either. Daringly, Victoria invites him to visit.
Once reunited, they fall completely in love. But when Alvise starts talking about settling down and starting a family, Victoria is torn. She's always put her career first. Should she continue down the current path? Or should she follow her heart to Venice?
"…Good escape reading in this tale of love and tough decisions in Venice…In her well-researched debut novel, Nardin does a fine job evoking Venice's atmosphere, culture, and history. The particular practices and customs of gondoliering, along with women's efforts to enter the profession, make for absorbing reading." – KirkusReviews 
"A wonderful story in a beautiful setting. A fabulous read. Romantic and real. Don't miss this worthwhile trip to Venice!" Amazon Reader Review
"An appealing story of life, family and new love with its tenderness, its challenges, and yes, a twist you may not see coming….The scenery and it's explanation will draw you in as if you're part of it. Choices are a constant in life and this story has many for the characters. A feel-good read that will leave you looking for a sequel." Goodreads Reader Review
BUY THE BOOK HERE
TOOTH AND NAIL, Sara Lunsford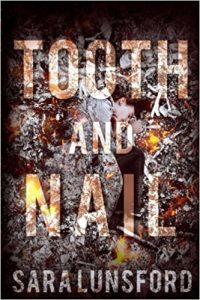 "The Vigilante" was my case. He killed killers. Rapists. Drug-dealing scum. All the ugly crumbs that fell through the cracks of willfully blind justice. I spent five years hunting him until I realized I didn't really want to catch him. So I walked away—from the case, from my failure, from my big-city life in Detroit to start over with my husband in Merryn, Kansas.
My devils came with me. Bodies matching his M.O. were found in a cold storage unit wrapped up in macabre tribute—each victim with some tie to me. He won't let me go, won't let me run. There's part of me that doesn't want him to. It's the same part that wonders if his way might be the only way. At least as far as my husband is concerned. I found Jacob's Altoids tin in our fire pit—it was full of human teeth. Trophies from the women he raped.
He's a special investigator for the KBI, assigned to the task force that's supposed to be hunting this master predator. He'll never be caught unless someone takes matters into their own hands. When he's sleeping soundly, so trusting next to me in the dark, I tell myself I'm a good cop. I'm no Vigilante. But I've been wrong before.
"Kept me awake trying to figure out all the twists and turns" Amazon Review
"Sara Lunsford absolutely hit it out of the park with this novel. It's gritty, edge-of-your-seat reading that will keep you up far later than your bedtime" Amazon Review
BUY THE BOOK HERE
A MATTER OF CHANCE, Julie Maloney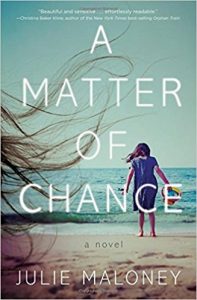 When eight-year-old Vinni Stewart disappears from a Jersey shore town, Maddy, her distraught single mother, begins a desperate search for her daughter. Maddy's five-year journey leads her to a bakery in Brooklyn, where she stumbles upon something terrifying. Ultimately, her artist neighbor Evelyn reconnects Maddy to her passion for painting and guides her to a life transformed through art.
Detective John D'Orfini sees more than a kidnapping in the plot-thickening twists of chance surrounding Vinni's disappearance, but his warnings to stay away from the investigation do not deter Maddy, even when her search puts her in danger. When the Russian Mafia warns her to stop sniffing into their business, Maddy must make a choice whether to save one child―even if it might jeopardize saving her own.
"In this effortlessly readable novel, Julie Maloney beautifully and sensitively captures the heartache and longing of a mother whose quest to find her daughter forces her to face the ghosts of her own past."
― Christina Baker Kline, author of the New York Times best-selling Orphan Train
"Julie Maloney's A Matter of Chance captures the desperate heartache of a mother's unthinkable loss in haunting, beautiful prose. Maloney's vividly etched characters immediately drew me into this suspenseful, emotionally stirring novel. A Matter of Chance is not to be missed."
―Heather Gudenkauf, New York Times best-selling author of The Weight of Silence and Not A Sound
"How do we hold on to the things we've lost? In Maloney's incandescent novel, an eight-year-old girl vanishes, leading to a heart-wrenching exploration about what it means to look after your own, the mystery of how and why we leave, and what is taken from us when we do. Beautifully written and impossible to forget."
―Caroline Leavitt, New York Times best-selling author of Pictures of You and Cruel Beautiful World
BUY THE BOOK HERE
GIRLISH: GROWING UP IN A LESBIAN HOME, Lara Lillibridge
An honest, unfiltered memoir about a girl with an unconventional family."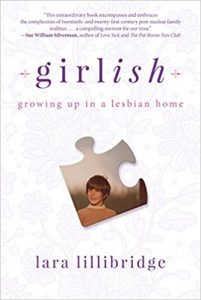 The story everyone wants to hear isn't the story I want to tell." Lara Lillibridge grew up with two moms―an experience that shaped and scarred her at the same time. Told from the perspective of "Girl," Lillibridge's memoir is the no-holds-barred account of childhood in an atypical household.
Personally less concerned with her mother's sexuality and more with how she fits into a world both disturbed and obsessed with it, Girl finds that, in other people's eyes, "The most interesting thing about me is not about me at all; it is about my parents."It won't be long before readers realize that "unconventional" barely scratches the surface. In the early years, Girl's feminist mother reluctantly allows her to play with her favorite Barbies while her stepmother refuses to comfort her when she wakes up from nightmares. She goes skinny dipping on family vacations in upstate New York and kisses all the boys at church.
Girl and her brother travel four thousand miles―unaccompanied―to visit their father in rural Alaska, where they sleep in a locked cabin without running water, telephone, or electricity. Raised to be a free spirit by norm-defying parents, Girl has to define her own boundaries as she tries to fit into heteronormative suburban life, all while navigating her mother's expectations, her stepmother's mental illness, and her father's serial divorces.
Lillibridge bravely tells her own story and offers a unique perspective. At times humorous and pithy while cringe-worthy and heartbreaking at others, Girlish is a human story that challenges readers to reevaluate their own lives and motivations.
"Lillibridge's story is not told in first person nor does she ever use her name, referring to herself throughout simply as 'Girl.' This lends an almost clinical air to the story, which, Lillibridge writes, is not the one everyone wants her to tell. . . . and, besides, she concludes, 'I want to be the most interesting character in my own story.' And so she is." ―Booklist
"Stark, moving, and filled with rays of light, Lara Lillibridge's memoir of growing up in a dysfunctional lesbian home takes readers far beyond names and labels into the heart of what it means to be 'family.' Written through the eyes of a girl gifted with wit, courage, and wisdom far beyond her years, Girlish is a troubling yet hopeful story of brokenness, resilience, and love." ―Foreword Reviews
BUY THE BOOK HERE
SEXUALITY AND ITS IMPACT ON HISTORY: THE BRITISH STRIPPED BARE, Hunter S. Jones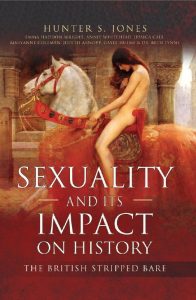 Would you swig a magic potion or plot to kill your husband in order to marry your lover? These are just two of the many romantic and sexual customs from British history that you will explore as eight authors take us through the centuries, revealing that truth is stranger than fiction when it comes to love.
From bizarre trivia about courtly love, to techniques and prostitution, you ll encounter memorable nuggets of provocative information that you'll want to share. It's all here: ménage a trois, chastity belts, Tudor fallacies, royal love and infidelity, marriage contracts (which were more like business arrangements), brothels, kept women, and whorehouses.
Take a peek at what really happened between the sheets. Each story provides you with shocking detail about what was at the heart of romance throughout British history.
Sexuality and Its Impact on History: The British Stripped Bare chronicles the pleasures and perils of the flesh, sharing secrets from the days of the Anglo-Saxons, medieval courtly love traditions, diabolical Tudor escapades including those of Anne Boleyn and Mary Queen of Scots the Regency, and down to the prudish Victorian Era. This scholarly yet accessible study brings to light the myriad varieties of British sexual mores.
BUY THE BOOK HERE