RECOMMENDED READS
THE CHILBURY LADIES' CHOIR, JENNIFER RYAN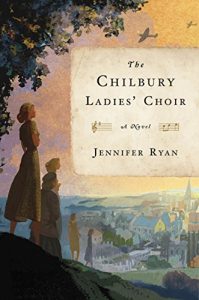 For readers of Lilac Girls and The Nightingale, The Chilbury Ladies' Choir unfolds the struggles, affairs, deceptions, and triumphs of a village choir during World War II
As England becomes enmeshed in the early days of World War II and the men are away fighting, the women of Chilbury village forge an uncommon bond. They defy the Vicar's stuffy edict to close the choir and instead "carry on singing," resurrecting themselves as the Chilbury Ladies' Choir.
We come to know the home-front struggles of five unforgettable choir members: a timid widow devastated when her only son goes to fight; the older daughter of a local scion drawn to a mysterious artist; her younger sister pining over an impossible crush; a Jewish refugee from Czechoslovakia hiding a family secret; and a conniving midwife plotting to outrun her seedy past.
An enchanting ensemble story that shuttles from village intrigue to romance to the heartbreaking matters of life and death, Jennifer Ryan's debut novel thrillingly illuminates the true strength of the women on the home front in a village of indomitable spirit.
BUY THE BOOK HERE
THE WAITING ROOM, LEAH KAMINSKI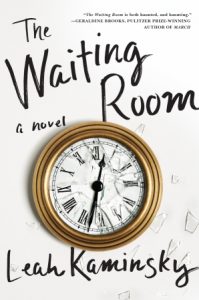 "The Waiting Room is both haunted, and haunting."—Geraldine Brooks, Pulitzer Prize-winning author of March
The Waiting Room unfolds over the course of a single, life-changing day, but the story it tells spans five decades, three continents, and one family's compelling history of love, war, and survival
As the daughter of Holocaust survivors, Dina's present has always been haunted by her parents' pasts. She becomes a doctor, emigrates, and builds a family of her own, yet no matter how hard she tries to move on, their ghosts keep pulling her back. A dark, wry sense of humor helps Dina maintain her sanity amid the constant challenges of motherhood and medicine, but when a terror alert is issued in her adopted city, her coping skills are pushed to the limit.
Interlacing the present and the past over a span of twenty-four hours, The Waiting Room is an intense exploration of what it means to endure a day-to-day existence defined by conflict and trauma, and a powerful reminder of just how fragile life can be. As the clock counts down to a shocking climax, Dina must confront her parents' history and decide whether she will surrender to fear, or fight for love.
BUY THE BOOK HERE
THE SPACE BETWEEN: A MEMOIR OF MOTHER-DAUGHTER LOVE AT THE END OF LIFE, VIRGINIA SIMPSON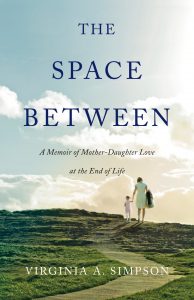 As a Bereavement Care Specialist, Dr. Virginia Simpson has devoted her career to counseling individuals and families grappling with illness, death, and grieving.  But when her own mother, Ruth, is diagnosed in 1999 with a life-threatening condition, Virginia arranges for Ruth to move in with her—and is caught off guard by the storm of emotions she experiences when she is forced to inhabit the role of caregiver.
In The Space Between, Simpson takes readers along for the journey as she struggles to bridge the invisible, often prickly space that sits between so many mothers and daughters and to give voice to the challenges, emotions, and thoughts many caregivers experience but are too ashamed to admit.
Described as "A beautiful, searingly honest book," The Space Between "offers a testament to love's enduring and transformative power throughout our lives and in our closest family ties."
BUY  THE BOOK HERE
THE SURVIVOR'S GUIDE TO FAMILY HAPPINESS, MADDIE DAWSON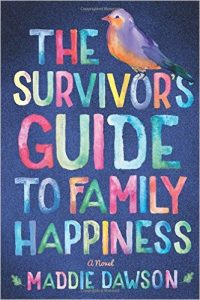 Three women, three lives, and one chance to become a family…whether they want to or not.
Newly orphaned, recently divorced, and semiadrift, Nina Popkin is on a search for her birth mother. She's spent her life looking into strangers' faces, fantasizing they're related to her, and now, at thirty-five, she's ready for answers.
Meanwhile, the last thing Lindy McIntyre wants is someone like Nina bursting into her life, announcing that they're sisters and campaigning to track down their mother. She's too busy with her successful salon, three children, beautiful home, and…oh yes, some pesky little anxiety attacks.
But Nina is determined to reassemble her birth family. Her search turns up Phoebe Mullen, a guarded, hard-talking woman convinced she has nothing to offer. Gradually sharing stories and secrets, the three women make for a messy, unpredictable family that looks nothing like Nina pictured…but may be exactly what she needs. Nina's moving, ridiculous, tragic, and transcendent journey becomes a love story proving that real family has nothing to do with DNA.
BUY THE BOOK HERE
TIME AFTER TIME, HANNAH MCKINNON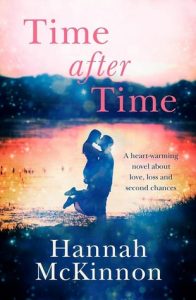 'A very clever idea! if you're thinking what if about reading this, then think no more, pick this up now!'
Have you ever wondered 'what if?'
When Hayley Cooper goes to sleep wishing for a different life, then wakes up in bed with her first boyfriend, she can't believe her eyes. She hasn't seen Chris in over twenty years – but now she's married to him. And Hayley is in for a few more romantic surprises . . .
Over a single weekend, Hayley lives her life time and time again, and as each of her former loves resurface, Hayley starts to realise that there's some truth in the saying 'be careful what you wish for.' Yes, the past two years with her husband Rick have been tough, but is the grass always greener?
Time After Time is a fresh, funny novel, which explores the romantic paths that could have been and the ones who (almost) got away. . . Perfect for fans of Laura Barnett and Dani Atkins.
BUY THE BOOK HERE
SEARCHING FOR NANNIE B: CONNECTING THREE GENERATIONS OF SOUTHERN WOMEN, NANCY OWEN NELSON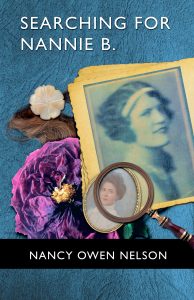 How would you be affected if your mother died giving you life? And how would such a loss affect your children? These questions are the foundation of many issues raised by the author in her search for the missing pieces of a grandmother who in 1905 died giving the author's mother life. It was a tragedy that seemed to affect multiple generations, the voids in identity and ill-spent guilt flowing from the stream of blood that kept mother from daughter, and then from granddaughter. But it was a search well-spent.
The Reverend Roger Mohr, First Unitarian Universalist Church of Detroit, may have said it best. "Often the tapestry of family history does not seem to offer us the sort of clarity about who we have become, and why. And sometimes the narrative tells us a story about ourselves that we do not wish to accept."
Nancy Owen Nelson's search resulted in raising more questions about herself, even as it answered questions about her mysterious grandmother. Nonetheless, in the end her journey toward discovery was one of startling self-awareness and connection. No matter whether you feel connected or lost in family, you will be unable to avoid the heartfelt pleasure and pain that comes from the author's brave attempt to connect three generations of Southern women.
BUY THE BOOK HERE
FRAILTY, BETSY REAVLEY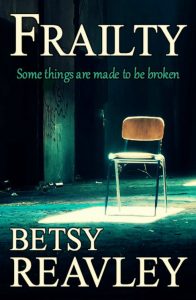 How far would you go to protect your family? Danny and Libby are about to face every parent's worst nightmare. When eight-year-old Hope Bird disappears without a trace, from the idyllic village where she lives, life for her family will never be the same again.
Her parents know she would never have gone off alone and the police have no idea where she is. Then a child's shoe is discovered and the case takes an unexpected turn. Soon a suspect is identified but this is only the beginning.Will they ever find Hope? Frailty is a haunting, gritty, psychological page-turner about the choices we make.
BUY THE BOOK HERE
A BRIDGE ACROSS THE OCEAN, SUSAN MEISSNER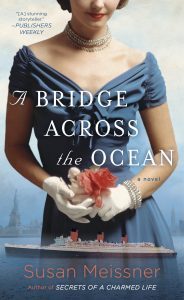 Sure to resonate with fans of Orphan Train, Sarah's Key, and The Nightingale, Meissner's newest novel shines light on a remarkable, forgotten chapter in history.
In the aftermath of WWII, two women who lost much during the long years of conflict, join hundreds of other European war brides bound for America aboard the RMS Queen Mary. Annaliese is a German ballet dancer desperate to escape her abusive Nazi husband and Simone is the only surviving child of a French Resistance spy. Both long to leave the bitter echoes of the war behind but as the ship nears New York Harbor after five days at sea, both will learn how difficult that can be.
Meanwhile in the present day, 34-year-old Brette is facing a crossroads in her own life and coming to terms with a gifting that shows up randomly in the women in her family – the ability to see ghosts. She visits the rumored-to-be-haunted Queen Mary, and what she finds will lead her on a search to solve a decades-old mystery connected to Annaliese and Simone's fateful crossing.
Sometimes life will take us to a bridge where what awaits us on the other side is hidden, and it often takes courage to take that first step. This is a book about the past, but also the here and now. It's part mystery, part love story, part ghost story, part war story, but always a story of the resiliency of the human spirit.
"I was utterly spellbound, beguiled, swept up in this ghostly mystery."—Jamie Ford, New York Times bestselling author of Hotel on the Corner of Bitter and Sweet
"A beguiling tapestry of storytelling and a unique look at one of history's most enigmatic ships."—Sarah McCoy, New York Times bestselling author of The Mapmaker's Children
"Meissner's fans will not be disappointed…" Romantic Times, 4 stars
BUY THE BOOK HERE
THE THUNDER BENEATH US, NICOLE BLADES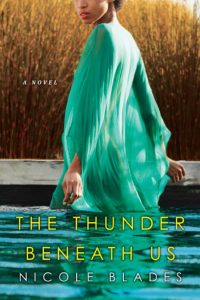 To the world, Best Lightburn is a talented writer rising up the masthead at international style magazine James, girlfriend of a gorgeous up-and-coming actor, and friend to New York City's fabulous. Then there's the other Best, the one who has chosen to recast herself as an only child rather than confront the truth.
Ten years ago, on Christmas Eve, Best and her two older brothers took a shortcut over a frozen lake. When the ice cracked, all three went in. Only Best came out. People said she was lucky, but that kind of luck is nothing but a burden. Because Best knows what she had to do to survive. And after years of covering up the past, her guilt is detonating through every facet of her seemingly charmed life.
It's all unraveling so fast: her new boss is undermining and deceitful, her boyfriend is recovering from a breakdown, and a recent investigative story has led to a secret affair with the magazine's wealthy publisher.
Best is quick-witted and headstrong, but how do you find a way to happiness when you're sure you haven't earned it—or embrace a future you feel you don't deserve? Evocative and emotional, The Thunder Beneath Us is a gripping novel about learning to carry loss without breaking, and to heal and forgive—not least of all, ourselves.
BUY THE BOOK HERE
YOU'LL BE THINKING OF ME, DENSIE WEBB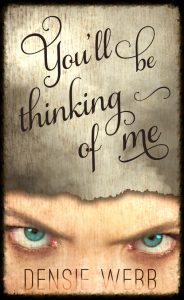 A chance encounter with a celebrity, an impromptu video, and a shiny new espresso machine. It all added up to a juicy tale for 24-year-old Rachael Allen to share with friends. But when her best friend posts the video online, bizarre threats, home break-ins, and deadly gifts from an obsessed fan follow close behind.
Mick Sullivan, the star in her video, offers to help and in the process, Rachael discovers that despite his reputation as a player of Olympian caliber, he's down-to-earth-and emotionally damaged. He has secrets; some he's shared only with his pseudo best friend. Others he's shared with no one.
But there's one secret he's hidden from himself, washed away by too many beers. Despite wildly divergent life paths, their shared southern upbringing (and a passion for good music) creates a common thread that draws them together.
As the threats escalate, and their relationship deepens, Rachael struggles to accept Mick's past-and his present. And she is forced to confront her own obsessive love to ultimately decide if being with Mick Sullivan is worth the collateral damage.
YOU'LL BE THINKING OF ME is the story of Rachael's serendipitous encounter with a celebrity, her brush with obsessive love, and the bittersweet gift left behind by the very person fixated on destroying her life.
BUY THE BOOK HERE