RECOMMENDED READS
MARRIAGE LIE, KIMBERLY BELLE
Everyone has secrets…
Iris and Will have been married for seven years, and life is as close to perfect as it can be. But on the morning Will flies out for a business trip to Florida, Iris's happy world comes to an abrupt halt: another plane headed for Seattle has crashed into a field, killing everyone on board and, according to the airline, Will was one of the passengers.Grief stricken and confused, Iris is convinced it all must be a huge misunderstanding. Why did Will lie about where he was going? And what else has he lied about? As Iris sets off on a desperate quest to uncover what her husband was keeping from her, the answers she finds shock her to her very core.
"A compelling adventure." -Kirkus Reviews
"A surprising and fast-paced read." -Publisher's Weekly
"Fans of domestic suspense will adore Kimberly Belle." -Mary Kubica, NYT and USA Today bestselling author of The Good Girl
Find out more about Kimberly on her Website http://kimberlybellebooks.com/
BUY THE MARRIAGE LIE HERE
 IN THE UNLIKELIEST OF PLACES, ANNETTE LIBESKIND BERKOVITS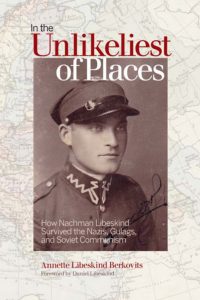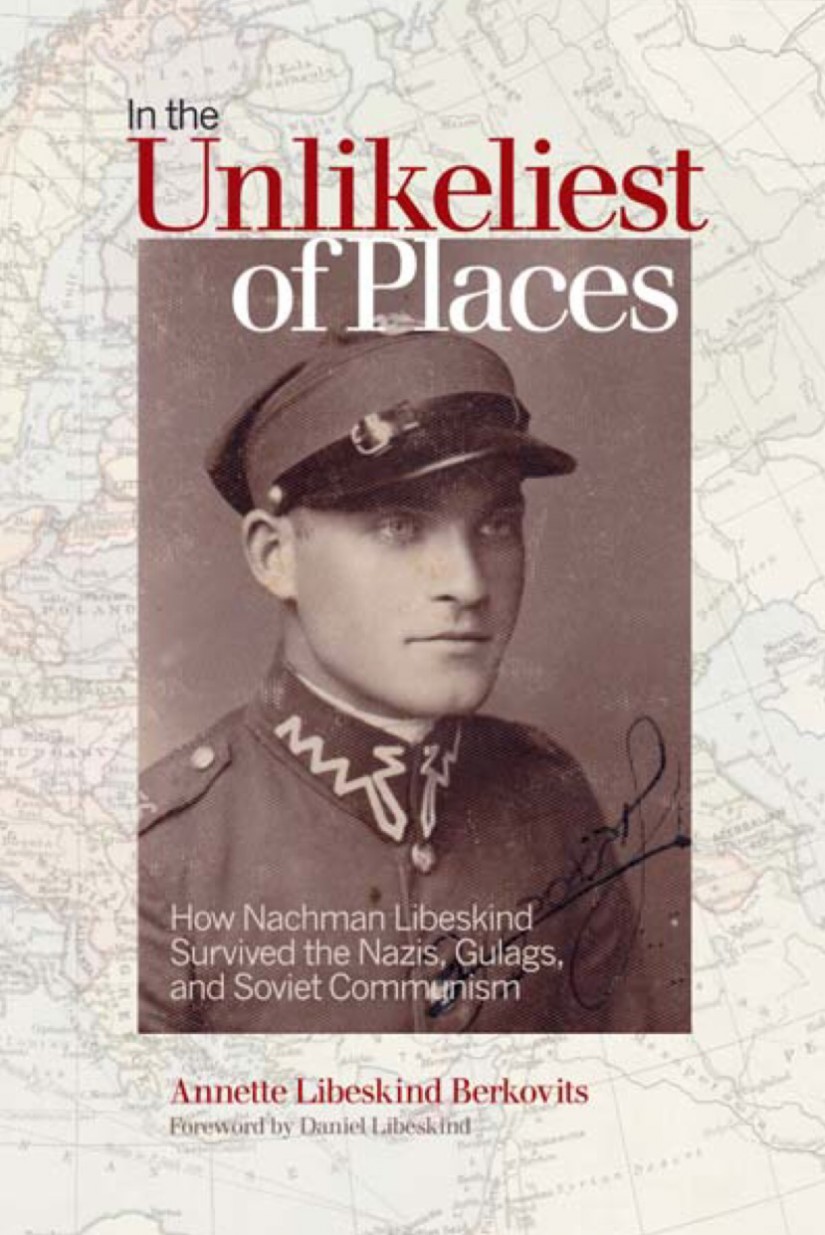 Nachman Libeskind's remarkable story is an odyssey through crucial events of the twentieth century. With an unshakable will and a few drops of luck, he survives a pre-war Polish prison; witnesses the 1939 Nazi invasion of Lodz and narrowly escapes; is imprisoned in a brutal Soviet gulag where he helps his fellow inmates survive, and upon regaining his freedom treks to the foothills of the Himalayas, where he finds and nearly loses the love of his life.
Later, the crushing communist regime and a lingering postwar anti-Semitism in Poland drive Nachman and his young family to Israel, where he faces a new form of discrimination. Then, defiantly, Nachman turns a pocketful of change into a new life in New York City, where a heartbreaking promise leads to his unlikely success as a modernist painter that inspires others to pursue their dreams.
"…Berkovits, Libeskind's daughter and the author of this cinematically gripping debut biography, does a masterful job weaving together a coherent narrative, culled largely from tape recordings that her father left behind. She has a rare gift for storytelling… the prose is lively and direct, and the story is deeply affecting… A moving tale that's emotionally powerful and historically edifying."—Kirkus Reviews
…an incandescent biographical tribute to the author's father, Nachman Libeskind, an eternally hopeful survivor…Berkovits traces such challenges (as maintaining one's Judaism after the Holocaust) though her generation and the next, and this journey—a story within a story—warrants attention and reflection.
…some of Nachman's art is included late in the book, adding dimensionality to a text already replete with it. …Though this is, inescapably, a Holocaust survivor's biography, it is not dominated by those horrors; rather, it celebrates the ingenuity with which one man made his time less about enduring than about living vibrantly." — Michelle Anne Schingler, Clarion Foreword Review
"…an extraordinary and compelling biography that is a simply riveting read from first page to last."— Midwest Book Review
"…an intimate, compelling narrative of an uncommon life…
Nachman Libeskind is an immensely likable protagonist — a defiant optimist and lover of humanity who stood up for his beliefs under the toughest of circumstances. His experiences during the war constitute a tale of triumph over adversity." — Julia M. Klein, book critic for the Forward
BUY IN THE UNLIKELIEST OF PLACES HERE
You can learn about Annette and her upcoming books at her website: www.annetteberkovits.com
Follow her on Twitter  @ALBerkovits
TRY NOT TO BREATHE, HOLLY SEDDON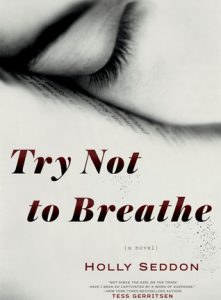 You won't be able to put it down. Just remember to breathe. Alex is sinking. Slowly but surely, she's cut herself off from everything but her one true love – drink. Until she's forced to write a piece about a coma ward, where she meets Amy. Amy is lost. When she was fifteen, she was attacked and left for dead in a park. Her attacker was never found. Since then, she has drifted in a lonely, timeless place. She's as good as dead, but not even her doctors are sure how much she understands. Alex and Amy grew up in the same suburbs, played the same music, flirted with the same boys. And as Alex begins to investigate the attack, she opens the door to the same danger that has left Amy in a coma…
A gripping debut novel…as addictive as the best box sets.-Independent
"A brilliant, beautifully written thriller."—Augusten Burroughs, New York Times bestselling author of Running with Scissors
"A fast-paced debut about long-buried secrets and tangled truths."—New York Times bestselling author Kimberly McCreight
"A razor-sharp plot and wonderfully complex characters . . . Not since The Girl on the Train have I been so captivated by a work of suspense."—New York Times bestselling author Tess Gerritsen
Find out more about Holly on her website http://hollyseddon.com/
BUY TRY NOT TO BREATHE HERE
THE LOST GIRLS, HEATHER YOUNG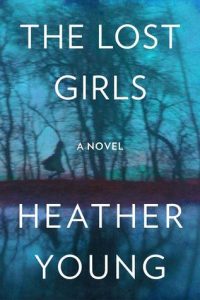 In 1935, six-year-old Emily Evans vanishes from her family's vacation home on a remote Minnesota lake. Her disappearance destroys the family—her father commits suicide, and her mother and two older sisters spend the rest of their lives at the lake house, keeping a decades-long vigil for the lost child.
Sixty years later, Lucy, the quiet and watchful middle sister, lives in the lake house alone. Before her death, she writes the story of that devastating summer in a notebook that she leaves, along with the house, to the only person who might care: her grandniece, Justine.
For Justine, the lake house offers freedom and stability—a way to escape her manipulative boyfriend and give her daughters the home she never had. But the long Minnesota winter is just beginning. The house is cold and dilapidated. The dark, silent lake is isolated and eerie. Her only neighbor is a strange old man who seems to know more about the summer of 1935 than he's telling.
Soon Justine's troubled oldest daughter becomes obsessed with Emily's disappearance, her mother arrives to steal her inheritance, and the man she left launches a dangerous plan to get her back. In a house haunted by the sorrows of the women who came before her, Justine must overcome their tragic legacy if she hopes to save herself and her children.
"[T]he delicacy of [Young's] writing elevates the drama and gives her two central characters depth and backbone…For all the beauty of Young's writing, her novel is a dark one, full of pain and loss. And the murder mystery that drives it is as shocking as anything you're likely to read for a good long while."
— The New York Times Book Review
"HeatherYoung's debut is a novel of quiet intensity that builds to a terrifying climax. The Lost Girls contains echoes of Kate Atkinson's Case Histories and is just as haunting."
— The Minnesota Star Tribune
"Into Lucy's intimate recitation author Heather Young weaves the story of Justine's nomadic life, incrementally turning up the tension that transforms a beautifully crafted work of historical fiction into a brilliant psychological thriller that rivals Shirley Jackson's finest work. Highly recommended."
— Historical Novel Society
BUY THE LOST GIRLS HERE
MOTHERLINES: LOVING LONGING AND LIBERATION, PATRICIA REIS
When she was twenty, Patricia Reis s mother asked, What about your spiritual life? Years later, this question drives her midlife quest to reconcile the desires of her body with the mandates of her spirit. Motherlines is a candid and compelling story of sex with men and with women, of celibacy, illegal abortions, making vows and breaking them, dreams, body wisdom, creative ambition, and inspiring relationships with memorable characters.
This unflinching memoir illuminates the unvarnished truth of growing up female in the 1980 s a rich and fertile period in American history when gender roles were undergoing a revolution, a time that includes feminism, the women s spirituality movement and liberation theology. In her soul-searching quest for meaning, and longing for maternal connection, Reis discovers an unlikely confidante in her aunt, a free-spirited Franciscan nun.
Their letters and relationship are a thread that weaves throughout this memoir an increasingly intimate and honest exchange between two women who are living very different lives yet are both kin and kindred spirits. A spiritual journey and a creative tour de force, this memoir is a potent and tender love song to the Motherlines that connect us all.
Find out more about Patricia on her website: http://patriciareis.net/
BUY MOTHERLINES HERE
IN THE SHADOW OF LIES, M.A. ADLER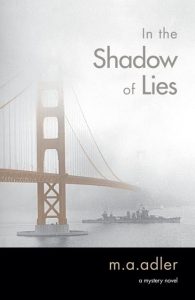 "Richmond, California. World War II. Homicide detective Oliver Wright comes home from the war in the Pacific injured and afraid his career is over. But when an Italian Prisoner of War is murdered the night the Port Chicago Mutiny verdicts are announced, and black soldiers are suspected of the crime, the Army asks Oliver to find out the truth.
He joins forces with an Italian POW captain and with a black MP embittered by a segregated military. During their investigation, these unlikely allies expose layers of deceit and violence that stretch back to World War I. In the Shadow of Lies reveals the darkness and turmoil of the Bay Area during World War II, while celebrating the spirit of the everyday people who made up the home front.
Its intriguing characters will resonate with the reader long after its deftly intertwined mysteries are solved.
Foreword Review's Book of the Year 2014 IndieFab Awards Finalist
Hollywood Book Festival: Honorable Mention
Editorial Reviews
Publishers Weekly, Not a love note to the "greatest generation" but a haunting portrayal of prejudice, deception, and murder set in tumultuous Richmond, Calif., during WWII.
San Francisco Book Review. M.A. Adler weaves this taunting mystery through a series of intriguing clues, tragic deaths, awful crimes, and troubled characters. And, although these unusual crimes draw the reader in, begging for a connection and resolution against a backdrop of darkness, hatred, and bigotry, there is a lightness and all-encompassing feeling of hopefulness and camaraderie among the downtrodden folks of Richmond. In the Shadow of Lies proves to be a skillfully written mystery taking place during a very distressing period in American history, yet confirms that hope and kindness can triumph over intolerance in the darkest of times. Ruth Duran-Chea.
BUY IN THE SHADOW OF LIES HERE
HOW TO GROW AN ADDICT, J. A. WRIGHT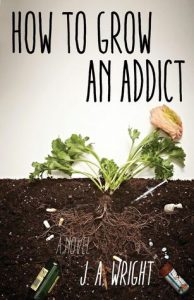 Randall Grange has been tricked into admitting herself into a treatment center and she doesn t know why. She s not a party hound like the others in her therapy group but then again, she knows she can t live without pills or booze. Raised by an abusive father, a detached mother, and a loving aunt and uncle, Randall both loves and hates her life.
She' s awkward and a misfit. Her parents introduced her to alcohol and tranquilizers at a young age, ensuring that her teenage years would be full of bad choices, and by the time she s twenty-three years old, she s a full-blown drug addict, well acquainted with the miraculous power chemicals have to cure just about any problem she could possibly have and she s in more trouble than she s ever known was possible.
2016 INTERNATIONAL BOOK AWARDS – WINNER IN ADDICTION & RECOVERY 2016 NATIONAL INDIE EXCELLENCE AWARDS (NIEA)- WINNER IN ADDICTION & RECOVERY 2016 INDEPENDENT PUBLISHER BOOK AWARDS (IPPY)- BRONZE MEDAL LITERARY FICTION 2015 FOREWARD REVIEWS INDIEFAB BOOK OF THE YEAR AWARDS HONORABLE MENTION FOR GENERAL FICTION 2015 USA BEST BOOK AWARDS FINALIST FOR GENERAL FICTION
BUY HOW TO GROW AN ADDICT HERE
JULIET'S STORY, FENELLA FORSTER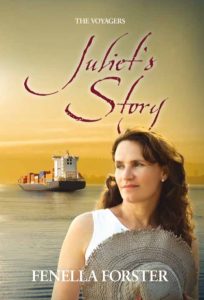 Can secrets destroy love? 2005 – Whatever the risk, businesswoman Juliet Reece grabs a once-in-a-lifetime opportunity with both hands. She's been given the freedom and time to sail to Australia to trace her emigrant grandparents' story back in 1913.
But buried under the surface is a more compelling reason – a secret she has held close since she was a vulnerable sixteen-year-old, which only her grandmother, Annie, shared – and whose answer may lie in Australia. When Juliet boards the 'Alexandria' at Tilbury she doesn't count on meeting the enigmatic Jack Delaney. But is it wise to fall for a man from the other side of the world who seems to be carrying dark secrets of his own?
BUY JULIET'S STORY HERE
NOT EXACTLY LOVE, BETTY HAFNER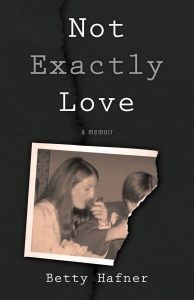 It was 1969, and all the rules were changing, when Betty, a woefully single French teacher on Long Island, met the handsome but edgy new teacher at her school, a hippie just back from Woodstock. His vitality opened up a new world to her but when they married, his rages turned against her, and often ended with physical violence. Like millions of women who discover they ve married an abusive man, Betty was forced to make daily decisions to suppress her feelings or risk confrontation, to keep it secret or report, and ultimately, to live with it or leave.
Part memoir, part warm-hearted look at the 70s, and part therapeutic journey, Not Exactly Love: A Memoir is an intense and inspirational story of a woman who grew from her experience."
"Exceptionally well written, brutally candid, and ultimately inspiring, Not Exactly Love: A Memoir is especially recommended to the attention of anyone having to deal with an abusive spouse or friend."
Midwest Book Review
"Breaking the silence about the complex dynamics of abusive relationships is the most powerful act anyone victim, bystander, or perpetrator can take. Bravo to Betty Hafner! "
Leslie Morgan Steiner, author of the New York Times best seller Crazy Love
BUY NOT EXACTLY LOVE HERE
JOURNALING POWER, MARI L MCCARTHY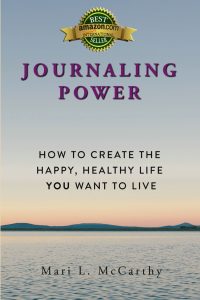 Journaling Power teaches you how to put the ultimate self-healing tool right at your fingertips–journaling. You'll discover how daily pen-to-paper journal writing leads to self-growth and life-changing transformation. You'll also learn that numerous medical studies prove journaling literally unleashes a healing agent that empowers your life in ways you've never imagined.
Mari L. McCarthy shares her own personal story of health and healing and provides step-by-step guidance on how to use your own Journaling Power Practice to: Reduce physical pain and overcome illness, Heal emotional wounds from past traumas, Resolve inner conflicts and create self-compassion, Conquer limiting beliefs and fears, Reconnect with your inner healer, and Create the happiest, healthiest life for your Self.
"Mari used journaling herself to relieve her symptoms of MS. In this book, she reveals the full power of journaling, not only for people who have an illness, but for anyone, actually, who simply wants to unlock their personal creativity or find some more meaning and purpose in their life."
 ~David Hamilton, PhD, Author, How Your Mind Can Heal Your Body 
BUY JOURNALING POWER HERE
FIND OUT MORE ABOUT MARI ON HER WEBSITE