RECOMMENDED READS
THE UNDERGROUND RIVER, MARTHA CONWAY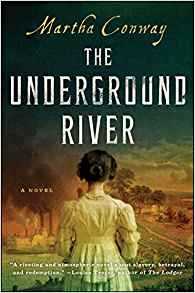 Set aboard a nineteenth century riverboat theater, this is the moving, page-turning story of a charmingly frank and naive seamstress who is blackmailed into saving runaways on the Underground Railroad, jeopardizing her freedom, her livelihood, and a new love.
It's 1838, and May Bedloe works as a seamstress for her cousin, the famous actress Comfort Vertue—until their steamboat sinks on the Ohio River. Though they both survive, both must find new employment. Comfort is hired to give lectures by noted abolitionist, Flora Howard, and May finds work on a small flatboat, Hugo and Helena's Floating Theatre, as it cruises the border between the northern states and the southern slave-holding states.
May becomes indispensable to Hugo and his troupe, and all goes well until she sees her cousin again. Comfort and Mrs. Howard are also traveling down the Ohio River, speaking out against slavery at the many riverside towns. May owes Mrs. Howard a debt she cannot repay, and Mrs. Howard uses the opportunity to enlist May in her network of shadowy characters who ferry babies given up by their slave mothers across the river to freedom. Lying has never come easy to May, but now she is compelled to break the law, deceive all her new-found friends, and deflect the rising suspicions of Dr. Early who captures runaways and sells them back to their southern masters.
As May's secrets become more tangled and harder to keep, the Floating Theatre readies for its biggest performance yet. May's predicament could mean doom for all her friends on board, including her beloved Hugo, unless she can figure out a way to trap those who know her best.
THE COTTINGLEY SECRET, HAZEL GAYNOR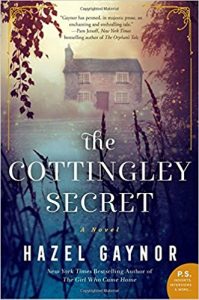 "The Cottingley Secret tells the tale of two girls who somehow convince the world that magic exists. An artful weaving of old legends with new realities, this tale invites the reader to wonder: could it be true?" — Kate Alcott, New York Times bestselling author of The Dressmaker
One of BookBub's Most-Anticipated Books of Summer 2017! 
The New York Times bestselling author of The Girl Who Came Home turns the clock back one hundred years to a time when two young girls from Cottingley, Yorkshire, convinced the world that they had done the impossible and photographed fairies in their garden. Now, in her newest novel, international bestseller Hazel Gaynor reimagines their story.
1917… It was inexplicable, impossible, but it had to be true—didn't it? When two young cousins, Frances Griffiths and Elsie Wright from Cottingley, England, claim to have photographed fairies at the bottom of the garden, their parents are astonished. But when one of the great novelists of the time, Sir Arthur Conan Doyle, becomes convinced of the photographs' authenticity, the girls become a national sensation, their discovery offering hope to those longing for something to believe in amid a world ravaged by war. Frances and Elsie will hide their secret for many decades. But Frances longs for the truth to be told.
One hundred years later… When Olivia Kavanagh finds an old manuscript in her late grandfather's bookshop she becomes fascinated by the story it tells of two young girls who mystified the world. But it is the discovery of an old photograph that leads her to realize how the fairy girls' lives intertwine with hers, connecting past to present, and blurring her understanding of what is real and what is imagined. As she begins to understand why a nation once believed in fairies, can Olivia find a way to believe in herself?
BUY THE BOOK HERE
ARE YOU SLEEPING, KATHLEEN BARBER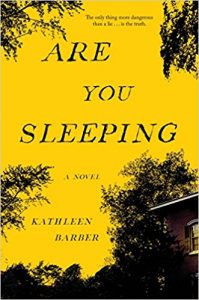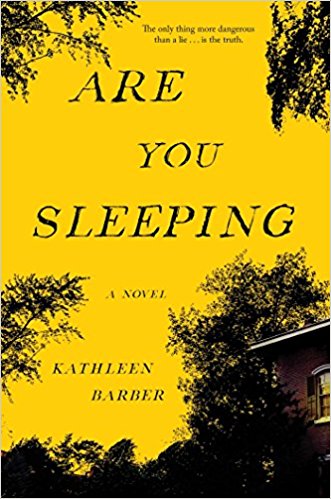 Serial meets Ruth Ware's In A Dark, Dark Wood in this inventive and twisty psychological thriller about a mega-hit podcast that reopens a murder case—and threatens to unravel the carefully constructed life of the victim's daughter.
The only thing more dangerous than a lie…is the truth.
Josie Buhrman has spent the last ten years trying to escape her family's reputation and with good reason. After her father's murder thirteen years prior, her mother ran away to join a cult and her twin sister Lanie, once Josie's closest friend and confidant, betrayed her in an unimaginable way. Now, Josie has finally put down roots in New York, settling into domestic life with her partner Caleb, and that's where she intends to stay.
The only problem is that she has lied to Caleb about every detail of her past—starting with her last name.
When investigative reporter Poppy Parnell sets off a media firestorm with a mega-hit podcast that reopens the long-closed case of Josie's father's murder, Josie's world begins to unravel. Meanwhile, the unexpected death of Josie's long-absent mother forces her to return to her Midwestern hometown where she must confront the demons from her past—and the lies on which she has staked her future.
Buy the book HERE
SARIS AND A SINGLE MALT, SWETA VIKRAM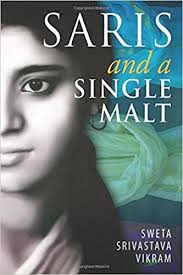 "Saris and a Single Malt" is a moving collection of poems written by a daughter for and about her mother. The book spans the time from when the poet receives a phone call in New York City that her mother is in a hospital in New Delhi, to the time she carries out her mother's last rites. The poems chronicle the author's physical and emotional journey as she flies to India, tries to fight the inevitable, and succumbs to the grief of living in a motherless world. This collection will move you, astound you, and make you hug your loved ones.
"There are few books like Saris and a Single Malt in which the loss of a mother, a homeland, and the self come together in a sustained elegy." –Justen Ahren, Director Noepe Center, Author of "A Strange Catechism"
"In life, as in poetry, one must come from the heart. Sweta Vikram has done both with touching eloquence. Her work resonates deeply within one's deepest emotional sacristy."
–Sharon Kapp, Owner & Founder, Houston Yoga & Ayurvedic Wellness Center
"Saris and a Single Malt is a fitting and delightful tribute of a writer daughter to her affectionate mother which goes deep into the minds of all children who love their moms."
–K. V. Dominic, English language poet, critic, short-story writer, and editor from Kerala, India
Sweta Srivastava Vikram, featured by Asian Fusion as "one of the most influential Asians of our time," is an award-winning writer, Pushcart Prize nominee, author of ten books, and a wellness practitioner. A graduate of Columbia University, Sweta performs her work, teaches creative writing workshops, and gives talks at universities and schools across the globe.
BUY THE BOOK HERE
THE GODDESSES, SWAN HUNTLEY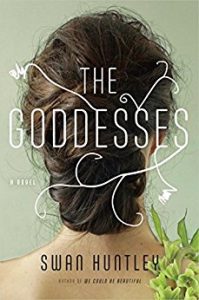 "A haunting story of betrayal and forgiveness" (Kirkus) about a woman who moves her family to Hawaii, only to find herself wrapped up in a dangerous friendship, from the celebrated author of We Could Be Beautiful.

When Nancy and her family arrive in Kona, Hawaii, they are desperate for a fresh start. Nancy's husband has cheated on her; they sleep in separate bedrooms and their twin sons have been acting out, setting off illegal fireworks.
But Hawaii is paradise: they plant an orange tree in the yard; they share a bed once again and Nancy resolves to make a happy life for herself. She starts taking a yoga class and there she meets Ana, the charismatic teacher. Ana has short, black hair, a warm smile, and a hard-won wisdom that resonates deeply within Nancy.
They are soon spending all their time together, sharing dinners, relaxing in Ana's hot tub, driving around Kona in the cute little car Ana helps Nancy buy. As Nancy grows closer and closer to Ana—skipping family dinners and leaving the twins to their own devices she feels a happiness and understanding unlike anything she's ever experienced, and she knows that she will do anything Ana asks of her.
A mesmerizing story of friendship and manipulation set against the idyllic tropical world of the Big Island, The Goddesses is a stunning psychological novel by one of our most exciting young writers.
BUY THE BOOK HERE
THE COMFORT OF SECRETS, CHRISTINE NOLFI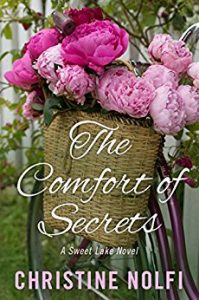 Cat Mendoza needs a win. After a business failure and years of dating the wrong men, she's ready to turn things around.
First she must convince the residents of Sweet Lake, Ohio, that she's taking her responsibilities seriously. As the events director of the newly restored Wayfair Inn, she has the support of her best friends, Linnie and Jada. But everyone else—including her overprotective mother and the well-meaning Sweet Lake Sirens—can't help but chime in with advice about her plans, her apparently too-tight clothes, and her undeniable attraction to Ryan D'Angelo, the charming ad exec hired to promote the inn.
Cat knows she should keep Ryan at a distance, but she's drawn closer by the heartbreak he tries to hide. Will uncovering his secrets derail the new life Cat hopes to achieve…or will she gain something to cherish forever?
BUY THE BOOK HERE
THE WALLS, HOLLIE OVERTON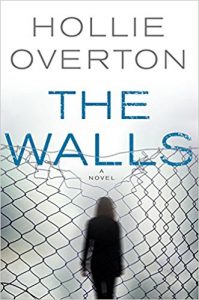 A heart-stopping psychological suspense novel about a Texas prison official driven to commit the perfect crime, by the author of the international bestselling thriller Baby Doll.
WOULD YOU KILL TO PROTECT YOUR FAMILY?
Working on death row is far from Kristy Tucker's dream, but she is grateful for a job that allows her to support her son and ailing father.
When she meets Lance Dobson, Kristy begins to imagine a different kind of future. But after their wedding, she finds herself serving her own life sentence—one of abuse and constant terror.
But Kristy is a survivor, and as Lance's violence escalates, the inmates she's worked with have planted an idea she simply can't shake.
Now she must decide whether she'll risk everything to protect her family.
Does she have what it takes to commit the perfect crime?
#TheWallsBook
BUY THE BOOK HERE
THE COCONUT LATITUDES, RITA GARDNER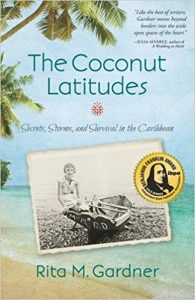 Rita M. Gardner's award-winning memoir The Coconut Latitudes is a heartbreaking account about her family's life-changing decision at the end of World War II to leave the United States and start a coconut plantation in a tropical paradise.
The author is only a few weeks old and her sister four years old when the family arrives with a pile of suitcases and books to a remote island coastline. The father plants ten thousand coconut seedlings, and declares they are the luckiest people alive.
Far from being in the envisioned Eden, they found themselves in the path of hurricanes, and in the grip of a brutal dictator. Against a backdrop of shimmering palms and kaleidoscope sunsets, a crisis causes the already fragile family to implode, and their lives are changed forever.
The Coconut Latitudes is a haunting, lyrical memoir of survival, the terrible cost of keeping secrets, and the transformative power of truth and love. It has won two national awards and is a favorite of book clubs. It has been widely reviewed.
"Gardner has written a rich, haunting book that vividly captures her childhood and makes everyday turmoil vital through precise and honest prose."—Publishers Weekly, July 2014
"Another fine writer we can embrace as ours: an honorary Dominicana, who moves beyond borders into the wide open spaces of the heart."
—Julia Alvarez, author of A Wedding in Haiti, and How the Garcia Girls Lost Their Accent. Recipient, 2013 National Medal of Arts
BUY THE BOOK HERE
LOWCOUNTRY BONFIRE, A LIZ TALBOT MYSTERY BOOK, SUSAN M BOYER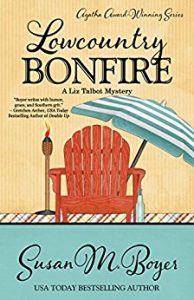 "Susan M. Boyer gets it. And by 'it,' I mean 'the Southern voice.' And by that I do not mean she throws "Y'all" into every other line of her dialogue. I mean she understands deep down how Southern people talk and can replicate the cadence and music of that speech on the page as delicately as a master chef adding a last pinch of sea salt to a batch of Hollandaise sauce." – Criminal Element
Private Investigators Liz Talbot and Nate Andrews have worked their share of domestic cases. So when Tammy Sue Lyerly hires them to find out what her husband is hiding, they expect to find something looney but harmless. After all, this is the guy who claims to have been a DEA agent, a champion bull rider, and a NASCAR driver. But when he turns up dead the morning after Liz and Nate deliver incriminating photos, Tammy Sue becomes the prime suspect.
Questioning the truth of Zeke Lyerly's tall-tales, Liz and Nate race to uncover small town scandals, long buried secrets, and the victim's tumultuous past to keep Tammy Sue out of jail and the case from going up in flames.
"Boyer has a way with the narrative that wrapped me up in a cocoon filled with Southern charm and mayhem…the pacing fits the tempo of this enticingly intriguing tale where the mystery was executed nicely…Boasting a superb cast of characters, engaging dialogue and a small-town atmosphere, this was one of the best book in this wonderfully endearing series." – Dru's Book Musings
"The authentically Southern Boyer writes with heart, insight, and a deep understanding of human nature." – Hank Phillippi Ryan, Agatha Award-Winning Author of What You See
BUY THE BOOK HERE
AT WAVE'S END, PATRICIA PERRY DONOVAN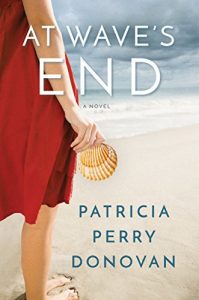 After a childhood as unpredictable as the flip of a coin, Faith Sterling has finally found her comfort zone in the kitchen of an upscale Manhattan restaurant. A workaholic chef, at least there she's in control. So when her free-spirited and often-gullible mother, Connie, calls to announce that she's won a bed-and-breakfast on the Jersey Shore, Faith's patience boils over. Convinced the contest is a scam, she rushes to Wave's End to stop Connie from trading her steady job for an uncertain future.
When a hurricane ravages the coast, Faith is torn between supporting the shore rescue and bailing out her beleaguered boss. But the storm dredges up deceptions and emotional debris that threaten to destroy the inn's future and her fragile bonds with her mother.
As the women struggle to salvage both the inn and their relationship, Faith begins to see herself and Connie in a new light—and to realize that some moments are better left to chance.
"A truly authentic and genuine novel. The realism with which [Donovan] writes will have all readers absorbed, engaged, and having a better understanding of the destruction, power, and resiliency hurricanes and other natural disasters leave behind."
"Heartwarming story of how a tragedy changed lives for the better and stirred hope and friendship."
"If you survived Hurricane Sandy, you will more than relate to this novel."
"I started reading 'At Wave's End' shortly after dinner. I was so enthralled that I lost track of time."
BUY THE BOOK HERE
THE HOUSE WITH OLD FURNITURE, HELEN LEWIS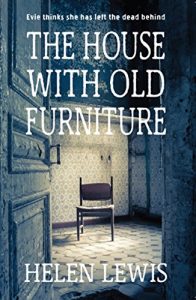 Evie thinks she has left the dead behind
The ghosts of a century's worth of secrets and betrayals are coming home to Pengarrow…
Evie has lost her eldest son, Jesse, to gang violence. Leaving the house he grew up in is pulling apart the few strings left holding her heart together. Only the desire to be there for her younger boy, Finn, impels Evie to West Wales and the ancient house her husband is sure will heal their wounds.
Days later, Andrew is gone – rushing back to his 'important' job in government, abandoning his grieving wife and son. Finn finds solace in the horse his father buys by way of apology. As does his evasive and fearful new friend, Nye, the one who reminds him and Evie of Jesse… Evie loses herself in a dusty 19th century journal and glasses of homemade wine left by the mysterious housekeeper.
As Evie's grasp on reality slides, Andrew's parents ride to the rescue. It is clear that this is a house they know. They seem to think they own it, and begin making changes nobody wants, least of all Alys and her son, Nye, the terrified youth who looks so like Jesse.
BUY THE BOOK HERE
JOURNALING POWER: HOW TO GET THE HEALTHY, HAPPY, LIFE YOU WANT TO LIVE, MARI L MCCARTHY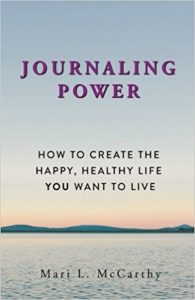 Journaling Power
 teaches you how to put the ultimate self-healing tool right at your fingertips–journaling. You'll discover how daily pen-to-paper journal writing leads to self-growth and life-changing transformation. You'll also learn that numerous medical studies prove journaling literally unleashes a healing agent that empowers your life in ways you've never imagined.
Mari L. McCarthy shares her own personal story of health and healing and provides step-by-step guidance on how to use your own Journaling Power Practice to: Reduce physical pain and overcome illness, Heal emotional wounds from past traumas, Resolve inner conflicts and create self-compassion, Conquer limiting beliefs and fears, Reconnect with your inner healer, and Create the happiest, healthiest life for your Self.
"Mari used journaling herself to relieve her symptoms of MS. In this book, she reveals the full power of journaling, not only for people who have an illness, but for anyone, actually, who simply wants to unlock their personal creativity or find some more meaning and purpose in their life."
 ~David Hamilton, PhD, Author, How Your Mind Can Heal Your Body 
LAST SEEN ALIVE, CLAIRE DOUGLAS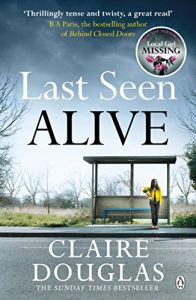 'Thrillingly tense and twisty, a great read' B A Paris, the bestselling author of Behind Closed Doors

'Grippingly claustrophobic and unpredictable on every page: perfect for fans of The Girl on the Train' Marie Claire
She can run
Libby Hall needs to hide, to escape from everything for a while. Which is why the house swap is a godsend. The chance for Libby and her husband Jamie to exchange their tiny Bath flat for a beautiful haven on the wild Cornish coast.
But she can't hide
But before they can begin to heal their fragile marriage, Libby makes some disturbing discoveries about the house. And soon the peace and isolation begin to feel threatening. How alone are they? Why does she feel watched?
Because someone knows her secret
What is Jamie hiding? Is Libby being paranoid? And why does the house bring back such terrible memories? Memories Libby's worked hard to bury. Memories of the night she last saw her best friend alive . . . and what she did.
Praise for Claire Douglas
'Fast-paced and chock-full of twists. After reading it you'll never dream of a house swap again' Paula Daly, author of The Mistake I Made
'Brilliant. Twisty, exciting yet so very real' Gillian McAllister, Sunday Times bestselling author of Everything But the Truth
'As soon as I finished the first page, I knew I wouldn't be able to put this down' Good Housekeeping

'I love stories when you're not quite sure who is telling the truth! This one kept me guessing' Jane Corry, author of the Sunday Times bestseller My Husband's Wife and Blood Sisters
'Compelling and page-turning, wonderfully written and impossible to second guess with a brilliant twist' Debbie Howells, bestselling author of Richard and Judy selection The Bones of You
'The creepy goings on in the off-season, secret-filled resort will give you chills' Sunday Mirror
'Tension oozes from every page . . . [an] addictive read that will leave you on the edge of your seat' Sun
'Unforgettably dark and complex' Woman & Home
BUY THE BOOK HERE