RECOMMENDED READS
THE TO-HELL-AND-BACK CLUB, JILL HANNAH ANDERSON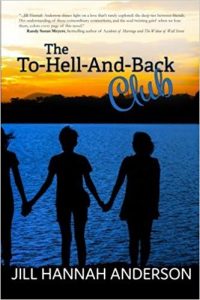 When you've been to hell…
new friends can bring you back.
In this inspiring debut from Jill Hannah Anderson~ Peyton Brooks, a newly-empty nester with a comatose marriage, loses her three best friends in a car crash, and reaches out to women in the To-Hell-And-Back Club, hoping they'll help resuscitate her life.
Through the "Hell Club", Peyton learns that it's never too late to begin again. These been-there-felt-that women use their sense of humor, strength, and support to help pull her off the couch and back to living her life.
She puts an end to her troubled marriage and rebuilds the life she'd put aside two decades ago. But when Peyton digs up time capsules she and her friends buried years ago and uncovers secrets about those she loved, she struggles to keep her own life-changing secret buried.
The "Hell Club" women help remind Peyton of the strength within her. She finds a renewed hope in life and love when she faces the mistakes and guilt that have troubled her for years. When Peyton's secret is discovered, she's going to need the "Hell Club" women more than ever.
The To-Hell-And-Back Club is an inspiring book that reminds us that it's never too late to start over, and that living a life of regrets is no life at all.
BUY THE BOOK HERE
SWEET LAKE, CHRISTINE NOLFI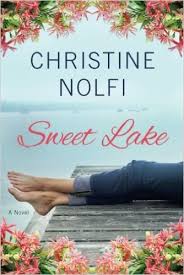 Everyone in Sweet Lake, Ohio, wants Linnie Wayfair to muster all her business sense and return the Wayfair Inn to its former glory.
Now a shocking turn of events will open old wounds and upend the world she has carefully built. Linnie has to make changes quickly—and the results, though not entirely what she expected, might be what she's been yearning for all along.
"In this uplifting and charming story, each room of the inn is filled with friendship, forgiveness, and love." —Kirkus Reviews
In this must-read novel for spring, escape to the small town of Sweet Lake, Ohio and fall in love with Linnie Wayfair, the girl whom everyone is counting on. The small community wants her to return the old Wayfair Inn to its former glory. Her parents desperately hope that she will help reconcile the family and forgive her brother and her life-long friends continue to pressure her into dating the sexy attorney who's been smitten by her for years. However, a sudden turn of events completely derail Linnie's carefully constructed plan, resulting in a change that she's been searching for all along.
"Craving a literary trifecta of romance, small town drama and soul searching? That's exactly what you'll find in Linnie Wayfair's life as she tries to restore an inn in Sweet Lake, Ohio to glory—all while navigating affairs of the heart." —Your Tango
BUY THE BOOK HERE
THE SISTERS OF ALAMEDA STREET, LORENA HUGHES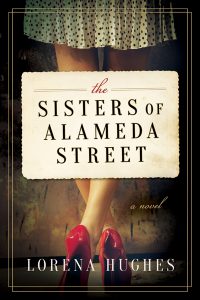 ONE FAMILY, FOUR SISTERS, AND A MYSTERY THAT MIGHT UNRAVEL THEM ALL
Set in a small South American town during the early 60's, The Sisters of Alameda Street is the story of a young woman who would do whatever it takes to find her mother—even if it means assuming someone else's identity or moving into a house full of strangers.
"Intergenerational mysteries, hidden histories, and the richly overlapping stories of four sisters intertwine to offer a fascinating glimpse into one family living in small town 1960s Ecuador. The Sisters of Alameda Street is an absorbing, fast read that will appeal to those who enjoy their historical fiction with a splash of romance, a dash of intrigue, and plenty of intimate family secrets." – Juliet Blackwell, New York Times bestselling author of The Paris Key
"Gripping and suspenseful, The Sisters of Alameda Street is the fascinating story of a young woman's quest to find her mother amongst a family she never knew she had. Hughes' cast of characters and their mysterious pasts twist and turn as mistaken identities, long-kept secrets, and long-lost loves are revealed to create a delightfully intriguing read." Natalia Sylvester, author of Chasing the Sun
"A fascinating look into the world of 1960s Ecuador, as a young woman struggles to find herself amid the clash between the old and the new—and within the family that might or might not be hers." – Lauren Willig, New York Times bestselling author of The Other Daughter
"A family saga like no other—a story that's hard to put down." – Paula Paul, bestselling author of the Alexandra Gladstone mysteries
BUY THE BOOK HERE
FEAST OF SORROW: A NOVEL OF ANCIENT ROME, CRYSTAL KING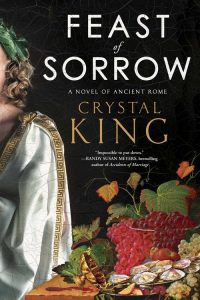 Set amongst the scandal, wealth, and upstairs-downstairs politics of a Roman family, Crystal King's seminal debut features the man who inspired the world's oldest cookbook and the ambition that led to his destruction.
On a blistering day in the twenty-sixth year of Augustus Caesar's reign, a young chef, Thrasius, is acquired for the exorbitant price of twenty thousand denarii. His purchaser is the infamous gourmet Marcus Gavius Apicius, wealthy beyond measure, obsessed with a taste for fine meals from exotic places, and a singular ambition: to serve as culinary advisor to Caesar, an honor that will cement his legacy as Rome's leading epicure.
Apicius rightfully believes that Thrasius is the key to his culinary success, and with Thrasius's help he soon becomes known for his lavish parties and fantastic meals. Thrasius finds a family in Apicius's household, his daughter Apicata, his wife Aelia, and her handmaiden, Passia whom Thrasius quickly falls in love with. But as Apicius draws closer to his ultimate goal, his reckless disregard for any who might get in his way takes a dangerous turn that threatens his young family and places his entire household at the mercy of the most powerful forces in Rome.
Buy FEAST OF SORROW HERE
THE SISTERS OF BLUE MOUNTAIN, KAREN KATCHUR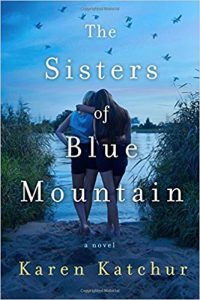 A sisters' secret.
A mysterious phenomenon.
A murder that ties it all together.
An emotional, suspenseful novel about the bond between sisters and the secrets we hold to keep our family safe, The Sisters of Blue Mountain by Karen Katchur is a thrilling mystery that hurtles towards an unexpected ending that will leave readers speechless.
The small town of Mountain Springs, Pennsylvania thrives on the snow geese migration. Each year, the birds flock to the dam, and the tourists follow, filling up Linnet's Bed and Breakfast.
But one morning Linnet wakes up to discover hundreds of dead geese by the B&B and her life is thrown into the media frenzy when her father―a former ornithology professor―is asked to study the case. As the tourists cancel their plans and Linnet's father's health grows increasingly worse, the last thing she expects is to see her estranged sister, Myna, on her doorstep.
Myna has never stayed in one place for long after running from Mountain Springs. Although she and Linnet were close growing up, a family secret broke their bond, and Myna's return has brought back memories both sisters have tried to keep buried.
When a reporter arrives in town who may have a connection to the sisters' past, Linnet and Myna are forced to confront the event that tore them apart. But when a young professor who was assisting their father on the case turns up dead―and their father becomes the primary suspect―Linnet and Myna realize that their secret won't stay hidden for long…
"The Sisters of Blue Mountain is evocative, atmospheric and haunting. Equally suspenseful and heart-wrenching, Katchur expertly exposes the fault lines between sisters who share a secret past. I couldn't put it down." ―Kate Moretti, New York Times bestselling author of Thought I Knew You and The Vanishing Year
"Katchur weaves a suspenseful tale of family secrets and what it means to keep quiet. For readers who relish complex family mysteries." ―Library Journal
BUY THE BOOK HERE
THERE'S MORE THAN ONE WAY HOME, DONNA LEVIN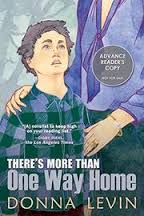 Anna Kagen seems to have it all: She's young, beautiful, and married to a wealthy, prominent man.
But within the walls of her San Francisco mansion, she spends her time dodging her husband's barbs and hunting down potential friends for her son, Jack, a 10-year-old on the autistic spectrum.
That old life suddenly seems idyllic when, on a school field trip, she makes the small error in judgment that sets in motion a chain of events that leads to another boy's death. Suddenly Jack is a suspect, her husband's career is in jeopardy, and Anna has to choose between loyalty to her son … and what may be her one chance at happiness.
Buy THERE'S MORE THAN ONE WAY HOME HERE
JULIET'S STORY, FENELLA FORSTER
Can secrets destroy love?
2005 – Whatever the risk, businesswoman Juliet Reece grabs a once-in-a-lifetime opportunity with both hands.
She's been given the freedom and time to sail to Australia to trace her emigrant grandparents' story back in 1913.
But buried under the surface is a more compelling reason – a secret she has held close since she was a vulnerable sixteen-year-old, which only her grandmother, Annie, shared – and whose answer may lie in Australia.
When Juliet boards the Alexandria at Tilbury she doesn't count on meeting the enigmatic Jack Delaney. But is it wise to fall for a man from the other side of the world who seems to be carrying dark secrets of his own?
BUY THE BOOK HERE
THE SOMEDAY BIRDS, SALLY J. PlA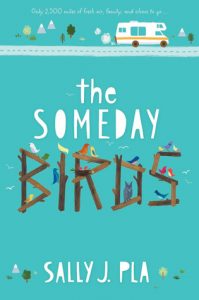 The Someday Birds is a debut middle grade novel perfect for fans of Counting by 7s and Fish in a Tree, filled with humor, heart, and chicken nuggets.
Charlie's perfectly ordinary life has been unraveling ever since his war journalist father was injured in Afghanistan.
When his father heads from California to Virginia for medical treatment, Charlie reluctantly travels cross-country with his boy-crazy sister, unruly brothers, and a mysterious new family friend. He decides that if he can spot all the birds that he and his father were hoping to see someday along the way, then everything might just turn out okay.
Debut author Sally J. Pla has written a tale that is equal parts madcap road trip, coming-of-age story for an autistic boy who feels he doesn't understand the world, and an uplifting portrait of a family overcoming a crisis.
"A truly wonderful, unique story. This celebration of family, individuality, and nature will remind you to always be on the lookout for wonder." (Wendy Mass, New York Times best-selling author of THE CANDYMAKERS)
"Achingly real…Charlie's unique voice and his quest to understand the world around him will resonate with readers dealing with their own pain. Hopeful, authentic, and oddly endearing." (Kirkus Reviews)
"Offering a mixture of suspense, mystery, tragedy and humor, Pla's story captures both the literal and figurative meanings of journey." (Publishers Weekly (starred review))
"A delight from beginning to end." (Booklist)
Junior Library Guild Selection for 2017
BUY THE BOOK HERE
CLEAR TO LIFT, ANNE A. WILSON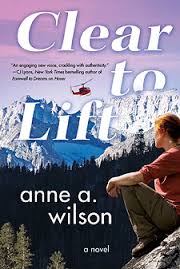 Navy helicopter pilot Lt. Alison Malone has been assigned to a search and rescue team based at Naval Air Station Fallon, Nevada, near the rugged peaks of the Sierra Nevada, and far from her former elite H-60 squadron. A rule follower by nature, Alison is exasperated and outraged every time she flies with her mission commander, "Boomer" Marks, for whom military procedures are merely a suggestion. Alison is desperate to be transferred out of the boonies, where careers stagnate, and back to her life and fiancé in San Diego.
Alison's defenses start to slip when she meets mountain guide Will Cavanaugh during a particularly dicey mission. Will introduces her to a wild, beautiful world of adventure that she has never known before. Stranded on a mountain during a sudden dangerous blizzard, Alison questions every truth she thought she knew about herself. When Will braves the storm to save her life, she must confront the fact that she has been living a lie. But is it too late to change course?
Full of action and adventure, dangerous and heart-stopping rescues, blizzards and floods, family secrets and second chances, Clear to Lift by Anne A. Wilson is a thrilling woman's journey as she finds confidence, truth, love, and herself against the majestic backdrop of the Sierra Nevada.
Named a "Best Book of Summer" by Sunset Magazine * Parade Magazine * Chico's * YourTango * SheKnows
"Action scenes, fantastic dialogue and wonderfully developed characters allow this book to soar to the top of the summer reading pile. Chicklit Club (High Rater)
BUY THE BOOK HERE
 BEST LAID PLANS AND OTHER DISASTERS, AMY RIVERS
A year after she is elected mayor of a prosperous Colorado city, Gwen Marsh's career and life are fully on track, all according to plan. So why is she in such a slump emotionally and physically? New conflicts keep boiling over in city government, and her earlier allies no longer support her. She and her boyfriend have an ideal relationship, which she finds inexplicably dissatisfying. Without telling her, he decides to take a new job that has him traveling out of state every week. Suddenly unexpected developments turn everything topsy-turvy, and Gwen is forced to re-examine her carefully-planned life.
"In Best Laid Plans & Other Disasters, Amy Rivers unfolds relatable characters struggling to sort out complex issues. Relationships are never easy, and in this tightly woven tapestry of real life challenges each character must roll with the punches and redefine their goals going forward. It will suck you in, hold you tight and keep you on edge as you turn the pages to discover their hard-pressed solutions." — Kathryn Mattingly, author of Benjamin, Journey, and Olivia's Ghost
"Witty, warm, and compulsively readable. Rivers has deftly created lovably flawed and relatable characters you don't want to miss." — Amy Avanzino, author of Wake-Up Call and From the Sideline
"… Rivers ("Wallflower Blooming", 2016) convincingly creates a world in which the choices that women—and men—must make about career, romance, and family aren't just theoretical. They're personal. Chicken soup for the working woman's soul." — "Kirkus Reviews"
BUY THE BOOK HERE
 NOTE TO SELF: A SEVEN-STEP PATH TO GRATITUDE AND GROWTH, LAURIE BUCHANAN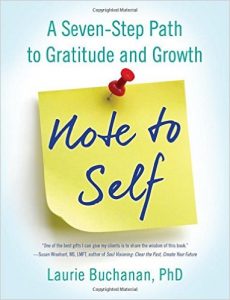 Baggage! We all carry it with us through life.
It comes in a wide variety of styles, shapes, and colors—more than enough to accommodate the stuff that we accumulate through life. And no matter how we dress it up, it's frustrating, inconvenient, and slows us down. In fact, it's downright disruptive.
This book is about offloading emotional baggage—something that's especially important when we realize that we don't just pack for one; we pack for seven. Each of the seven selves—self-preservation, self-gratification, self-definition, self-acceptance, self-expression, self-reflection, and self-knowledge—has characteristics, wellness types, and shadows. Each plays a vital role in harmony, overall health, and well-being.
Chock full of real-life emotional examples, as well as "keys" at the end of each chapter offering actionable tips, techniques, and exercises designed to help you unlock baggage, examine it, and offload it permanently, Note to Self will help you discover a lighter, joy-filled you!
2016 Idaho Author Award Winner
2016 Foreword Indies Book of the Year finalist
2017 International Excellence Body, Mind, Spirit Book Awards finalist
2016 Nautilus Award Winner
BUY THE BOOK HERE
 THE RETURNING TIDE, LIZ FENWICK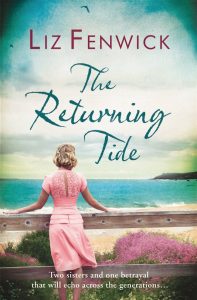 Two sisters and one betrayal that will carry across generations . . .
In wartime Cornwall, 1943, a story between two sisters begins – the story of Adele and Amelia, and the heart-breaking betrayal that will divide them forever. Decades later, the effects of one reckless act still echo – but how long will it be until their past returns?
The Returning Tide will sweep you away to the beautiful Cornish coast, full of secrets and mystery, perfect for fans of Kate Morton.
'Engrossing and romantic – a perfect holiday read' Rachel Hore
  BUY THE BOOK HERE<