RETREATS
​"When I retreat into the haven of my writing, mind meets craft meets heart language."
~ Laura Munson New York Times Best Selling Author
From writer… to speaker… to retreat leader… Laura Munson seeks the balanced
creative life and wants to share it with you.
Haven Writing Retreats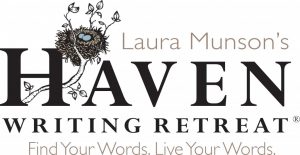 Writing is my practice, my prayer, my meditation, my way of life and sometimes…my way to life.  And I believe that writing should be up there with diet and exercise in the realm of preventative wellness!  I want to help you find your unique voice that no one else on the planet has except for you!  Come to Montana and experience what over 400 people have given themselves from all over the world, at every level of writing…and understand firsthand why Haven is ranked in the top three writing retreats in the world!
Find your stories. You know what they are.  You lead with them when you meet people, when you're talking on a plane, when you gather with old friends.  These are the white hot topics that you are hungry for.  At Haven, we free-fall into them bravely and come out the other side with new perspective, new understanding, and even new stories.
Get unstuck. People tell me all the time:  "I'm just not creative.  I don't have the time.  I'm afraid to be that vulnerable.  I'm not good enough, anyway," which means that their inner critic holds court in their minds and they have learned to bow to it, supplicant.  It doesn't have to be like this.  Come to Haven and change your story through my powerful design.  It's the retreat that I'd like to attend, and there is nothing like it anywhere!
You will walk away with a new commitment to using writing in your life whether it's in a book project, short form writing, or a more fulfilling journal writing practice.
You do NOT have to be a writer to come to Haven. Just someone who is seeking their unique voice and who needs deeply to say what they want to say, once and for all!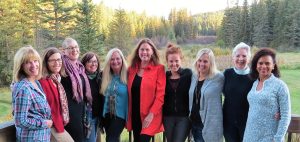 Testimonial:  "I have been walking on this planet for a while– my journey leading me through dozens and dozens of retreats.  But I have never experienced a gathering like this where I walked away not only with the best memories ever, but connection with the facilitator who cares enough to find powerful ways to keep in touch and coach me through my process long after. Laura has definitely mastered the retreat experience. So much care has gone into food, extracurricular fun things, the writing exercises and the opportunities for sharing.
What I have come to admire most about Laura is that she walks her talk. She has been there just like us, but now passes on her learnings with such passion you cannot help but be motivated. She possesses the rare ability to keep the learning experience superbly safe and nurturing even when people come from different walks of life. I got to partake in a dream I never imagined! And I am writing this book!  How cool is that!"
–Karen Stephens  Carpenteria, CA
MORE INFO  http://www.lauramunsonauthor.com/retreats/
DATES
February 22-26 (only a few spots left)
June 7-11
June 21-25
September 6-10
September 20-24
October 4-8
October 18-22