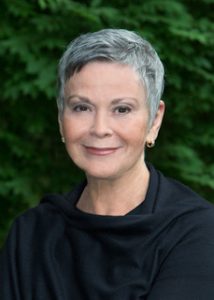 The journalist sitting across from me in the café was someone who had been following me for years. Several times, she had written about the non-profit organization I founded fifteen years ago called Women Reading Aloud. She had kept up with how things had progressed from welcoming writers gathered around the dining table in my home to hosting an international writers retreat on a Greek island. But this was a different kind of off-the-record meeting. I had an ARC to give her. What I had thought would be a one hour conversation turned into three.
What kept me there so long? I'd say it was a sharing of souls. The journalist had just finished writing a first draft of her second book. Mine was due out in the spring of 2018. Looking back, I think I'm the one who began the conversation. I was so excited to hand her the ARC that I didn't order anything to eat until two and a half hours later when I thought I might pass out from hunger.
She didn't want a synopsis of the book.  She wanted it to be fresh when she read it without expecting anything other than to be carried away by the story. This is what led us to the afternoon's topic of conversation. How do you adjust to "yes" when you've been hearing "no" for a long time? How do you leave out projection and stay in the moment?
I discovered the protagonist of my debut novel, "A Matter of Chance," in 1999. She slipped onto the page in response to a prompt one of the four of us who were writing together at the time, tossed out and ran with without questioning where. Over the next nineteen years, I vascillated from serious to hopelessly naieve novelist until finally I hit upon the right way to tackle novel-writing: get obsessed. I owed the protagonist and the rest of the characters my best effort. Nothing less would do.
During those almost two decades, I wrote poetry, saw it published, and continued to welcome women writers into the "kula" of Women Reading Aloud through workshops and retreats. But the novel had me by the throat. I'm grateful that it didn't let go. If it had I might have missed out on how to adjust to yes.
Querying agents, getting an agent, losing an agent, speaking to editors, reading their "rave rejection" letters—ninety per cent personal—commiserating with other writers, attending writing conferences on how to get it right, eventually led me to expect no. What I foolishly believed was that I should put my dreams on hold. Keep writing the novel, but don't expect much. Keep writing the novel, but be aware that nothing may come of it other than frustration. Keep writing, but…
And then Carrie Fisher died last winter and something exploded in my head.  It was time to pay attention to what one of those agents who rejected the book had said, "your book is publishable, I just can't do it."  I had already invested more time than I dare reveal on writing this novel.  How had it happened that I had become so accustomed to no that I had forgotten about all the possibilities if I were to embrace yes.  I had lost sight of the many things that had always propelled me in my creative life.
I had followed my childhood dream of becoming a professional dancer and choreographer and artistic director of my own dance company in New York City. I worked hard and danced like no one was watching. I embraced yes all those years when I took to the stage with complete abandonment.  I fell in love over and over again with the value of the work.
In April, 2018, "A Matter of Chance" will debut with She Writes Press – a hybrid press that allows yes in a writer's life like mine.  This past year, as I've asked for blurbs, I've received one yes after another. As I've asked bloggers if they would be interested in reviewing, every single one has responded with yes. Pre-publication reviews have begun to trickle in with five stars.  Book clubs have said, "Yes, we want you."  Adjusting to yes is a bit like stepping into the cold ocean when the sun is shining on a hot summer's day.
Tentative at first, I can hardly believe that strangers are reading and enjoying my novel.  As the publication date draws closer, I'm getting better at smiling about it.  I know there will be some bumps—even now—and maybe some tears.  Don't let anyone fool you into thinking that adjusting to yes is easy. It isn't. It's like eating a hot fudge sundae in the middle of the night, loving every spoonful, with no one around to tell you to slow down.
And that journalist I told you about … she just recommended me to speak at a writer's conference in 2108.  Adjusting to yes will take time after spending years grappling with no. But I'm willing to learn and I'm loving the way it feels.
 —
JULIE MALONEY is a former dancer and choreographer.  A poet and writer, she is the founder/director of WOMEN READING ALOUD, a non-profit international organization dedicated to the support of women writers. She is a frequent speaker and workshop facilitator on writing as a life tool.  Since 2003, she has been leading writing workshops and retreats in the USA, Greece and France.  "A Matter of Chance" is her debut novel, coming in April, 2018, with She Writes Press.
About A MATTER OF CHANCE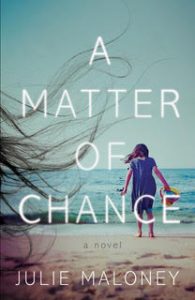 When eight-year-old Vinni Stewart disappears from a Jersey shore town, Maddy, her distraught single mother, begins a desperate search for her daughter. Maddy's five-year journey leads her to a bakery in Brooklyn, where she stumbles upon something terrifying. Ultimately, her artist neighbor Evelyn reconnects Maddy to her passion for painting and guides her to a life transformed through art.
Detective John D'Orfini sees more than a kidnapping in the plot-thickening twists of chance surrounding Vinni's disappearance, but his warnings to stay away from the investigation do not deter Maddy, even when her search puts her in danger. When the Russian Mafia warns her to stop sniffing into their business, Maddy must make a choice whether to save one child―even if it might jeopardize saving her own.
Category: Contemporary Women Writers, How To and Tips