Author Archive: Nina Sankovitch
Nina Sankovitch
From October 2008 through October  2009, Nina read a book a day and wrote a review of each book on Read All Day, her blog. She began her year in an effort to come to terms with the tragic death of her oldest sister, Anne-Marie, and to find purpose and meaning in her life. She called her year of reading  THE 365 PROJECT.
Nina is a mother, sister, daughter, and friend. She writes, "I fold prodigious amounts of laundry, create ingenious but less than delicious meals from whatever I can find in my fridge, obey the three cats that deign to live within my house, and I read lots and lots and lots of books." She's a graduate of Tufts University and Harvard Law School, and has worked at many jobs and pursued a variety of careers.
Nina's year of reading was picked up by The New York Times in October of 2009, and followed up by other news organizations, including The New Yorker and CNN. Read more about her on her website / book review blog, Read All Day.
Nina is the book reviewer at Read all Day, hence her Twitter handle @read all day.  Nina Sankovitch also is also a Huffington Post blogger.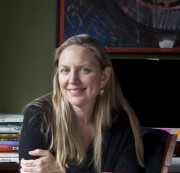 Years ago, I discovered a trove of letters in my backyard.   I had just become the owner of an old house and when I went to clear out the weed-choked yard, I found, hidden in a broken-down shed, a steamer trunk.  The trunk was sagging with rot but still tightly closed and sealed.  When […]