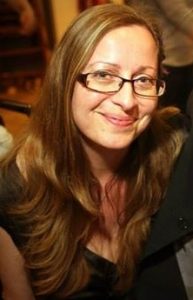 I have to thank Clare Mackintosh. Not only for her brilliant books (I Let You Go and I See You) but for a class she did last January in conjunction with Writers & Artists. Her talk was about social media and building an author platform. At that stage, I had written one book and was half-way through a second. I had no idea what to do next. A writer may want to try and get published but that's not always easy to do. Although it's not essential to have a social media presence to get a book deal, a Twitter profile or Facebook page or a blog can be useful.
In the week after the talk, I did two things – I set up a Facebook author page and started a blog. Of the two, the blog has worked better for me, mainly because I'm still too scared to ask all my Facebook friends to like my page. Blogging though has allowed a freedom in my writing that fiction doesn't – my own voice.
In my first post back in January 2016, I wrote that I would blog mostly about my writing, books that I'd read and events that I'd been to. As it turns out, other than what Rod Reynolds teased out of me in an interview about his book, 'Black Night Falling', I haven't written anything else about my own books. I think I'm still at that 'it's probably all pants, why am I even bothering' stage. My older two children seem to think that this is just a phase I'm going through. Only my youngest looks at me with wide eyes and asks if I'm real author. "I'm an unpublished author," is my reply.
I also feel like a fraud if I say I'm a book blogger – I don't even have a decent book blogging name for my site. Over the last year I've met, either in real life or on Twitter, some pretty amazing book bloggers. They often average three to four books a week when I only manage that in a month (I'm a slow reader). But I do love to review the books that I read and I've started to do a few blog tours. I've particularly enjoyed doing author interviews or Q&As. To be able to chat with authors and find out their influences and reasons for writing has been a real privilege.
But I think my blog may be best known (if at all) for my write up of events that I've been to. The first event I blogged about was a panel on Agatha Christie and her use of poison in her novels. It took place at Chelsea Physic Garden and featured crime writers Daniel Pembrey, Helen Smith, Rebecca Chance and scientist/writer Dr. Kathryn Harkup. As a chemist, Kathryn had some hilarious anecdotes about poisons but I managed to forget most of them. I learnt the hard way that if I wanted to cover events for my blog, I was going to have to take notes. It's now easy to spot me at events as I will be the one with a pen in my hand, feverishly writing in my little notebook.
Although I have covered a number of book launches and literary festivals, it's First Monday Crime that's been my constant blog event. Meeting on the first Monday of the month in Central London, First Monday Crime is a panel of crime writers discussing their books and whatever questions are thrown their way by the person chairing and then the audience. I've had the chance to get to know authors, bloggers and publishers and also had the opportunity to review the panellists' novels.
Wrongly or rightly, I do check the stats on my blogposts. My best post in terms of viewing numbers was my round up of my favourite books of 2016 and has just over 300 views to date. To me that's huge but I recognise that that's small fry to far more established bloggers. Thankfully, I'm not too worried about numbers.  I may have started the blog as a way of creating an author's platform, but it's now become a bit more important than that for me.
My Twitter bio reads: 'Escaping the madness of motherhood through writing crime novels'. Every family has its own unique challenges and ours is no different. Without going into details, we have good days, bad days and then downright awful 'I'm going to pack my bags' days. Being able to retreat to my desk has become essential in the last few years. On the days when I'm procrastinating with the book (I'm now on my third), there's always a novel to review, or a blog tour to get ready for or an event to write up. Having the blog means there are no excuses not to write!
So, what does 2017 hold? To be honest, I'm not sure. I set up my blog through the encouragement of the workshop at Writers & Artists and it's continued with the support of authors and bloggers who I now regard as friends. But if this has been about creating an author platform, then only I can take the next step. Maybe it's time for a post about my writing – where I am now and more importantly, where I want to be.
Thank you, Clare Mackintosh – I owe you a drink.
—
Joy Kluver lives in South West London with 1 husband, 2 rabbits and 3 children. A former teacher, she's now a full time mum. As well as blogging, Joy is writing a police procedural series featuring her female detective, DI Bernie Noel.
You can find her blog at joykluver.wordpress.com
On Twitter @JoyKluver
On Facebook  – facebook.com/joykluverauthor
Category: On Writing