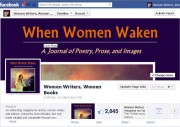 Don't have a Facebook Page? Reconsider…

Most important, it enables anyone who wants a connection with you, to easily click, without personally bothering (interrupting, daring to request friendship of…) you.
It shows up in Google searches (and Bing and Yahoo searches), as the FB pages are public.
It is what was intended by Facebook, for people with public identities and hence ideal for writers.
(How do you set up a Facebook Page? Click the Create a Page link at the bottom on a page on Facebook.)
—
Do you have a Facebook Page for yourself as an author or for your book? Please post the link to your pages below, so others can find you and support your work.
—
Follow Women Writers, Women Books on Twitter @womenwriters and  on Facebook Women Writers Women Books
Category: Contemporary Women Writers
Comments (197)
Trackback URL | Comments RSS Feed