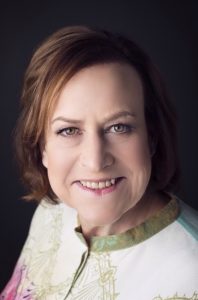 I started writing in third grade. I went to Public School 173 in Flushing, New York. Flushing is a horrible name for what was a pleasant neighborhood of brick homes with small backyards. The street on which I grew up had just two ethnic groups: Orthodox Jews and Conservative Jews. The important thing about P.S. 173 was that it was near a Carvel that offered two-for-one Brown Bonnets on Wednesdays.
All my teachers were women and seemed ancient to me. At the time, I would have bet some were as old as thirty. My favorite was Miss Siegel. She was tall and thin, and I assure you she never had a Brown Bonnet on a Wednesday. When Miss Siegel was absent, we had three substitutes in a row: Miss Fox, Miss Bear and Miss Wolfe. The result? My second-grade class was a zoo.
Back to the third grade: My teacher, Mrs. Mintzer, was short with gray hair. One day, she placed a box marked "Poems" on the windowsill, above the hooting radiator near some rhododendron in clay pots. She said that we should try writing occasionally and place our work in the box. From that moment on, I stopped paying attention to a word she said. I would sit at my desk writing poems, placing them in the box when Mrs. Mintzer was looking elsewhere.  I was afraid she would tell me I was putting too many in too often. It never occurred to me that she was the one who emptied the box and read the poems. I couldn't stop putting poems in the box. I was a poet-aholic.
Here's my first: "If I had one wish it would be a dog with a dish. A puppy of white would be just right." Until this day, when I remember that masterpiece I think of Hemmingway's iconic advice: "Write one true thing." Not a word of this poem was true. I was petrified of dogs. Also, my mother, may she rest in peace, would never allow a pet of any kind in the house. She didn't like animals, flowers or plants. She liked a bra that fit well, purchasing the same shirt in five colors (when it was on sale) and sending me to Hebrew School from 3:30 PM to 5:30 PM three days a week.
By the end of third grade, I knew I wanted to be a writer. I spent Saturdays at the public library taking out the maximum number of books, ten. I would carry my haul back to my house and read all day and night. My mother spent every Saturday telling me that if I didn't sit up straight while reading I was going to be round shouldered. She was right.
Beyond books, my family loved newspapers and we received three a day – The New York Times, the New York Daily News and the New York Post. We sat in the kitchen at the round wrought- iron table with the marble top trading newspapers. Today, my younger sister, Debra Simon, owns one called Carolina Woman.
When in 1970, I applied early decision to NYU, which my daughter is kind enough to say anyone could get into back then, I had to list my extra-curricular activities. I had two hobbies: reading and writing. I thought I should round myself out so I also checked spelunking. Because I liked the way the word sounded. By the way, spelunking is exploring caves.
The first semester at NYU in the Bronx, I tried many new things. I got Cs in the many new things, so I decided to major in English until I transferred to NYU in Greenwich Village, where I could major in Journalism. I took an independent study course in novel writing. I started my first novel – about a group of friends at NYU who had a lot more fun than I ever did. My professor brought a partial manuscript to to his agent.  I was honored, but the semester was over and I was too busy looking for a husband to work on a novel. Remember, this was 1972. If you weren't engaged by junior year you were destined to lead a morose and lonely life. I put the novel in a drawer. You'll be surprised to hear that a novel that is kept in a drawer rarely becomes published.
I became a magazine writer, and then I went into advertising, opened an agency and wrote a second novel to satisfy my requirement for a Master of Arts in Liberal Studies degree at Wesleyan University. I was in my thirties. I had two children. I lived in Connecticut. I had a house with a deck and a Weber grill. The novel was about a woman in her thirties who lived in Connecticut. Notice a thematic pattern here?
Although How To Find An Agent And Publish Your Novel In Half-An-Hour suggested a query letter to one agent at a time, I mailed the entire manuscript to five agents at once. Two days later, an agent called me from a train en route from New York to Boston. She wanted to represent me. She sent the book out exactly as it was. I received many positive responses. One major publisher wanted to know if there was a second novel. I said yes, wrote the first sixty pages of a "second" novel over the weekend and brought it to New York on Monday with my ten-year-old daughter in tow. Despite my lucky charm, my youngest child Marisa, my book was not picked up. I put it in a drawer.
Twenty years later, I wrote another book, my third. I was sixty-three when Lake Union Publishers released Lift And Separate. My next novel, Husbands And Other Sharp Objects, will be published this spring.
My advice:
Drop your drawers.
Don't ever give up.
—
For more than twenty-five years, Marilyn Simon Rothstein owned an advertising agency in Connecticut. Lift And Separate, released by Lake Union Publishers, is her debut novel. Her second novel, also contemporary women's fiction, will be published in December 2018.
Connect with Marilyn
About LIFT AND SEPARATE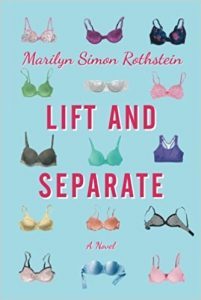 Marcy Hammer's life has been turned upside down. Her husband, the head of a global brassiere empire, didn't think twice about leaving her after thirty-three years of marriage for a 32DD lingerie model. Now Harvey the Home-Wrecker is missing in action, but Marcy's through thinking about what a cliché he is. What she needs now is a party-size bag of potato chips, a good support system, and a new dress.
Striking out on her own is difficult at first, but Marcy manages to find traces of humor in her heartbreak. Even while devastated by Harvey's departure, she still has her indomitable spirit and her self-respect. She has no intention of falling apart, either, even when her adult children drop a few bombshells of their own and she discovers a secret about her new, once-in-a-lifetime friend. Life may be full of setbacks, but by lifting herself up by her own lacy straps, Marcy just may be able to handle them all.
"Lift And Separate is a laugh-out-loud, heartwarming story that begs to be a blockbuster starring Nicholson and Keaton and shares the vulnerability, wisdom, and brilliance of Nora Ephron's Heartburn." —Jennifer Belle, bestselling author of High Maintenance
"Lift And Separate takes us on a funny but moving journey through heartbreak, hilarity, betrayal, and healing. Marcy Hammer is a hammer indeed! Rooting for her all the way, one is exhilarated by the journey Marilyn Simon Rothstein gives her without ever burning a single bra! Hip-hip hurrah!" —Lanie Robertson, writer of Lady Day at Emerson's Bar & Grill, the Tony Award–winning play 
Amazon | Books-A-Million | Barnes & Noble
Category: Contemporary Women Writers, On Writing