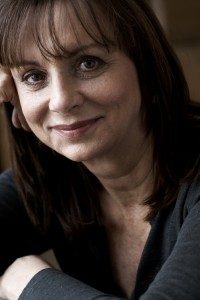 Actually, I found this a worrying exercise for it turned to be much easier to find a character to do away with than to marry.
In my teenage years, I badly wanted to kill off Jane Austen's Emma for she was 'handsome, clever and rich' and I was most definitely was none of those things. But the top, top qualification for her demise was this: Emma did not have a mother.
          And I did.
          I feel differently about Emma nowadays. Her cleverness would not be so remarkable in a better educated age but her looks would be a source of great anxiety. Like every other female, Emma would be peering into the mirror and asking 'does my bum look big in this?' with the best of us. As to her riches… what with taxes, congestion charges, student loans, mortgages and soaring utilities bills Emma's financial base would be much eroded. And, now that I am a parent of a beloved son and daughter, I feel quite differently about the mother situation.
As I was contemplating literary murder, I was gazing out at my garden and watching London squirrels race through the trees. Naturally, my thoughts turned from there to Peter Rabbit and it struck me that he was the perfect subject for murder. For not only would I be removing a pest from the garden and saving all those dear little organic lettuces which were doing their bit in the fight against the overweening supermarket but I could, in the this thrifty ecologically minded era, cook him. His death would not be in vain.
But who is the character deserving of murder? On examination, the question is subtler than is first supposed. Perhaps, the most chilling and cruel character is not the more obvious black-hearted, but passionate and red-blooded, murderer like Bill Sykes in Charles Dickens' Oliver Twist. Nor is it Dracula's vampire who could not help it. Nor even Harry Lime in Graham Greene's The Third Man for his terrible crimes – the catholic Greene would have wanted that possibility of redemption even for Harry. No, the most chilling character I know is the blond, pleasure seeking Brenda Last in Evelyn Waugh's A Handful of Dust. Brenda is married to the – admittedly – rather dull Tony Last and the chatelaine of Hetton Abbey which is her husband's pride and joy. She has a small son called John Andrew and spends time and considerable ingenuity avoiding her son and husband and the dreary duties at Hetton to escape up to a fast set in Belgravia where she has a lover, also called John. Brenda is having a very jolly time indeed when someone comes to tell her that John is dead.
In a truly shocking scene, Brenda is shown to be relieved when she discovers it is her son, not her lover, who has died. In my view, she violates all that one holds to be true and the most fundamental principles of love and responsibility.
With Brenda led off to the block, who is there to marry?
The obvious candidates present themselves: Mr Darcy and Mr Knightley. But, despite the charms of Pemberley and they are pretty powerful, I can not help wondering whether, in late middle-age, Mr Darcy would demand his egg boiled for precisely three minutes, and I am quite sure he would not know how to change a fuse. On the other, Mr Knightley would be a competent meter reader but he does have a serious flaw: he would always be telling me how wrong I was about everything. I've got one of those already.
But, if a woman is wise to life realities, and honest with herself, it does not stop her yearning for the romantic hero. This is where the handsome wastrel Sydney Carton steps into the breech. He would love me from afar, madly and passionately, and I would eventually give in gracefully – and in piece of inter-textual sleight-of-hand insist that he took out a life insurance policy as part of the prenuptial agreement. Then, I could send him off the steps of the guillotine to declare: 'it's a far, far better thing that I do, and a far, far better rest that I go to than I have ever known…'
Quite, say I. Thus, the yearning for the great romantic and dramatic adventure would dovetail neatly with the requirement, as the government is so keen to point out, to provide for our old age.
What do we look for in partner as opposed to a lover? Sensitivity and tenderness?  GSOH? An inner life that is both active and principled. Where in literature does one find him or, these days, possibly her? A quick look at Shakespeare's Henry V offered temptations. Here was a man who begged the princess Katherine to teach him how to woo and how to be a good husband and, on the surface, seemed keen to learn. There is the extra inducement of for those days when one craved rest and solitude from the loved one then one has only to say: 'darling, you do know the French are in Calais?'
In the end, I plumped for the man who had been truly tried and tested by the woman he loved. He is sturdy, he looks good in old clothes, he is no longer in the first flush of youth. He proves himself to be constant, loving, hard-working – and the woman he wants certainly puts him through the mill but he waits patiently and is never cowed. He is Gabriel Oak from Thomas Hardy's Far from the Madding Crowd. 'I've danced at your skittish heels, my beautiful Bathsheba,' he tells her, 'for many a long mile and many a long day'. A sentiment surely that display passionate feelings and a certain poetry.
What more could a girl want?
—
Elizabeth Buchan began her career as a blurb writer at Penguin Books after graduating from the University of Kent with a double degree in English and History. She moved on to become a fiction editor at Random House before leaving to write full time. Her novels include the prizewinning Consider the Lily – reviewed in the Independent as 'a gorgeously well written tale: funny, sad and sophisticated'.
A subsequent novel, Revenge of the Middle-Aged Woman became an international bestseller and was made into a CBS Primetime Drama. Later novels included The Second Wife, Separate Beds and Daughters. Her latest, I Can't Begin to Tell You, a story of resistance in wartime Denmark was published in 2014.
Elizabeth Buchan's short stories are broadcast on BBC Radio 4 and published in magazines. She reviews for the Sunday Times and the Daily Mail, and has chaired the Betty Trask and Desmond Elliot literary prizes. She was a judge for the Whitbread First Novel Award and for the 2014 Costa Novel Award. She is a patron of the Guildford Book Festival and of The National Academy of Writing, and sits on the author committee for The Reading Agency.
Find out more about Elizabeth on her website http://elizabethbuchan.com/
Follow her on twitter @elizabethbuchan
About The New Mrs Clifton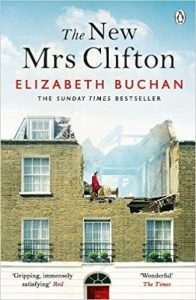 'A gripping, immensely satisfying novel with a twist in the tale' Red
'Wrapped in the roots of the sycamore was a skeleton; the remains of a woman, between twenty-five and thirty. She had carried a child . . .'
At the close of the Second World War, Intelligence Officer Gus Clifton returns to London. On his arm is Krista, the German wife he married secretly in Berlin. For his sisters, this broken woman is nothing more than the enemy. For Nella, Gus's loyal fiancée, it is a terrible betrayal. These three friends wonder what hold Krista has over decent, honourable Gus. And, they ask themselves, how far will they have to go to permanently get her out of their home, their future, their England?
PRAISE FOR THE NEW MRS CLIFTON
'Buchan brilliantly captures the blighted atmosphere of blitzed London' Daily Mail
'The tension is palpable and the atmosphere claustrophobic. Buchan vividly conveys the mood of a post-war London brought to its knees. A powerful and emotional read' Sunday Express
'I loved this story of post-war adjustment which sets up a mystery on the first page' Cathy Rentzenbrink, Stylist
'So so good. Great writing, great story. I could not put it down' Marian Keyes
BUY THE NEW MRS CLIFTON HERE
—
Category: Contemporary Women Writers, On Writing