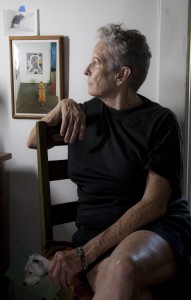 Being born into a family of special effects wizards in Hollywood, I knew early on that I would follow in their footsteps as a creative person. I lived and breathed visual art. After art school, I got a studio on Los Angeles Skid Row where I also taught art to homeless men and women and arranged gallery exhibits for them. I persuaded one student, a multi-talented alcoholic, to write about his life. His words accompanied his gritty paintings.
Making public art and exhibiting in galleries and garnering good reviews was a way for me to have a successful art career. I also worked part time for the City of Los Angeles Cultural Affairs Department, and have been with the city for 25 years now as an art preparator and curator.
It was on a work-related job to hang a show of paintings at LAX Airport five years ago when I mentioned to a co-worker that I needed a project to get passionate about. I was feeling uninspired and it was getting harder to do the physical work required in large-scale sculpture. "Why don't you try writing?" he said. Years before our conversation, I'd started writing a cookbook and dabbling with memoir, subsequently filing those attempts away, obviously not ready to take writing seriously. That challenge came four years ago.
I began listening to audio books as I drove from one art job to the other. A book that really spun me around was, The Art Of Racing In The Rain, a heartbreaking story of a dog. Something clicked! I had taken care of a homeless dog on Skid Row in the 1980s, trying to save him from being beaten and burned with cigarettes by his homeless "owner." I had also tried to save a homeless Saint Bernard's life, which ended in tragedy. Then there was my friend who lived in his car and modeled for me. Ernest's life was cut short over a drug deal. I had no shortage of things to write about. I made the commitment to do just that. After I began writing, I knew that that was the way I wanted to express myself for the rest of my life.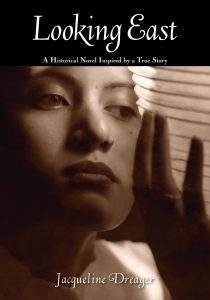 When A String Of Shadows, my memoir about my nine years on Skid Row was finished, I plunged right into writing my recently published historic novel, Looking East. Having learned so much from my novel, I've begun to rewrite A String Of Shadows, which will now include more of my life in and around Los Angeles and the Southern California coast.
I haven't abandoned my chosen field; I've just added something wonderful to my life. Instead of manipulating materials, I now manipulate words. Instead of using toxic materials in my studio, I now use a laptop. While writing Looking East, I began fabricating a series of small Asian inspired sculptures, which I will exhibit along with my books at readings and signings.
The transition from being a visual artist to taking up the challenge of writing was not difficult. As an artist, I was dedicated and disciplined. As a writer, I am even more disciplined. A blank canvas is no different than a blank sheet of paper. I am passionate about the writing process. My tip for a person desiring a way of expressing themselves in a new and different medium is to choose a subject that one can be totally engaged in, a subject that one can research and learn from. With my memoir, A String Of Shadows, I knew my subjects well. I just had to figure out how to get them out of my brain and onto the page. For that, I joined a writing group. I grew from honest feedback from other writers. I also devoured memoirs from Mary Karr to Ruth Reichl to Bernard Cooper.
Writing about my years on Skid Row trying to save one particular dog was surprisingly painful. It had been 30 years since I visited that period of my life. When I began writing, I didn't realize how much my emotions would be tested. When I sat down at the computer, those Skid Row days washed over me in waves, flooding me with tumble of emotions. I relived each and every day of interacting with this big, beautiful creature that his "owner" had named Shit-head—the dog that I renamed Buddy. Writing about Buddy and the big Saint Bernard, I wasn't prepared for the ocean of tears that disrupted my ordered life and will most likely do again.
—
Jacqueline Dreager is a longtime visual artist turned author from Los Angeles, California. Her most recent novel, "Looking East," was published in December 2015.
Find out more about her on her website http://lookingeastnovel.com/
Category: Contemporary Women Writers, On Writing