When I wrote my second psychological thriller, it was originally called Dead in her Tracks. My agent at the time, decided it would benefit from a better title and we settled on Girl on a Train. Now, to many of you, that might sound familiar – or does it? At least a year after my book came out, another train thriller popped on to the market, called The Girl on The Train by Paula Hawkins. I've read this book and it's a cracking good read, but it's also had an impact – both in a positive and negative way – on my own book. Here's why.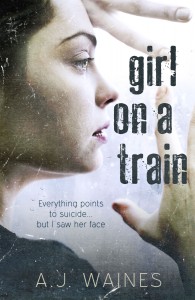 As a reader, how do you find out about a book? If you've heard one mentioned on the radio or had one recommended by a friend, then you probably hang on to the title in some way, maybe you write it down on a scrap of paper or remember the gist of it. But, let's face it – Girl on a Train does sound rather like The Girl on the Train. And they're both contemporary thrillers set in London, by female authors, too. It's easy for someone running a quick check online to mix them up.
Surely publishers won't allow books with such similar titles to be released, one reader asked me, recently. Except books do come out with similar, even the same titles, as others. Take the novel Broken a fabulous book by Daniel Clay, an author I admire, which was made into a film in 2012. If you look up Broken on Amazon – you get twenty plus books with this title (many self-published) and only when you scroll down to page three, do you find the one I'm interested in. For a reader having a quick browse, ready to press the 'buy' button, it's easy to get the wrong one.
On the other hand, you might argue, the covers aren't similar and the names of the authors certainly aren't. Whether you would make this kind of mistake yourself or not, the result is that a lot of people are buying my book, whether they think they are, or not! The impact on mine has been two-fold. It's clear from some of my reviews that many readers think they're buying the 'other' girl on the train.
Some have given me a one-star review as a result, blaming me for the error in choosing it! Such as: "I haven't finished it yet but have given it one star to warn people it is a different book from "The Girl On The Train by Paula Hawkins" which is what I thought I was ordering. So far the story is quite good…"
On the other hand, after Paula's book arrived on the shelves, sales of my book shot up. Some people bought the 'wrong' book, but liked it! And told their friends! Here's another review: "Have to admit that I read this book by mistake; misunderstanding at our book club due to too much chatting! In saying that, I found it much preferable to the book with a similar title that's gained thousands of 5 star ratings…"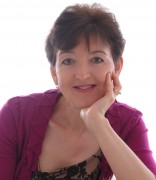 The mix ups don't stop there. A further result of the novel titles being so similar is that book industry people have contacted me thinking I'm the author of the 'other' book. I've had requests to give talks in libraries and invitations to attend festivals, for example. I always write back first to check that they have the right person – and I don't usually hear from them again! You would think individuals who manage books every day would get their facts a bit straighter before contacting an author, wouldn't you?
Because of the association with Paula's thriller, my book has been more visible and more discoverable on Amazon universally (the only stores where it's on sale in English). Sales have gone really well, especially in US, with 30,000 copies of both my novels being sold in the first six months of this year (ninety per cent of them were Girl on a Train). My agent has capitalised on this by keeping the price just a little lower than the 'other' book and running deals in different territories. As a result, Girl on a Train went to number one in the Kindle Chart in Australia and I was awarded a bonus for being a 'top 100 most-read author' on Kindle (KDP) in the UK.
I have a book deal in Germany (Random House) for this book (it's due to be released later this year) and I don't know yet what they will be calling it. In France, there are two versions of my first novel, The Evil Beneath: 'Le Ressac Mortel' (translated as 'Deadly Undertow') and Les Noyees de la Tamise ('The Drowned women of the Thames'). I have no say in the titles, but I wonder if the one chosen by the publishers in Germany will be quite different from Paula's (which has kept the same English title, although the book is translated into German).
Sometimes fate can play a strange an unexpected hand in the life of a book. I have to say, in spite of frequent mix ups, the 'other' book has worked very well in my favour and I'm not complaining!
—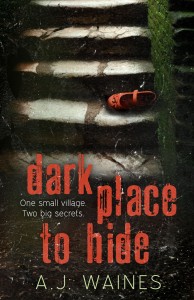 AJ Waines was a Psychotherapist for fifteen years, during which time she worked with ex-offenders from high-security institutions, giving her a rare insight into abnormal psychology. She is now a full-time novelist with an Agent and has publishing deals in France and Germany (Random House).
Both her debut novels, The Evil Beneath and Girl on a Train have been Number One in 'Murder' and 'Psychological Thrillers' in the UK Kindle Charts. Girl on a Train has also been a Number One Bestseller in the entire Kindle Chart in Australia. In 2015, she was ranked in the Top 100 UK authors on Amazon KDP (Kindle Direct Publishing).
Her new psychological thriller, Dark Place to Hide, was released in July 2015, and is available HERE.
Alison lives in Southampton, UK, with her husband. Visit her website and blog, or follow her on Twitter and Facebook.
Category: Contemporary Women Writers, How To and Tips