Writers will say that their job is both the best and worst job on earth. Best, well, because we spend our days in recreating the world as we want it, from the safety of our desk. Worst…well here the list is longer: writing is the cause of hunched shoulders and a flat butt, you're stuck on your own in a room all day for hardly any money, but the hardest thing for me is the effort of quieting my mind long enough to get anything written down at all.
Not my creative mind of course. I mean my super-ego, the critic, the part of my brain that needs to point out just how crazy it is to be writing another book. For a start there is so much else to do: should I really let my child be raised by youtube whilst I go away to write? If I clean the kitchen I will get a small but palpable bump of satisfaction – look how clean the kitchen table is – we could almost eat our dinner off it! There is no satisfaction to be had staring into the abyss of book three.
But – and here is the crux of the matter – why should I write at all when I continue to fall so far short of my own crushingly high expectations? I was the girl who grew up thinking I would be the next John Updike after all. My first book, The Looking Glass House, took many years to complete and during that time I did not have to think about my place in the market or worry about reviews on Goodreads. Conversely, I gave the manuscript to friends, who said things like, "I don't know if that comma quite works there. But I love it anyway!" (In retrospect this was unhelpful. It was only after I paid for – brutal  – advice that I found a publisher.)
But horrifyingly, even after my first book was published, when I looked back at the words I had polished for so long, I found them jarring. Sure, some parts were OK, and these were the parts I read out loud to people at festivals. But there were whole pages at which I could hardly bear to look. The writing was so gauche! The words seemed to illuminate some awkward part of me I did not know existed. And the prose was so fussy, so un-Alice Munro. People would congratulate me and I would shift uncomfortably, thinking they were being nice.
And now my next book, The Pharmacist's Wife, is being published in April. I am pleased with the landscape of the book – the world of a female Victorian drug addict – and there is some writing of which I can be proud (I actually made a fetish brothel in 1860s Edinburgh a real place, just with my imagination!) This book was relatively quick to write – it seems I like writing about sex and drugs in the Victorian era. But this time I will not look at Amazon reviews or my seller's rank, or Goodreads….Alright, I will, but please God not more than once a day.
Not too long ago a book could sell very little and still be considered a success. But increasingly the market has crept into our vocabulary and our sense of ourselves (We "invest" in our children's futures) and it is very hard not to live and die by our sales figures, rather than, say, if the book is any good. In the old days, the two concepts were not so irredeemably intertwined.
But even within this neoliberal era, I am not pleased with The Pharmacist's Wife. At least, not as pleased as I thought I would be when I first set out to write it. When it was still a thrilling miasma of the best ideas I had ever had, the book was perfect. Then I had to ruin it all by getting it up on screen, and realise that I continue to be not John Updike. Or, since I no longer read Updike, not Ann Patchett.
And, luckily enough, in Patchett's autobiographical book, This is the Story of a Happy Marriage, I found exactly what I needed to hear:
"I believe," she writes, "more than anything, that this grief of constantly having to face down our own inadequacies is what keeps people from being writers. Forgiveness, therefore, is key. I can't write the book I want to write, but I can and will write the book I am capable of writing. Again and again, throughout the course of my life I will forgive myself."
It is a lonely business being a writer but sometimes someone reaches out across the page. It is not an exaggeration to say that this piece of advice changed everything for me – if she, my writing heroine, could admit to feeling inadequate, then so could I. Perhaps it is a normal, even inevitable, part of being a writer.
And now to book three, with a girding of loins. Obvious though it is every time I sit to write there are just the two of us: my head and my computer screen, not the imagined judgement of the literary world. I make the decision to write because that is what I enjoy to do, or must do, in any case, that is how I best make sense of my life. This time I will try to forgive myself for not being Ann Patchett; all I can do is write the best book that I can do, and let that be good enough.
—
Follow her on Twitter https://twitter.com/vanessa_tait?lang=en
Find out more about her on her website http://www.vanessatait.co.uk/
About THE PHARMACIST'S WIFE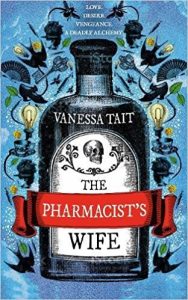 Love. Desire. Vengeance. A deadly alchemy. When Rebecca Palmer's new husband opens a pharmacy in Victorian Edinburgh, she expects to live the life of a well-heeled gentlewoman. But her ideal is turned to ashes when she discovers her husband is not what he seems. As Rebecca struggles to maintain her dignity in the face of his infidelity and strange sexual desires, Alexander tries to pacify her so-called hysteria with a magical new chemical creation. A wonder-drug he calls heroin.
Rebecca's journey into addiction takes her further into her past, and her first, lost love, while Alexander looks on, curiously observing his wife's descent. Meanwhile, Alexander's desire to profit from his invention leads him down a dangerous path that blurs science, passion, and death. He soon discovers that even the most promising experiments can have unforeseen and deadly consequences…Reminiscent of the works of Sarah Waters, this is a brilliantly observed piece of Victoriana which deals with the disempowerment of women, addiction, desire, sexual obsession and vengeance.
Category: Contemporary Women Writers, On Writing