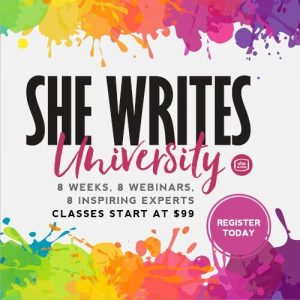 Finding your way in the publishing world as a writer isn't always easy but She Writes University aims to bring authors the tools they need to successfully write, publish and promote their books. With webinars kicking off on April 5th, writers will have the opportunity to learn from some of the best in the publishing industry including award-winning author of Sing, Unburied, Sing Jesmyn Ward. Register for the spring semester now to get exclusive instruction from 8 of the leading publishing pros. Individual classes start at just $99 or you can save $300 when you buy the 8-class bundle for only $500.
Enjoy 2 hours worth of instruction and Q&A from the comfort of your own home with the following courses:
April 5th, Jesmyn Ward: Voice: How to Find Your Characters' and Your Own
April 12th, Caroline Leavitt: Moral Choices: How to Transform a Good Book Into a Great Book
April 19th, Abigail Thomas: There's More (And Less) to Memoir Than What You Remember
April 26th, Margaret Wilkerson Sexton: Where Do I Begin? How to Grip Readers From the First Page
May 3rd, Christina Baker Kline: Surviving and Thriving As A Working Writer
May 10th, Kirstin Chen: Did That Really Happen? Writing Characters So Real, They Walk Right Off the Page
May 15th, Lisa Ko: Plot and Story: How to Hook Your Readers and Keep Them Reading
May 17th, Carly Watters: The Modern Author: Understanding Sales Data, Rankings and More
The instructors of She Writes University recently answered some questions about their courses and why they're excited to be involved in an inspiring, woman-oriented writing course.
What's one of the lessons in your She Writes University class that you really wish YOU had learned earlier in your writing career?
Preparing fellow writers for what's to come in their writing career is something this semester's instructors are finding very important. Christina Baker Kline, the #1 New York Times bestselling author of Orphan Train, is teaching a class on being a successful writer and says what all of the instructors are thinking, "I'm excited to teach the SWU class because there are so many things I want to share — hard-won wisdom from my years of ups and downs."
Margaret Wilkerson Sexton, author of the highly-praised A Kind of Freedom reflects on her early writing saying, "I wish someone had told me how to start a story. I spent years working on a book that was never published, and one of the issues with it was that I started it at the chronological beginning and not at the most compelling piece of the story… I wish I had known I could work all the rest of it into backstory."
When asked about things she wish she could magically teach all of the authors she works with, literary agent Carly Watters had one key thing she wishes all writers knew at the start of their career, "…at the start it's all about words—how great your book is—but as your career goes on it's just as much about numbers—advances, sales figures, etc.—as it is about words."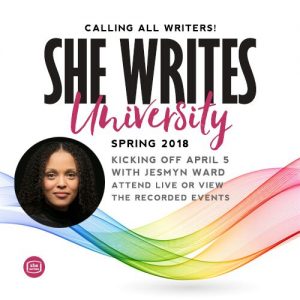 Why do you feel it's important to offer a writing class to other women writers through She Writes University?
It's important to teach women writers how to be successful in their field and She Writes University is a program that aims to empower them to get the most out of their writing careers. Accomplished author, Kirstin Chen, who's teaching a class on writing believable characters, had this to say about the importance of a female writing community, "I didn't understand how powerful and important it would be to have a community of women writers until I attended Hedgebrook, an all-women writers' colony, a couple years ago.
Since then, I have made sure to cultivate friends and mentors who are women writers. It's been so fruitful to be able to turn to them for guidance and support, and I hope that the women of She Writes University have the opportunity to form their own communities, whether it's online or in real life."
New York Times bestselling author Caroline Leavitt talks about the importance of a course like SWU, "…women are often marginalized in writing classes. We've been brainwashed to think that the "big" stories are men's stories, about war, or skydiving or something. But what is a bigger story than the moments of human connection? And who says a woman can't write about whatever she wants?… I want to support, challenge and cheerlead other women so they feel they can take risks and succeed—and I want them to know they can have a warm, supportive atmosphere in which to do it."
Women often times find themselves in competition with one another in the working world but authors Lisa Ko and Abigail Thomas agree that all women have a space to share their talent. Lisa Ko the instructor of a webinar on plot and story said, "Women writers have been my mentors and teachers, and I feel it's vital for us to support each other. Our stories are too important not to be told." While bestselling author, Abigail Thomas had this to say about women in writing, "It is VERY important for women to write their stories. She Writes has a very wide reach, and I'm excited to take part in this program."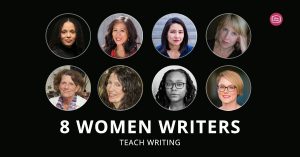 She Writes University is all about access and education. The online webinar format makes it easy to attend live or view the recordings on your own time, so you can fit the education around your busy schedule.
Margaret Wilkerson Sexton knows the importance of accessibility when it comes to writing courses, "For various reasons, I wasn't in a position to attend a formal MFA program but I learned so very much from conferences and other more flexible programs; not only were they more fitting for my schedule, they were more tailored to what I was focused on, so I could pick and choose subjects or teachers that were most relevant for my own work.
That type of focus was instrumental for me in finishing A Kind of Freedom and I see the She Writes University classes serving the same purpose for so many writers."
The new semester of She Writes University is right around the corner. Sign up now to ensure you don't miss webinars taught by Jesmyn Ward, Carly Watters, Caroline Leavitt and more. Purchase individual classes for $99 each or buy the 8-class bundle and save yourself some major cash. This is the biggest semester yet—you don't want to miss it.
Category: Contemporary Women Writers, How To and Tips, On Writing