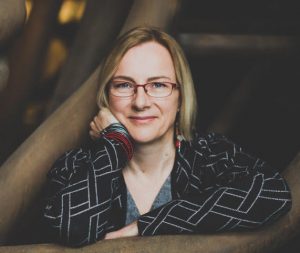 Writing is my passion, my therapy, and the way I process the world. Even as a child, I lived in my own headspace with stories that allowed me to imagine a bright future with alternating happy endings—depending on whether I wanted to marry Donny Osmond or become the next Charlotte Bronte.
After my young son was diagnosed with obsessive-compulsive disorder, my fictionalized world assumed a new role. I had completed one terrible manuscript and was working on a second—equally terrible—when a sexy character strolled into my head and refused to leave. His name was James Nealy, and he battled OCD. I ripped my manuscript apart to include him, and despite a famous agent pronouncing James too dark for a romantic hero, the new version became my debut novel, THE UNFINISHED GARDEN.
James evolved out of my darkest fear as a mother: What if, when my son grew up, no one could see beyond his irrational fears—obsessions—to love him for the incredible person he is? I owe James everything. Thanks to him, I found my niche: hopeful family drama with a healthy dose of mental illness. I create dark, tortured characters who battle invisible disabilities. I isolate them, put them in ever-worsening situations, and watch them scramble and then flourish, finding community, acceptance, and love. As each novel ends, my characters are starting a new story framed by hope.
That hope is represented by a recurring image of light filtering through the forest. (What can I say? I'm a woodland gardener.) Like my characters, I need hope to push over life's speed bumps. Hope helps me navigate family drama, mental illness, and the turmoil of dealing with long-distance, elderly parents in poor health (one an ocean away).
Many of my writer friends seek peace and calm to write. Not me. When life pummels me, that's when I open my laptop. My new release, THE PROMISE BETWEEN US, was a constant companion through a year of unbearable lows that culminated in the death of a young man who was part of our family. We were devastated, and I spent an entire day writing one sentence: "Grief was no place you wanted to be and no place you could leave." That sentence was my first step toward making sense of senseless tragedy.
How did I arrive at the realization that my two worlds—one real, one pretend—had a symbiotic relationship? Accidentally, and during another personal crisis. I landed my first pub. deal right before my fiftieth birthday. My son was in tenth grade, and his OCD had been in remission for three glorious years. A week after THE UNFINISHED GARDEN launched, he was curled up in a fetal position on my office floor. Full-blown OCD was back, and THE IN-BETWEEN HOUR was due on my editor's desk within a month. I negotiated an extension, but as I channeled my angst into editing the story, I discovered something miraculous: my emotional state had become rich compost for character research. THE IN-BETWEEN HOUR has a sequence of dark scenes, and I focused my energy on endlessly rewriting that thread, digging deeper until I'd given all my negative emotions to my heroine—a mother struggling to help her chronically depressed son.
By the time I'd moved on to what would become my bestselling novel, THE PERFECT SON, I was attempting to calmly navigate a flare-up of ongoing heart issues whilst secretly terrified (heart failure is genetic for me). It's no coincidence that the heroine has a heart attack in the opening chapter, nor that the story asks how a family survives without its emotional anchor.
ECHOES OF FAMILY is set in rural England because I was dreading a future in which I would no longer make bi-annual trips to my childhood village to see my mother; THE PROMISE BETWEEN US returns to OCD because my learning curve with the illness is steep. When I wrote THE UNFINISHED GARDEN, I believed OCD could be permanently vanquished. In the years that followed, I learned OCD is a chronic illness that demands constant management. One month before PROMISE's due date, my son and I undertook intensive treatment with his psychologist—a refresher course—and I was living, breathing, writing OCD. Some days I couldn't figure out where the boundaries between my two worlds lay, but had I approached them as opposing forces, the manuscript would have suffered. Writing about OCD is personal.
My fiction is powered by my emotional life as a wife, a mother, and a daughter. I produce my most authentic scenes when family stress corners me with anger, frustration, fear, or guilt—emotions I don't want to own, but have to process. Some days I'm trying to write a better story for myself; some days I'm seeking acceptance and healing. Always, I let writing be the cure.
—
Bestselling author Barbara Claypole White creates hopeful family drama with a healthy dose of mental illness. Originally from England, she writes and gardens in the forests of North Carolina, where she lives with her beloved OCD family. Her novels include The Unfinished Garden, The In-Between Hour, The Perfect Son, and Echoes of Family.  The Promise Between Us,  which shines a light on postpartum OCD, has a publication date of January 16th, 2018. She is also an OCD Advocate for the A2A Alliance, a nonprofit group that promotes advocacy over adversity. To connect with Barbara, please visit www.barbaraclaypolewhite.com, or follow her on Facebook. She's always on Facebook.
About THE PROMISE BETWEEN US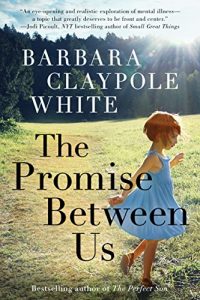 "This is an eye-opening and realistic exploration of mental illness—a topic that greatly deserves to be front and center." —Jodi Picoult, New York Times bestselling author of Small Great Things
Metal artist Katie Mack is living a lie. Nine years ago she ran away from her family in Raleigh, North Carolina, consumed by the irrational fear that she would harm Maisie, her newborn daughter. Over time she's come to grips with the mental illness that nearly destroyed her, and now funnels her pain into her art. Despite longing for Maisie, Katie honors an agreement with the husband she left behind—to change her name and never return.
But when she and Maisie accidentally reunite, Katie can't ignore the familiarity of her child's compulsive behavior. Worse, Maisie worries obsessively about bad things happening to her pregnant stepmom. Katie has the power to help, but can she reconnect with the family she abandoned?
To protect Maisie, Katie must face the fears that drove her from home, accept the possibility of love, and risk exposing her heart-wrenching secret.
Category: On Writing