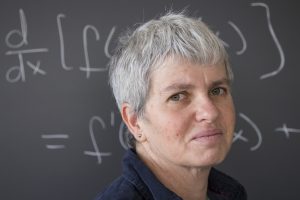 My first reader review of But My Brain Had Other Ideas: A Memoir of Recovery from Brain Injury appeared within a week of the book's release. It was from the father of a brain injury survivor. He wrote,
". . .her journey. . .gave me insight, from an adult perspective, . . .[and] reference points to help better parent and understand my child who has so far survived three brain surgeries. Thank you for your insights and explanations! A must read for any families going through similar times!"
This was why I wrote my book: to help fellow survivors, their loved ones, and anyone who crossed their paths.
I have cavernous angiomas, clusters of malformed blood vessels in my brain. Two had bled, causing neurological symptoms that shredded my life. I couldn't drive, I couldn't work. I couldn't be the mom I wanted to be. Reclaiming my life involved three brain surgeries to remove the angiomas that had bled. The surgeries, while successful, left me with neurological deficits and other life-changing symptoms, including excruciating headaches, seizures, crippling fatigue, and short attention span.
From the beginning but especially as I passed from "immediate aftermath of injury and surgery" to "this is my new life," I felt lost and alone. I had no idea how to walk this new road and no one to guide me in this new life. I searched the internet and pored over books, but everything was about crisis and acute recovery.
What I needed were first-hand accounts about long-term recovery to guide me, and there weren't any.
I decided to write about my own experiences as I bumbled along, hoping that writing would help me understand what had happened, where I was going, and how I might get there. Perhaps my writing could help other brain injury survivors too, and those who loved and cared for them.
As I wrote, I realized I wanted to reach a broader audience. I wanted to raise awareness of the implications of brain injury and remove the stigma associated with it. I wanted the world to know we are not malingering, we are not lazy, we are not drama queens. We are simply exhibiting bona fide symptoms of brain damage.
To reach that expanded readership, I needed to write more effectively, which meant improving my writing skills.
Due to my neurological deficits, I can't attend typical classes, workshops, and conferences. My only option was to work one-on-one with a writing coach. I found Judy Fort Brenneman, who is a fantastic editor and superb teacher. She transformed me from an "eh" journal writer to the author of a memoir I am proud of—a book that even in these early months since publication is already accomplishing what I'd hoped for.
Many authors told me that during book events, most questions would be about writing the book.
The standard, "Why did you decide to write a book?"
The dreaded, "How long did it take?"
The frustrating though understandable, "I want to write a book. What advice do you have?"
But at my events, most questions are about my story—my recovery and life with brain injury. People have thanked me in person, by email, and through social media for writing the book, including some who had never knowingly encountered brain injury survivors.
According to one reviewer, I achieved all my goals and then some. "What a well written, fascinating book! Of interest not only to those dealing with brain injuries but anyone struggling with physical illness or impairment—or anyone with a loved one dealing with medical issues, which would be almost everyone I know! Compelling and hard to put down."
She wasn't the only reader who noted that my memoir was a well-written page turner. Like every writer I have met, I often doubt my skill. We all need validation, and learning that readers thought highly of my writing skills elevated my joy to another level.
You'll be happy to know that all that praise did not go to my head; I still doubt myself, worry about my writing skills, fret about future projects. Will I be a one-book wonder? Will my next book fall flat?
But I don't allow doubts to get in the way of writing. I am a writer, and (as my coach likes to remind me) writers write.
One does not fully recover from a severe brain injury. My new, more fulfilling life comes at an often-heavy price, paid with debilitating headaches and severe fatigue, which exacerbate my neurological deficits.
I must pace myself, carefully selecting my activities day by day, hour by hour. But no matter what, I will not, I cannot, cut back on my writing.
I am a writer, and I write. As a brain injury survivor, I know the purpose that drives my writing. As a published author, I'm discovering the joy that comes from seeing that purpose fulfilled. I'm discovering that there's nothing more gratifying than connecting with readers and hearing about the difference my stories have made for them.
My current projects include a collection of essays accompanied by images by art photographer Charlee Brodsky. This new work-in-progress focuses on my life now: stories emphasizing my life with brain injury, rather than recovering from it.
I have many stories yet to tell. Time to get writing!
Deborah Brandon, PhD has been a professor in the Mathematical Sciences Department at Carnegie Mellon University since 1991. She has participated nationally and internationally in dragon boating. She is a mother, a writer, and a respected textile artist, as well as a brain injury survivor.
Her essays have appeared in several publications, including the Weave A Real Peace newsletter, where she has a regular column; Dragon Boat World International, HandEye Magazine, Logan Magazine, SIAM Journal of Mathematical Analysis, and Journal of Integral Equations and Applications. Her books include Birth and Rebirth: Textile Techniques from Around the World. Brandon is an active blogger and regularly participates in social media platforms, including Facebook, where she discusses brain injury and its impact.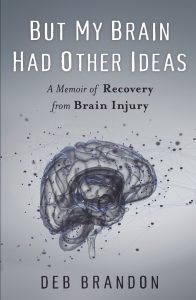 When Deb Brandon discovered that cavernous angiomas―tangles of malformed blood vessels in her brain―were behind the terrifying symptoms she'd been experiencing, she underwent one brain surgery. And then another. And then another. And that was just the beginning.
The book also includes an introduction by Connie Lee, founder and president of the Angioma Alliance. Unlike other memoirs that focus on injury crisis and acute recovery, But My Brain Had Other Ideasfollows Brandon's story all the way through to long-term recovery, revealing without sugarcoating or sentimentality Brandon's struggles―and ultimate triumph.
Category: On Writing