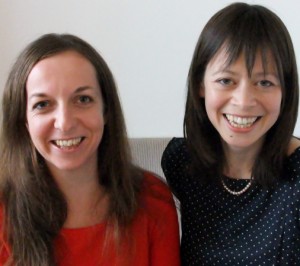 We have always felt fortunate to have found each other. Ever since meeting as young English teachers in rural Japan, when we talked of our literary ambitions over bowls of noodles and bottles of Asahi, we have shared both the uphill struggles and delightful discoveries of each other's creative journeys. But we only recently realised that some people find our friendship strange.
When we were interviewed by a literary magazine, we mentioned our writing weekends: mini-retreats of shared solitude, when we work in separate rooms but meet up for slap-up meals and glasses of wine. The editor, a fellow author, couldn't hide her surprise: 'What do your partners think? Isn't it a bit intense?'
If we let slip that we sometimes write literary features together – sitting at one desk side by side, quibbling over quotes and cadences until we eventually agree on each and every line – we invariably get the same response: But why?
We trot out what have swiftly become our stock responses: we challenge and understand each other; a supportive partner gets this; we find it fun.
Lately we've begun to wonder why other people seem to find our relationship so eccentric. After all, there's nothing new about two writers firing each other's creativity. Just think of Byron and Shelley, Coleridge and Wordsworth, or Fitzgerald and Hemingway.
When we began to enumerate the most famous of literary friendships, we realised that we had no female role models: Who was Jane Austen's writer friend? Did George Eliot confide in a fellow author?
We'd heard about the loyalty of Austen's sister and Eliot's scandalous relationship with a married man, so it seemed strange that we knew very little of their pals.
And yet, when we racked our brains, we realised that we knew plenty about the platonic relationships our writer heroines shared with their male counterparts: Stein and Hemingway, Wharton and James, Bishop and Lowell.
But we felt sure that, like us, some of our predecessors must have relied on a fellow female writer. Why has friendship between women so often been written out of literary lore?
In an attempt to answer this question, we've launched Something Rhymed: a website that aims to unearth and profile a different pair of famous female author pals each month throughout 2014.
The first women we've featured are Katherine Mansfield and Virginia Woolf, a duo who are all too frequently remembered only as bitter rivals. We wondered why Woolf's scathing first impression of Mansfield as 'a civet cat who had taken to street-walking' is far more famous than Mansfield's assertion that reading her friend's prose made her feel proud.
The pair did come to think of themselves as friends: they sought each other's opinions on the books they traded; they exchanged gifts of Belgian cigarettes; and discussed their work over tea.
Their recognition of each other's literary prowess pushed them to improve even further. During their years of friendship, Mansfield produced most of her celebrated stories, and Woolf forged her trademark style.
These creative births were not without labour pains: their relationship was full of jealousies. But, ultimately, their stimulating friendship accommodated both support and rivalry, criticism and praise.
So why is it that Wordsworth and Coleridge, who had a similarly combative relationship, have gone down in literary legend as friends, whereas Mansfield and Woolf are largely remembered as foes?
Perhaps it is because popular ideals of female friendship rarely allow for rivalry, whereas it is considered only natural that men should compete? Perhaps friendship between women is still thought of as subversive: revealing that her loyalties might extend beyond husband and family; suggesting that together we might make greater inroads into the inequalities we still face?
At this early stage we still have far more questions than answers. With each pair we find to profile, we hope to come closer to answering our initial question: 'Why has friendship between women so often been written out of literary lore?' Or at least to have generated more questions.
What's more, we're hoping that the discovery of female role models will help us to navigate a new and potentially tricky phase in our own friendship.
Ever since first sharing our literary ambitions over those bowls of noodles, our careers have grown in tandem. But now, both nearing the end of novel drafts, we fear that the coming year could put new pressures on us. Wary of the dangers of artistic rivalry, we are keen to glean tips from our literary heroines on how to sustain an invaluable friendship.
This gave us the idea to challenge ourselves to complete an activity based on a prominent feature of each friendship we profile. This month, for instance, we've been influenced by the many letters that winged their way between Mansfield and Woolf. We've followed suit, writing to each other in good old-fashioned pen and ink, and posting up pictures of our correspondence on Something Rhymed.
We'd love our blog followers to prioritise their literary friendships this year too, by rising to each month's challenge alongside us. We've already been delighted by the number of fascinating female writing friendships that our readers have suggested, and we're keen to learn of more. Please do leave a comment on the site if you have any favourites. We're still convinced that many of our literary ancestress must have had female author friends – after all, by the very act of writing, these trailblazing women had risked being branded as 'strange'.
—
Emily Midorikawa

Emily Midorikawa grew up in Yorkshire. She is a half-English, half-Japanese writer of novels, short stories and non-fiction. She has an MA in creative writing from the University of East Anglia and her work has been published in, amongst others, Aesthetica, Mslexia, the Telegraph, The Times and the UEA anthology Otherwheres.
Her as-yet-unpublished first novel A Tiny Speck of Black and then Nothing came joint-third in the SI Leeds Literary Prize 2012, third in the Yeovil Literary Prize 2013, and was long-listed for the Mslexia Novel Competition 2013.
Emily is one of the writers involved with Tangled Roots, a literary project that celebrates the stories of mixed-race families from Yorkshire. With her writer friend Emma Claire Sweeney, she runs the website Something Rhymed, which profiles the literary friendships of famous authors.
Emma Claire Sweeney
Emma Claire Sweeney won an Escalator Award back in 2005, after graduating with distinction from UEA's Creative Writing MA. Her fiction has also been granted Arts Council and Royal Literary Fund Awards, and has been shortlisted for several others, including the Asham, Wasafiri and Fish. Most recently, she has been published in The Times, Mslexia, and The Independent on Sunday. She is represented by Veronique Baxter at David Higham and is currently completing The Waifs and Strays of Sea View Lodge – a novel inspired by her autistic sister.
Last year, Emma Claire published The Memoir Garden – an Arts Council sponsored collection of poems comprising the words and experiences of adults with learning disabilities.
Having co-written literary features, this year Emma Claire and her long-standing writer friend, Emily Midorikawa, launched Something Rhymed – a website about literary friendship.
Category: Being a Writer, Contemporary Women Writers, On Writing