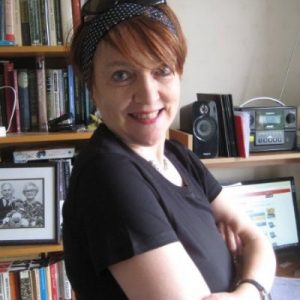 I am from a working class Irish family in Manchester. My parents –  like many who came over and settled here – brought with them an oral tradition, and  when our extended family gathered together in our small living room,  they told stories, sometimes sang and danced,  and often argued!. When I started scribbling stories as a child my mother watched me,  amazed,  and commented; "you can be a writer, buy a car,we can travel to Rome." Why Rome? Well she was Catholic,  she had no intention of returning to Ireland , and Rome sounded a much more exciting place!
It was only when I escaped this Celtic twilight and went to university that I met a more middle class group of people and  I realised how different my family were. But working and living in Liverpool –  dubbed "the capital of Ireland" – I found myself accepted without any explanation by the Irish there, with my dark hair, green eyes and saint's name of Bernadette.
Returning to Manchester, I became active in the Irish community and part of a renaissance in the 1980s of second generation Irish children who loved black music from the Four Tops to Bob Marley, films by Irish filmmaker Pat Murphy and Manchester writer Jim Allen,  and books by lesser known Irish writers such as Maura Laverty and London-based Maude Casey.
My writing reflected the changes in the Irish community,  and I wrote for national papers from the Irish Post to the Guardian, as well as numerous women's magazines. My day job was as a careers adviser,  which included researching and writing everything from flyers to local labour market updates for colleagues and young people.
In 2015  my first book Northern Writers; Conversations with Radical Women was published by the Mary  Quaile Club. Because of my writing, I felt I had enough contacts to feel confident about promoting and selling the book myself,  as well  publicising it through the internet,  which could get to audiences often ignored by the mainstream media.
In this book I reflected on my own identity as a second generation Irish woman and the way in which this had led me into Irish community politics,  as well as trade unionism and activity on issues such as peace and abortion. My own story, and that of some of the women I interviewed, reflected the way in which many women, particularly working class or politically active women are often marginalised in histories of campaigns or communities.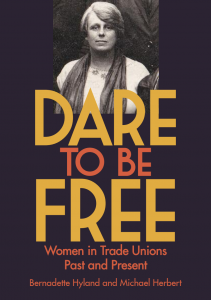 I was one of the founders of the Mary Quaile Club; an organisation  set up to promote the life of a neglected  Manchester Irish trade unionist,  and also to reach out to a an  audience of working class readers and activists,  particularly in the trade union movement. For our second publication in 2016 we  produced a history of Mary's life  by radical historian Michael Herbert, Dare to Be Free:  Women in Trade Unions Past and Present, which showed how a woman from an immigrant Irish background went on to become one of the most prominent women trade unionists in Britain.
In the second part of the pamphlet I interviewed ten modern Marys, who like myself had followed in her footsteps, challenging inequalities of pay and condition for women. The women ranged from Jane Stewart of Unite the Union,  who is on the union's national executive,  to new activists such as Lorna Tooley,  who works for the London Underground and is the branch secretary of the RMT.
In the UK in 2016 the lives of women have deteriorated considerably, due the destruction of the public services – of which two-thirds of its workers are women – to massive cuts in benefits and increasing discrimination against  pregnant women and women with children. During her lifetime Mary Quaile had seen the lives of women improve massively,  particularly after the Second World War,  with  the creation of the Welfare State. She lived in a time of hope,  and speaking at various meetings abour Mary, it struck me that we were going to have to re-learn all the strategies she, and her trade union  colleagues, had adopted.
When I  spoke at a meetings of her union, Unite, one of the main responses by the women was; "why don't we know about her?" Sadly this reflects the way in which many organisations including trade unions, have marginalised or written out of their histories women such as Mary. An example of this is that in the Mechanics Institute in Manchester, the birthplace of the TUC in 1868, there is a room named after Mary Quaile. It is a room I have sat in many times at meetings but  no-one knew, until now, who she was or why she is the only woman in that building to have a room named after her.
My  father wanted his children to know about their history, to value and respect it, and also to use it to feel confident enough to carry on a tradition of caring about your neighbour, your colleague at work and the wider world. History is about setting people free to make changes in their own life,  as well as the world. Mary Quaile's life shows how it can be done.
At a recent meeting of women trade unionists we discussed about how they could write up their experiences. I suggested writing a blog,  but many of the women felt that they did not have the time. However  one of the younger women poured scorn on this, (as you you do when you are in your twenties!) and suggested using an app on your phone to write a couple of sentences each night. The conversation moved on to the idea of women getting together to form a writing group where collectively they could produce short stories of their lives.
There are many stories out there to be told and many books unpublished, I hope my experience will encourage and inspire many more women to believe that they too can be a writer.
—
Bernadette is a writer and researcher. Her books include Northern ReSisters Conversations with Radical Women,  and she co-wrote Dare to Be Free: Women in Trade Unions,  Past and Present. She writes the popular blog Lipstick Socialist, commenting on issues including women, class, history and culture, as well as writing for a variety of national newspapers and local magazines. At the moment she is involved with the Transcription Project of the Manchester and Salford Womens TUC, a unique organisation which existed 1895-1919. She is a member of the Manchester and Salford NUJ.
Find out more about her on her website https://lipsticksocialist.wordpress.com/
Category: Contemporary Women Writers, On Writing