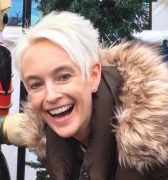 I always feel a bit guilty when people ask me about my writing 'process'.
It's the same when people ask me about Game of Thrones.
Confession: I don't really have one and I've never watched a single episode (sorry GOT fans!).
Basically, I just sit down somewhere – anywhere – and write.
I don't even have a desk or an office. If I'm at home, I'll sit amidst the debris of colouring books, naked Barbie dolls and dried-up Play-Doh at the dining table. More often these days, I have the luxury of walking down the road and sitting in a coffee shop to write. And that really is a luxury. Something I could only dream about when I was walking dogs for a living.
I think that's why I don't really have a process. For years, I had to fit my writing around other things. When I wrote The Chalk Man I was running a dog-walking business so I was out, chasing dogs around muddy fields, for hours every day. When I was at home, I was chasing my two-year-old daughter around the house!
I crammed the writing in any moment, anywhere I could. Early morning. Late at night. My partner became so used to staring at the back of a laptop, I'm surprised he can still remember what I look like. I even used to prop my laptop on top of the loo so I could write while I gave my little girl a bath!
Although it was hard at the time, in hindsight, I think that lack of structure was a good thing. It taught me to be flexible and fast. To focus amidst chaos. I simply didn't have the time to write up detailed chapter plans or character notes – I'd never have got past the first page! As it was, I had a rough draft of The Chalk Man written in about six months.
The idea came from a tub of coloured chalks a friend bought for my daughter's second birthday. We spent the afternoon drawing stick figures all over the driveway. Then we went in and I forgot about them. Later that night, I opened the back door and was confronted by these weird chalk drawings everywhere. In the darkness, they looked incredibly sinister. I called out to my partner: 'These chalk men look really creepy in the dark. . .'
'Ping' went a light bulb in my head!
The next day I started writing. Almost straight away I had the premise: a group of children in the eighties invent a game – drawing chalk figures on the ground to pass secret messages. But the game turns sinister when the figures start to appear on their own and lead them to the body of a girl. Thirty years later, the protagonist, Ed, receives a letter containing just two things: a drawing of a stick figure and a piece of chalk . . .
It's a very dark, creepy thriller. I like dark and creepy. I grew up reading Stephen King and James Herbert. I think I skipped the Judy Blume phase. Conversely, I'm a very cheery, positive person. I guess all the dark stuff comes out in my books!
Even though I have more time to write now, my approach is the same. Sit down, dive in headfirst. I like the excitement of starting with that first sentence, that first scene and seeing where it takes me. I enjoy the journey. Finding my way as I go along. Discovering the characters, taking diversions I didn't foresee when I started. Sometimes, I go the wrong way but, for me, that keeps it interesting.
The thing is – it's so easy to find reasons not to write. To procrastinate. To give yourself get-outs. But there is no perfect time to write – in the day, or in your life. You don't need a fancy office or an expensive laptop. You don't need posh notebooks or pens. You don't need your coffee roasted a certain way or a special blend of herbal tea in a china cup. All those things are distractions.
You just need to get words on the page!
That doesn't mean you shouldn't have those things if they make you happy. You should write any way you want. Plot and plan till the proverbial cows come home if that's what works for you. Go sit in a log cabin and play whale music surrounded by scented candles. Why not? I would never dream of telling anyone else how they should write. We all approach it in different ways.
But I'm not a fan of mystifying the writing process or being too precious about it. Basically, as an author, you make up stories. That's all there is. And it's blooming brilliant! I feel massively privileged to be able do this full time now.
And these days, I don't have to write on the loo!
—
J. Tudor was born in Salisbury and grew up in Nottingham, where she still lives with her partner, young daughter and a growing collection of skulls (sadly, not real).
Over the years, she has had a variety of jobs, including trainee reporter, waitress, radio scriptwriter, shop assistant, voiceover, television presenter and copywriter.
She was working as a dog-walker when she had the idea for The Chalk Man, writing the book in between chasing wet dogs around muddy fields and looking after her little girl.
Her love of writing, especially the dark and macabre, started young. When her peers were reading Judy Blume, she was devouring Stephen King and James Herbert. Her English teacher once told her that if she didn't become a successful author he would be 'very disappointed.'
That was thirty years ago.
He may also have told her to turn her homework in on time.
Follow her on Twitter @cjtudor
and Facebook https://www.facebook.com/CJTudorOfficial
About THE CHALKMAN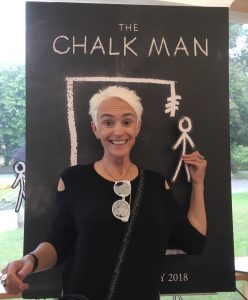 Looking back, it all started on the day of the fair and the terrible accident. When twelve-year-old Eddie first met the Chalk Man.
It was the Chalk Man who gave Eddie the idea for the drawings: a way to leave secret messages between his group of friends.
And it was fun, to start with, until the figures led them to the body of a young girl.
That was thirty years ago and Ed thought the past was behind him. Then he receives a letter containing just two things: a piece of chalk, and a drawing of a stick figure. As history begins to repeat itself, Ed realises the game was never over . . .
Everyone has secrets.
Everyone is guilty of something.
And children are not always so innocent.
Category: Contemporary Women Writers, How To and Tips