When Judy Pollard Smith came across an article on missionary Alice Seeley Harris, whose photographs brought down the Belgian Congo, she couldn't believe she'd never heard of her before. Intrigued, she began to research, which led to her writing a biography of Alice, the woman she calls the mother of all human rights work.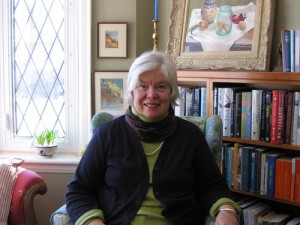 This was going to be an experiment for me. I'd never tried to write a novel before. Novellas, yes. Those I have tried. I like the word counts of novellas. At twenty thousand words they aren't nearly so threatening as The Novel.
Unlike the sixty thousand word novel, they aren't big enough to be in need of their own little red wagon for transport. And unlike The Novel, they don't keep you writing for five years.
The tale I was about to tell would meet the word-count mark halfway, I decided. I'd aim for forty thousand words and see where that got me. It worked.
As I typed the final word into the manuscript I knew I'd said what needed saying. There was nothing left to add. It was time to cut the story loose, to let it stand on its own feet and press SEND.
And I did.
I was concerned that this woman, this Alice Seeley Harris who had gone off to Congo from England in 1898 as a naïve, unsuspecting missionary-soon-to-become-photographer-and-the-Mother-Of-Human- Rights-in-my-opinion, had left little trace of her personal self behind her. And I was right about that. She hadn't.
Textbooks in the Bodleian Library and Regent's College Library at Oxford and at The London School of Economics are chocked full of references to the men in the Congo rubber trade story. You will find mere mention of her. In the more generous attributions she is named as the "wife of" Sir John Hobbis Harris and at other times as "a missionary who took photos in King Leopold's Congo".
In my heart I knew there was much more to this Victorian woman who had died in 1970 at age one hundred. I set to work. I reasoned that if she lived that long she must have left traces in several places.
But how to put flesh back on bones? How to make Lady Alice come back to life? The quest to make the dead arise intrigued me. If our writing ideas are not framed in passion then they are not framed at all. My heart burned to know more about her. My research lead me on a thrilling, circuitous dance.
With the help of an internet search I found a relative in England and contacted him. I was able to meet with him and although he had no clear memory of her he was able to supply me with the BBC recording of an interview on her one hundredth birthday. I took careful notes. That small story was the first clue as to how Lady Alice thought.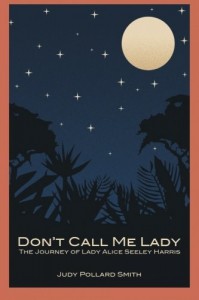 From her descendant I discovered that she had been born in Malmesbury England. There was an Abbey there, I had been told and I contacted the Abbey bookshop for help. I bought a wonderful book on the design and interior of the Abbey. At one point in her life she was probably in that Abbey, I surmised. Even better, I read that the words etched in glass under an Abbey window read Faith. Courage. Devotion.
What a gift for writing Creative Non-fiction! I knew I could use those words as her mantra in the tale that I believed needed to be told.
Her father, I found out, managed a silk-mill. Another gift! How could I use the ribbons he produced as metaphor, to tether the varying parts of her life story to one another ? And then, what kind of ribbons were produced in that era? Grosgrain, satin, silk; all to adorn the throats of Victorian womanhood. I knew I could use that too.
Further inquiries led me to Factory Acts in Britain at that time. Since Alice's life as an adult would become entwined with the cruellest form of slavery how did it affect her as a child, to see child slavery going on under her own eyes? Or was that the catalyst for her future work?
There were further threads to follow. The threads of her life were running riot everywhere, all over the map it seemed. A Professor from Buffalo met me for lunch to discuss his own research into Congo Reform. A man in England who runs a Historical Society sent me helpful e-mails about geography/old newspaper accounts/ historical details, as did the man who had written about the Rev'd F.B. Meyer who had been her inspiration for Congo. The Quaker Library in London sent me information. A woman in a Horticultural Society in Somerset told me what kind of plants grow at what time of year.
What had seemed an impossible quest was now becoming possible. I was channelling my inner Miss Marple.
Each small gem of information grew into an entire treasure chest of new thoughts and ideas.
I felt I knew who Lady Alice was.
And I knew her so well that I decided I could speak for her hence I did something I've never done before. I wrote most of her story in her own voice, in First Person, as if she was speaking directly to the reader about her experiences. After all, wasn't my main concern to give this forgotten woman a voice?
Nourish each tiny gem that research brings you. Those nuggets will wiggle their way into your writing in the most surprising of ways.
Just knowing that Alice wore a cream satin gown on her wedding day and carried Orange Blossom still makes me smile.
—
Judy
Pollard Smith's articles, short stories and book reviews have been in newspapers and magazines for twenty-five years. She lives in Ontario in a cosy cottage with her husband.  Find out more about her fascinating book
here
Category: Contemporary Women Writers, On Writing