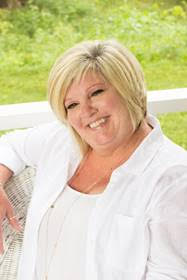 Aimee Ross is a nationally award-winning educator who has been a high school English teacher for the past twenty-five years and who will publish Permanent Marker: A Memoir in March 2018.
She completed her MFA in Creative Non-Fiction Writing at Ashland University in 2014, and her writing has been published on lifein10minutes.com and www.SixHens.com, as well as in Beauty around the World: A Cultural Encyclopedia (ABC-Clio, 2017); Scars: An Anthology (Et Alia Press, 2015); Today I Made a Difference: A Collection of Inspirational Stories from America's Top Educators (Adams Media, 2009); and Teaching Tolerance magazine. You can follow Aimee at aimeerossblog.wordpress.com.
How did writing your memoir and reliving your most painful experiences—a divorce, a heart attack, a near-fatal car crash—affect you? Did it feel therapeutic, or was it harder than you anticipated?
I've been working on this for more than six years, to tell the truth. When I first started writing, it was only about the accident. Before I knew it, the story of my divorce and heart attack was bubbling out of me without control. Within months, I realized that even though I'd chosen to get divorced, the heart attack and accident just happened to me; my first reaction was that karma was paying me back. Guilt made me wonder if I'd deserved all of what happened, and ultimately, that's when I started asking the bigger questions of myself through writing that most definitely—as the book explains—became my therapy. I cried a lot and processed a lot. And thank goodness, because it worked. (But I've always believed in writing as a cathartic, insightful experience, as a veteran English teacher.)
Which writers and works inspired you to put your own story on paper? Who has influenced your writing style?
Darin Strauss's Half a Life and Elizabeth Gilbert's Eat, Pray, Love both inspired me. Strauss experienced a traumatic accident as well, and as a result, he dealt with his guilt through writing his memoir—I took strength from that. Early in Gilbert's book, she briefly writes about the end of her marriage, and it has always stuck with me.
My younger sister is a humor writer, and she's been influencing and guiding my writing for years, no matter whether I was working on an essay, a lesson plan, a presentation, or an application. I'm also a huge fan of Abigail Thomas's writing style, which I studied during my MFA. She writes almost conversationally, and she experiments with voice and chronology (or lack of) brilliantly. Both Jill Christman's (Darkroom) and Cheryl Strayed's (Wild) writing also have influenced my style, and not just their books—both women are prolific essay writers with unique, straightforward creative voices.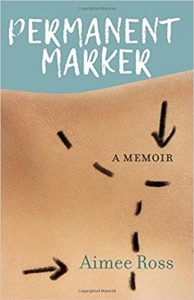 What makes a great memoir? What advice would you give to other aspiring authors who might be struggling to get started with a memoir?
A great memoir, no matter the writer's experience, makes you feel as if you have been through it with her. Not only does the writer have a voice that's relatable and realistic, her story has universal qualities that help you identify with it while making you feel something.
After hearing the same advice over and over again, from editors, writers, and publishers alike, I decided, "Hey, maybe they all know something I don't (duh, Aimee)," so here it is: Figure out the story you want to tell and why it needs to be told. Then get it all out in writing. Every bit of it. After you do that, then you look for patterns and similarities and gaps, or ways you could experiment or change the structure.
What's on your nightstand now?
The Canterbury Sisters by Kim Wiley. I have been teaching British lit at the twelfth-grade level for umpteen years, and Chaucer's masterpiece has made its way into my lesson plans more than a dozen times. How could I pass up this chick lit about a group of women traveling to and from Canterbury on foot—in today's world—while telling tales to pass the time?
Scandalous Women: The Lives and Loves of History's Most Notorious Women by Elizabeth Kerri Mahon. I'm a woman. I have lived and loved. And I may or may not have been—or attempted being—scandalous a time or two. I'm also fascinated with history, as well as those who influence it, and what their experiences have been.
The Men on My Couch: True Stories of Sex, Love and Psychotherapy by Dr. Brandy Engler. The title says it all, so why am I not done with this book?
The Virgin Suicides by Jeffrey Eugenides. A few of my students read this for an in-class book club and really liked it, so I decided to add it to my Kindle.
What was your favorite book when you were a kid?
Heidi by Johanna Spyri. I have a feeling that my love for this book went hand in hand with the Shirley Temple movie version I saw in my childhood. Orphaned girl goes to live with grumpy grandpa, then leaves, cares for her sick, pretty cousin, who ultimately gets well again, and they all live happily ever after.
Also, I loved any version of Cinderella, but especially Disney's.
Who are your top five authors?
William Shakespeare: This classic genius must be on my list. I read his sonnets and Othello every single year, never tiring of his voice or word-craft.
Ernest Hemingway: His concise, journalistic writing style has influenced the profession more than any other writer in America. And who can help but romanticize him as the quintessential male writer who dominated even his own larger-than-life life?
Anita Shreve: Her tales, sometimes historic and always well-researched, are also beautifully literary and thoughtful.
Abigail Thomas: Her non-fiction writing—honest, real, and unconventional—has influenced my own writing more than anyone else has.
Jill Christman: She's not just a brilliant writer of our time, but also my post-graduate thesis advisor and professor extraordinaire. I would read anything Jill writes, because I know it will be candid, intelligent, sensitive, thoughtful, and laugh-out-loud witty.
Are there any books you've faked reading?
Watership Down by Richard Adams and Robinson Crusoe by Daniel Defoe: I co-teach a history/reading elective course, and the other teacher chose these books for our class. I tried…I really did…but blech. Also, almost anything written by Joseph Conrad (college summer class: Studies in a Major Author. I had no idea it would be Conrad when I signed up).
What books are you always persuading people to read?
The Road by Cormac McCarthy. Yes, I know it's horrifying and post-apocalyptic. And yes, I agree, it's devastatingly sad—yet poetic. But it might be my favorite book of all time (and one of the only books ever to make me cry). I love this book so much, I must teach it, and for so many, many reasons. I dare anyone with a son or a father to read this and try not to get the feels.
The Catcher in the Rye by J.D. Salinger. The average teen today will tell you he doesn't "get" this book, but then in discussion he'll come to the conclusion that Holden Caulfield is, in fact, an average teen (of his time). Holden's story gets a bad rap, because it's a great one—and ultimately, I think we can all identify with him.
The Turn of the Screw by Henry James. When I first read this book in college, I knew I had to teach it. Amidst the ambiguity of a governess who might or might not be crazy, two children who might or might not be definitively evil, and ghosts of servants who might or might not be real, a delightfully haunting Victorian tale emerges. Unfortunately, I just can't get students to agree about this book's greatness.
What book did you hide from your parents?
Wifey by Judy Blume. My junior high friends and I had traded around Blume's book Forever the few years prior because it delved into teenage sex (and how!), so when Blume's next sexy book, Wifey, got dropped into my lap, I knew I had to read it. Even though my parents really wouldn't have cared if they'd caught me reading Forever, Wifey was about…grownup sex! And there was no way I was going to let them find me, a church-going prude, reading literature classified as "erotic." So I hid it, sometimes re-reading passages several times over, enjoying every last word of it!
Has a book changed your life?
The Awakening by Kate Chopin. I think I was in my early to mid-30s when I read this book on the recommendation of an Advanced Placement student of mine. I gobbled up the turn-of-the-century story of Edna Pontellier in just a couple of days one summer, moved with the realization that maybe I wasn't alone: Other women—even across time—also questioned their marriage (and sometimes motherhood) while flirting with possible other relationships. I felt connected to Chopin's ground-breaking feminist novel in a way I needed at the time, a way that brought comfort like confiding in a friend might.
What are your favorite lines from a book?
"All things of grace and beauty such that one holds them to one's heart have a common provenance in pain. Their birth in grief and ashes." – The Road by Cormac McCarthy
"The world breaks everyone and afterward many are strong at the broken places." – A Farewell to Arms by Ernest Hemingway
"Remember that wherever your heart is, there you will find your treasure." – The Alchemist by Paulo Coelho
These lines speak to the person I used to be and the person I am today. Seven years ago, I survived a divorce, heart attack, and fatal car crash all within five months of each other. I thought I would be forever defined by those tragedies…until I found new love and renewed passion for the classroom.
What's a book you most want to re-read?
The Time Traveler's Wife by Audrey Niffenegger might have been the book that actually started me on the existential journey I continue today. What an intelligent, twisted, and enchanting love story! I am not a fan of science fiction, but as this time-traveling husband moved back and forth unpredictably through his relationship with Clare, I couldn't help but fall in love with them both.
What is the most beautiful book you own?
Me by Ricky Martin. I LOOOOVE Ricky Martin. And ever since his book came out (along with him) in 2010, it's been the most aesthetically pleasing one I own. Have you seen the cover? Have you seen Ricky Martin? Beautiful.
Category: Contemporary Women Writers, Interviews