As if being a National Magazine Award winning freelance journalist, foodie columnist (check out these recipes. Yum! Blueberry clafoutis anyone? Sesame-ginger noodle salad?), all-around cool runner/sister/wife/mother, and cancer survivor weren't enough, Karma Brown became an international bestselling author with her debut novel. COME AWAY WITH ME is a heartbreaking and emotional story of one woman's discovery that life is still worth living, even if it's not the life you planned.
Karma's second novel THE CHOICES WE MAKE is a powerful tale of two mothers, one incredible friendship and the risks we take to make our dreams come true, and WomenWritersWomen['s]Books is thrilled to support the release of this beautiful, important story. [Advice: Have tissues close. This interviewer didn't make it past the Author's Note before reaching for a box. Your heart will break and swell repeatedly.]
Thank you for joining us, Karma. We are thrilled to have you.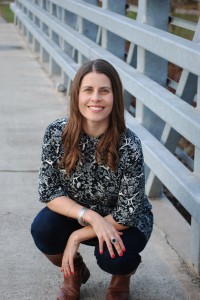 Let's start from the beginning, your beginning.               
Where did you grow up? How did it impact the woman you've become?
I grew up on a farm in Ontario, Canada, with my hippie parents and younger sister. It was an idyllic childhood – we helped my mom with her vegetable garden, tapped our property trees to make maple syrup, had pet ducks and rabbits and egg-laying chickens, and had plenty of land to explore.
My parents didn't have a lot of money, and in many ways we lived off the land, but it was a happy time. Without question my parents, and our lifestyle, instilled in me the values of hard work, responsibility, curiosity and finding joy in life. All wrapped in a big, warm hug! (I did mention my parents were hippies, right?)
What were you like as a kid? A teen?
I was (and am) a voracious reader. I used to hide under my covers with a flashlight long after lights out, reading my latest book, and the library stacks were a favorite place to visit – my mom used to drop my sister and me off at the local library while she grocery shopped, and those were the best days!
I've always been curious, interested in what makes people tick and the differences between us – in high school I interned at our local newspaper, and even had my own byline. It was thrilling, and even then I loved taking my curiosity about the world and turning it into a story. My parents would probably say I was a "good" kid – I was never the rebellious type, and am hoping my daughter follows in my footsteps when she hits her teen years!
Favorite word?
Shenanigans. I try to squeeze it into my writing whenever I can.
Favorite food?
Cheese. For me it's an entire food group, and my "take it to a desert island" thing. Starbucks carries this very strange Moon Cheese snack – basically dehydrated cheese balls, I know it sounds disgusting – that I'm bizarrely addicted to. Sometimes I think about it while I'm writing, wishing I had a few of those crunchy little cheese balls…
Hidden talent? 
I have a couple of useless talents. One, I can make my tongue go in a clover-leaf pattern, and two, I can balance a salt shaker on its edge – my daughter is delighted by both, and has taught herself the tongue trick and is working diligently on the salt shaker thing.
THE CHOICES WE MAKE is not autobiographical but it does borrow from your personal experience. How so?
My sister was our gestational carrier, meaning we provided the bun and she provided the oven. So my daughter is biologically ours, whereas in The Choices We Make, Kate is the biological mother as well as the surrogate mother.
In some ways this novel is a (very long) thank-you note and love letter to my sister. While most people assume our journey was simple—easy because of our close relationship—there were challenges along the way and moments when we both struggled. It's not easy to carry a baby for someone else, nor is it easy to be the one unable to experience pregnancy firsthand. So I wanted to capture both sides of that, to show it as the honest, challenging, heartwarming and miraculous experience it is.
Both of your books involve motherhood as does much of your journalism. What draws you this subject? Do you intend to continue to 'drink from that well' for future books? (There's certainly enough material there.)
Because I write stories about women, motherhood is a common theme. Personally, becoming a mother was a struggle, and I think because of that I'm drawn to exploring the shift we undertake when we define ourselves as mothers, or mothers-to-be.  
There is a mother-daughter relationship in my third book (July 2017, Mira/HarperCollins), but I'm not yet sure what role motherhood will play in future stories. It's likely a theme I'll come back to, as I learn more about what it means to be a mom from my own experience.
How do the skills you developed in your journalism training impact or appear in your writing process as a novelist?
Whether you're writing a 500-word blog post, 1500-word feature article, or a 90,000-word novel, the goal is the same: to tell a great story. Journalism school taught me about structure, how to ask the right questions to get the answers you want, and to write to space and deadline.
I'm incredibly disciplined about my writing, and some of that comes from my j-school training (I had one professor who would assign letter grades beyond an F if you really screwed up, or missed a deadline.) And like my journalistic stories, nailing the first line is critical for me. I can be clueless about how a book will end, but I can't get traction until I come up with that first line.
What did you learn from writing COME AWAY WITH ME that you knew how to do better in THE CHOICES WE MAKE?
How much time do you have? Seriously, there are so many things: I learned a lot about pacing, and tension; about how to be cognizant, and avoid, the dreaded "saggy middle" of a novel; about how to think in terms of climactic moments throughout the book; about character motivation and arcs; and that it's okay to not make everyone happy with your words.
This last one is really important to an author's growth, I think – also, don't read the reviews! They're for readers, not authors, and the sooner you learn that, the better off you'll be.
You write heart-rending scenes and emotional turmoil that is too complicated and real to be solved quickly. While you are writing, do you find that what the characters are feeling leeches into how you feel even when you are away from your computer?
Very much so. There's a particularly heartbreaking scene in Come Away with Me (for those who have read the book, they'll probably know which one I mean), and I was writing it in a Starbucks, openly crying while I did. I have plenty of stories like that – me crying while I write scenes – and I know that if a moment moves me to tears, I've likely hit the sweet spot in terms of emotional depth.
But it can be taxing, because those scenes and the characters follow me around even when I'm not sitting in front of my laptop, and I have to remind myself they're not real people (because they definitely seem like it.)
You wear a lot of hats – mother, wife, novelist, journalist, runner, friend, sister. How do  manage it all? What have you found to be the most helpful at achieving balance and/or peace of mind?
Some days are better, and easier, than others. When I'm on deadline I try to get up early – like, 5 a.m. early – so I can get some work in before my daughter gets up for school. She's also an early riser, so often I'm writing while she's having breakfast and watching Netflix, and I got over the guilt of morning television watching a while ago.
Every day I try to do three things: spend time with my daughter without screens, either outside playing, or coloring, or baking (something we both love to do); do something for myself, which is often exercise (running is my meditation), or if I'm really drained, maybe some reading or a Netflix show I can binge on; spend time with my husband, ideally without our devices nearby. Of course, most days never go quite as planned and then I have to remind myself that even at 44 I'm still a work in progress.

Do you plot your books or write them from the seat of your pants? If you are a plotter, to what extent do you know what is going to happen?
I like to call myself a "Plantser" – I do a very detailed synopsis of my book idea before I start writing a word, plot out at least one main bit of action or scene per chapter in Scrivener (a fantastic writing software tool I'd be lost without), and do brief character and setting sketches so I have a good sense of time, place and players.
Then when I start writing I have a framework, which I commonly veer away from as the story progresses. So I like to plan, but then allow myself freedom to listen to the characters and plot as it unfolds. And I generally never have my ending sorted out until I'm about two thirds of the way through my first draft.

What is the most meaningful or helpful advice you've been given in your writing career?
Write Every Day. I read Stephen King's memoir and craft book, ON WRITING, years ago – when I my first book, which is now RIP in a dusty drawer – and this simple idea to never get far away from the craft of writing stuck with me. Some days I write nothing more than a blog post, or maybe 500 words on a book, but I do work my craft daily. It keeps the writing muscles in shape, and helps me stay focused when I really need to churn out a lot of words to hit a deadline.
What marketing tools and avenues have you found most effective for book sales?
With only one book out in the world, I'm not sure I have a good answer yet to this question. But I will say social media has been amazing – not only can I share book news on Twitter and Facebook, or fun bookish photos on Instagram, it allows me to connect in real time with readers and other authors. Also, social media has been huge for me personally – I have a fantastic network of fellow writers, and the value of the author hivemind can't be beat.
What advice do you have for writers who are new to publishing?
Not everyone will love your book, and some will downright hate it – in a few cases, vehemently. And that's okay. Reading is so subjective – there are books I didn't finish that other people adored, and other books I still think about that others loathed – so try not to attach your worth to others' words. Also, on a more practical point, learn to love writing synopses. I know many authors dread them, but as you progress through publishing they are often needed when you're pitching books to editors…so embrace them. A synopsis is your friend!
Who are some authors do you recommend for fans of your work?
I think readers who enjoy my books would also really enjoy Taylor Jenkins Reid, Jojo Moyes, Jodi Picoult, and Amy Havatny, to name a few. And Redbook recently called me "the female Nicholas Sparks" – a lovely compliment – so I would say Mr. Sparks's books would also be on the list!
And finally…
Yoga or Pilates?
Yoga. I'm new to yoga, and am not a fan of "hot" yoga, but I have found a style of practice that works for my Type A leanings, and I love how focused I feel after I do it.
Cooking or Baking?
Baking! I bake a lot – it's a stress reliever for me, and whenever I'm stuck on my writing I usually bake muffins or go for a run. I also love to cook, but I don't have time like I used to, so the days of lazily working my way through a recipe for a later dinner, glass of wine in hand and no distractions, are gone. However, I hear you get those back when your kids are older, so I keep buying recipe books in anticipation.
Paper book or E-Book?
If I had to choose one only, it would be paper. I do love my e-reader at night, but I spend so much time on my laptop during the day that holding a book in my hands and reading and flipping the pages makes me happy.
Chia or Flax?
Neither? I'm a health-focused vegetarian, but I'm not a fan of chia or flax. But again, if I had to choose one it would probably be flax. With some cheese J
Favorite Vegetable To Sneak Into Meals?
Did my family send you this question? Seriously, there's almost nothing I don't put vegetables in! I use grated zucchini and carrot in my muffins and French toast, pureed pumpkin in macaroni and cheese and pasta sauce, and kale in pesto and smoothies and even scrambled eggs. The other day I considered putting grated zucchini in cupcakes but reconsidered – there are some things you should never mess with, and cupcakes top the list.
Welcome, Karma, into the WWWB family! We will be supporting you forever more!
Thank you so very much!
THE CHOICES WE MAKE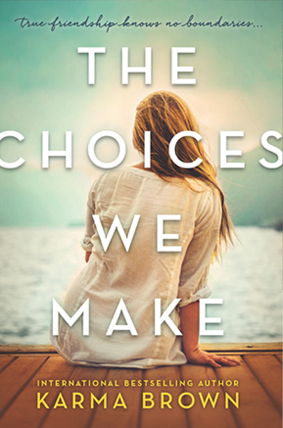 Hannah and Kate became friends in the fifth grade, when Hannah hit a boy for looking up Kate's skirt with a mirror. While they've been close as sisters ever since, Hannah can't help but feel envious of the little family Kate and her husband, David, have created—complete with two perfect little girls.

She and Ben have been trying for years to have a baby, so when they receive the news that she will likely never get pregnant, Hannah's heartbreak is overwhelming. But just as they begin to tentatively explore the other options, it's Kate's turn to do the rescuing. Not only does she offer to be Hannah's surrogate, but Kate is willing to use her own eggs to do so.
Full of renewed hope, excitement and gratitude, these two families embark on an incredible journey toward parenthood…until a devastating tragedy puts everything these women have worked toward at risk of falling apart. Poignant and refreshingly honest, The Choices We Make is a powerful tale of two mothers, one incredible friendship and the risks we take to make our dreams come true.
Praise –
"We adored Come Away with Me and are ready for more of Brown's powerful, heartfelt prose. She's the female Nicholas Sparks."-Redbook
"An involving story suffused with emotion but grounded in reality. Have tissues at hand for this one."-Booklist
"A compelling premise with a plot that intensifies satisfyingly in the second half, this book is a good bet for readers who don't shy away from difficult moral questions." –Kirkus Reviews
"Brown's second novel is as emotionally charged as her first. The author has an amazing ability to inject humanity into her characters so that they feel like real people struggling and rejoicing. Be prepared to shed a few tears when you travel this road alongside these people."-RT, 4 stars
"Laughing one minute, then fiercely blinking back tears the next, we tore through this novel—so gripping that we were both excited and scared out of our minds to turn the page. Multilayered and completely consuming, The Choices We Make delves into what happens when the stakes in friendship, marriage, and motherhood become high and when good intentions go horribly wrong. Karma Brown has proven herself to be a master at writing about the many facets of love in this stunning page turner."
—Liz Fenton & Lisa Steinke, authors of The Status of All Things
"With effortless and beautiful writing, Karma Brown twists heartache and hope together in The Choices We Make, taking you on each character's complicated emotional journey and exploring how the worst-case-scenario can still bring joy."
—Amy E. Reichert, author of Luck, Love & Lemon Pie and The Coincidence of Coconut Cake
"The Choices We Make describes one woman's desperate longing for a baby and her best friend's desire to help. It's a story about complicated medical ethics and legal rights and surrogacy contracts but more than that, it's a story about friendship, and love, and sacrifice."
—Julie Lawson Timmer, author of Five Days Left and Untethered
THE CHOICES WE MAKE is available –
Other ways to bond with Karma Brown –
Interview by:
MM Finck is a writer, essayist, and book reviewer. She oversees WWWB's Interviews and Agents' Corner segments. Her women's fiction is represented by Katie Shea Boutillier of the Donald Maass Literary Agency. She is a member of the Women's Fiction Writers Association and the contest chair for the Women's Fiction Writers Association 2016 Rising Star writing contest for unpublished authors. Her work has appeared in national and regional publications, including skirt! magazine.
When she isn't editing her novel, #LOVEIN140, you can find her belting out Broadway tunes (off key and with the wrong words), cheering herself hoarse over a soccer match (USWNT! – 2015 WORLD CUP CHAMPIONS!!!!), learning to play piano (truly pitifully), building or fixing household things, and trying to squeeze more than twenty-four hours out of every day. She is active on Facebook, Twitter, Goodreads, Li.st (@MMFinck), and Litsy (@MMF). http://www.mmfinck.com
Category: Interviews, On Writing